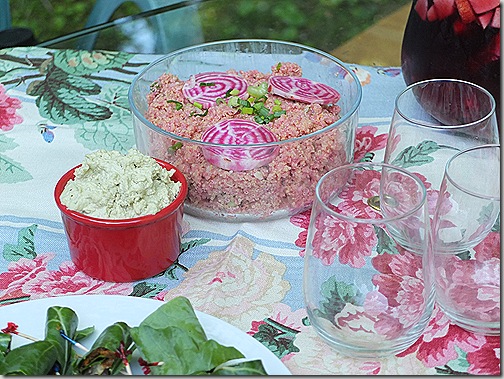 As I mentioned, I am slowly but surely warming up to beets – as long as they are raw or in juice.  Cooked beets still generally do not appeal to me.  So yesterday, in a fit of culinary ambition, I picked up a bunch of beets (labeled, simply, as "beets") at the U Street market, and resolved to make a vegan variation of this beautiful dish over at Lisa's Kitchen.  If you have not yet seen Lisa's Kitchen, I recommend you stop by – there are a variety of vegetarian recipes that can often be made gluten-free and vegan with few substitutions, though often none are needed.  In my case, I was planning to just purée the beets and use them as a sauce for the quinoa, rather than grate them (my growing affinity for some-things-beets stops at handling them too much at this point).  Lisa, along with Jac of Tinned Tomatoes, co-hosts No Croutons Required and this month, the theme is leafless salads.  As a quinoa salad fan, I figured what better to submit than a new version (two previous favorites and past submissions have been chickpea quinoa salad and curried quinoa salad with lentils).
Back to the beets. So I bought them, washed them, gave myself a little pep talk that I no longer hate beets,and then cut them open. And they were candy striped beets.  Gone were my hopes of a brilliant red quinoa salad.  I tasted a small piece and figured this might be a blessing in disguise. After all, the candy striped beet was just a little less "beet-strong" than regular beets, with a slightly lighter flavor.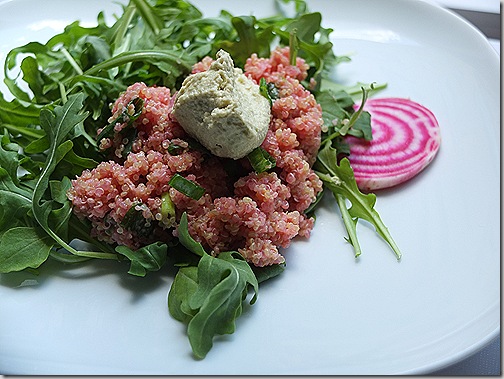 This salad is a quinoa-based vegan version of beet and goat cheese salad.  The flavors are all there – the tartness of the cheese, the black pepper complementing the sweetness of the beets, and the tang of a slightly mustard-accented vinaigrette.  Lisa's recipe was my initial conceptual inspiration and then I filled in the blanks by reading several beet and goat cheese salad recipes to get a sense of the flavor profiles.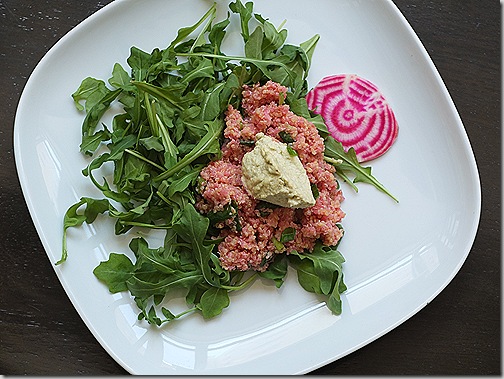 Candy Striped Beet Quinoa Salad with Scallion Cashew Cheese (gluten-free, vegan, soy-free)
Makes 4-6 servings  
You could make this recipe with regular beets, though be aware the beet flavor will be likely a bit stronger.  Another substitution would be yellow beets, which are similar to candy striped beets in flavor.  This recipe lends itself well to make either the quinoa or the vegan cashew cheese (or both) 24 hours before serving.  For best results, plan for the quinoa to be hot and steaming prior to combining with beet dressing, to ensure that the quinoa absorbs the dressing. 
1 1/2 cups quinoa
4 medium candy striped beets, peeled and coarsely chopped, yielding 2 cups
1/4 cup freshly squeezed lemon juice
2 tablespoons avocado oil
1 tablespoon mustard (a basic tangy mustard would work. I like Eden brand mustards)
1 teaspoon salt
1/3 cup water
1/2 cup chopped scallions or spring onions (about 3-4, roots removed)
freshly ground black pepper, to taste, and additional salt, if desired
to serve: arugula or other peppery green and a full batch of Scallion Cashew Vegan Cheese or other full-bodied vegan cheese of your choice.  For visual interest, slice a fifth peeled beet into thin slices.
Cook quinoa according to package directions (I used 3 cups of water and cooked for about 15e minutes, allowing an additional 5 minutes for steaming, covered).  While the quinoa is cooking, place beets, lemon juice, avocado oil, mustard and 1 teaspoon salt in a food processor.  Process until beets are chopped finely, streaming in water as you process (if your food processor does not have an opening to allow for that, simply start with a couple of tablespoons of water, and add as needed).  Place hot steaming quinoa into a bowl, and pour dressing over the quinoa, stirring to combine.  Season with freshly ground black pepper. Stir well to combine.  Allow quinoa mixture to cool.  Refrigerate until serving.  Prior to serving, add chopped scallions and stir to combine.  Taste for seasoning and add salt, pepper or lemon juice.  Serve with greens and topped with Scallion Cashew Vegan Cheese.  
Update – I am submitting this to several weekly blogging events as well:
General Disclosures
&
Disclaimers