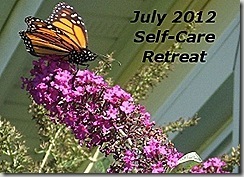 Our theme this week for the 2012 Self-Care Retreat – led by Cheryl of Gluten Free Goodness – is Inward Reflection, and Iris of The Daily Dietribe (whom long-time readers will remember has guest blogger here several times) has written a post that breaks that down using minimum time: the Five Minute Daily Self-Care Scan.
I have my own corollary approach to Iris' scan – it is a little narrower, but has been helpful ever since I started using it a few years ago.  When I am really tired/cranky/upset/insert other negative emotion, I sit myself down and ask myself "what is bothering me right now, right this minute" – I started doing this when I was dealing with severe sinus problems that were almost debilitating, combined with joint pain and a constant upset stomach.  At the time I did not yet realize gluten was causing me a host of these problems.  I started doing this "checking in" exercise to try to figure out what was bothering me the most, at that very moment – living in a fog of discomfort and exhaustion can be disorienting, so that question helped a lot. If it was my knees or wrists or elbows, I knew to make icing a priority. If it was being overtired, I knew to focus on getting a nap in ASAP, and if it was something else that upset me (say, an interaction, or a person,or a situation), I would usually journal about it.
The thing is – I only ever used this checking in approach when I was not feeling well or happy, and I love that Iris encourages us in her post to make it  a daily practice, which means it allows acknowledgment of happy moments as well as down moments.  So kudos to Iris for encouraging us to consider inward reflection as part of our self-care.
For a complete list of the self-care posts this month, see this post on Cheryl's blog.
General Disclosures
&
Disclaimers