This is the first Memorial Day Weekend since 2008 that I have not worked or, as I was in 2010, stuck in traffic, so I decided to celebrate it by doing something I have said I would do pretty much every federal holiday weekend (you know, the ones that also mean that some great sales are going on) for about two years, i.e. spend some time thinking about clothes and trying stuff on and taking advantages of sales.  As someone who used to have a job that generally involved working federal holidays and at least some part of those weekends, today was particularly novel in that sense.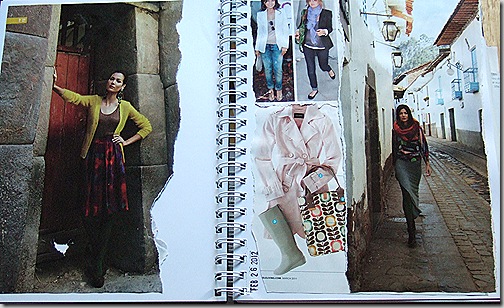 I have been spending a lot of time thinking about clothes lately (and even making a couple of spreads in my art journal, such as above). At one point in my life, what feels like long ago (basically the four years after college), I was very focused on clothes, and then pretty much figured out my personal style and stayed with it.  I tweaked it a bit in law school, but not very much.  Then, as I put on weight after law school, I streamlined my approach to clothes to almost have a uniform – in fact, when I did this end-of-year meme in 2008, I wrote that my personal style was lots of black suits during the week, comfy bamboo clothes on the weekends, and ballet flats. That had been the status quo for a while and continued to be the status quo until late 2010, when I started thinking about updating my casual clothes – I figured that as I had lost weight, I should first focus on weekend wear, since that was where I had put the least time and thought for a long time.  That's when I bought some new sweaters and skinny jeans and pants.  While weight loss was not mandatory for me to start exploring clothes again, it definitely served as a concrete reason – after all, my wardrobe was shrinking in options, as opposed to shrinking with me (wouldn't that be great by the way?).  Eventually I moved into shifting my style with workwear too, with new suits and dresses entering my wardrobe.   
Almost all of that shopping was done online which, while wonderfully convenient, is not the best for pushing one's comfort zone. The nice thing about trying on clothes at a store is that you try on more more variety without commitment – I just think it sparks more creativity with clothes, and I felt long overdue for an afternoon of browsing stores.  So I did just that today.  I went to two favorite stores and tried two fairly new-to-me stores. 
Initially the plan was to come home afterwards and make salads and do laundry, but since my husband and I were by Lebanese Taverna already, we decided to go there for an early dinner.
The only issue?
I did not bring my camera. I was so focused on shopping and being practical today (not to mention planning to eat dinner at home), that for the first time in a long time I did not bring my camera.  Normally, I do not like to do pictures from my phone on the blog, but the food was so good, it was worth sharing with you all.
I have a like-hate relationship with Lebanese Taverna. When the food is good, it is excellent, but once in a while they have an off night.  Today, however was great. One of the things I appreciate very much about the restaurant is its commitment to gluten-free and allergy-friendly dining.  I recommend you ask for their gluten-free menu and their allergen list and cross-reference. I consistently find a nice number of gluten-free vegan options.
Also – their hummus never has an off night and is naturally gluten-free and vegan.  In fact, I would say that when you go to Lebanese Taverna, you must order one of their hummus options (their menu has a Hommus "bar" where you can pick different toppings). I went with the garlic hummus: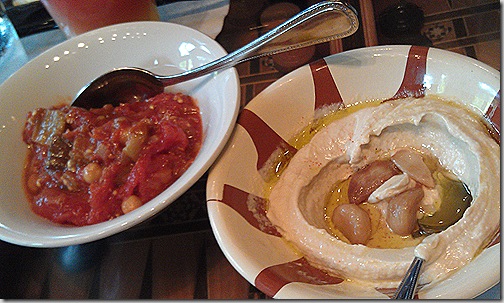 Alongside it, you see a picture of their m'saka, which contains oven-roasted eggplant, tomatoes and chickpeas.  I also had the Fattoush salad, adapted to be gluten-free by omitting the pita bread. I love the pomegranate dressing: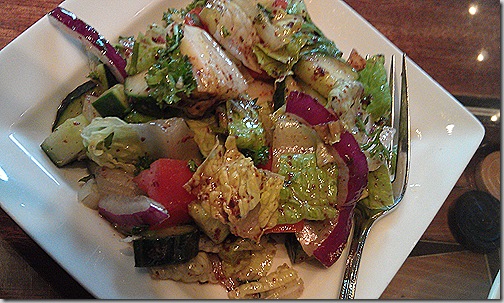 And doused the hummus and m'saka with homemade harissa. I also requested cut veggies as my dippers for the hummus (though gluten-free rice crackers are also available):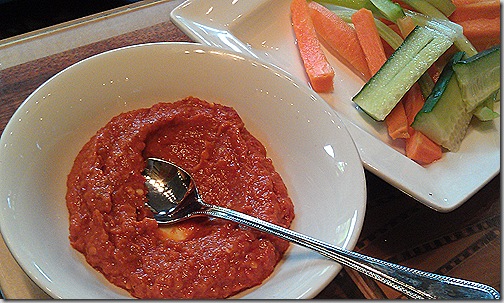 It was a great dinner, and I brought the m'saka and some of the harissa home. My husband's (non-vegan, non-gluten-free) dishes were fantastic too, so I think we will be back sooner rather than later, at which point I will be sure to bring my camera.
General Disclosures
&
Disclaimers