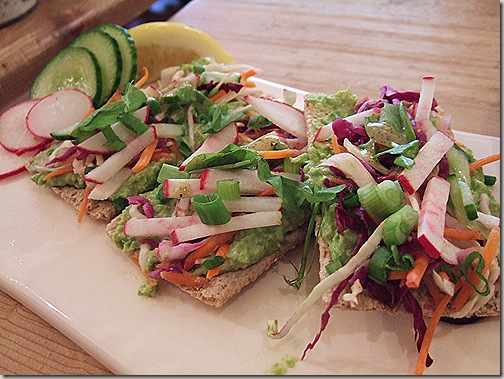 I love hummus – in fact, I consider hummus/bean dip their own food group – but it is rare even for me to post as many hummus recipes as I have lately.  First there was the Spicy Lemon Hemp Hummus, then the Lemony Black-Eyed Pea version, then, just last week, Cilantro Scallion Black-Eyed Pea Dip.  All three of these dips have black-eyed peas, so today, we have Zingy Spring Hummus, which contains green peas and black eyed peas. 
The addition of the green peas all started because of the above sweet pea tartine, which Le Pain Quotidien has been serving in recent months, and which is delicious (see here for how I eat gluten free and vegan at Le Pain Quotidien). The gluten-free version of the spring pea tartine comes on crackers, which I suppose makes it a little less filling then the gluten bread based version, which is why I usually supplement it with a salad with a side of avocado: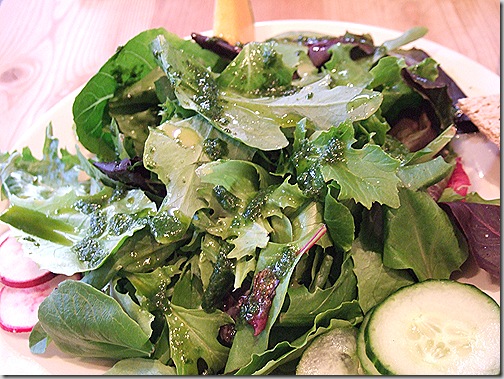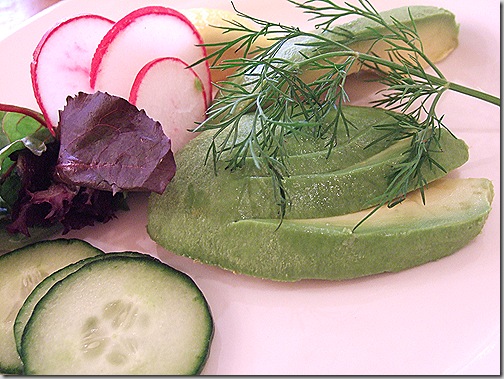 Altogether now:
Now that I have completely distracted myself and developed a craving for an LPQ visit, back to the spring peas in hummus.  Gena made a version of the tartine with asparagus, and her spring pea hummus is fantastic.  That said, since I am on a black-eyed pea dip, and since I know many of my readers enjoy black-eyed peas, I decided to make another, less traditional version.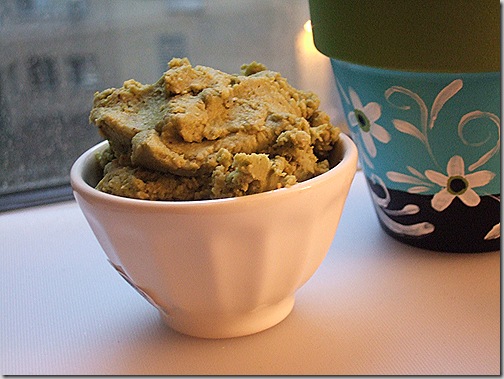 Zingy Spring Hummus (gluten-free, vegan, soy-free, nut-free)

The combination of cayenne and shallot gives this hummus a zingy flavor, unlike a more traditional hummus with added green peas. I enjoyed this hummus with sliced carrots as a snack.  It also works very well with Rudi's gluten-free tortillas with veggies.
2 cups cooked black-eyed peas (equivalent to 1 15oz can drained. Eden Foods is a good brand with transparent standards for managing allergens, including gluten)
2 cups frozen green peas, defrosted
3 –4 tablespoons freshly squeezed lemon juice
1 tsp chopped garlic (about 1 clove, chopped)
1/4 cup chopped shallots (about a medium sized shallot, chopped)
1 tablespoon avocado oil
1/8 tsp cayenne
1/2 to 3/4 teaspoon sea salt
Warm black-eyed peas and frozen green peas by steaming or simmering for three minutes.  Place in bowl of food processor. Add remaining ingredients and process until smooth, occasionally stopping the food processor to scrape down the sides.If you find that the hummus is very thick, feel free to add a tablespoon of water to make the processing easier.  
I am submitting this to several blog events, including:
General Disclosures
&
Disclaimers