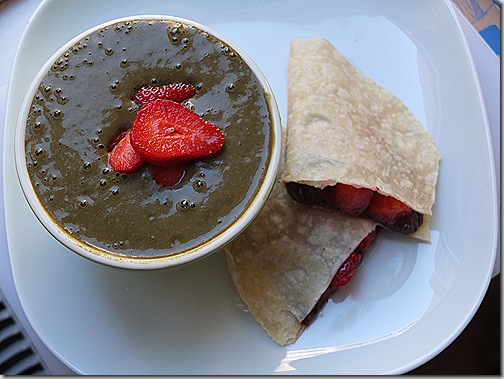 Happy Sunday. For me, Sunday morning is all about the farmers' market – no matter how insane our schedules, my husband and I rarely skip going to the market on Sunday mornings We sometimes skip the market on cold winter days (when we are all stocked up in all kinds of root veggies), but when the weather is nice, it is rare for us to skip a Sunday.
Especially during berry season.  We both love berries of all kinds.  It's the most wonderful time of the year.
The last few Sundays, the Dupont Market has smelled sweet with strawberries, with a return of several strawberry lanes. The flavor of market-fresh strawberries is one of my favorite ones – and why, during the rest of the year, I pretty much only buy frozen strawberries.  Strawberries in December flown in from a warm locale really do not compare.  We usually eat them for dessert after dinner on Sundays, but I have also been sneaking a few into smoothies.  I like my smoothies made with frozen fruit, and do not have the patience to wait to get home from the market, freeze my strawberries and then put them in a smoothie.  Instead, my approach is to focus on infusing the smoothie with the market fresh strawberry flavor. I use frozen strawberries for the bulk of the smoothie, and add a quarter cup of fresh strawberries from the market into the mix, and top with slices of fresh strawberries. It works perfectly.
Farmers' Market Chocolate Strawberry Smoothie (gluten-free, vegan, soy-free depending on your choice of protein powder).
Serves 1, generously
I designed this recipe specifically for smoothies I make immediately after picking up a quart of fresh local strawberries from the market.  You can of course substitute frozen strawberries for the 1/4 cup of fresh strawberries, and skip topping the smoothie with fresh strawberries slices.  For a decadent brunch, consider pairing this with an indulgent side, such as tortillas with chocolate coconut butter and sliced strawberries.
1 cup unsweetened non-dairy milk
2-3 tablespoons vanilla protein powder (I used Sun Warrior Warrior Blend)
2 tablespoons raw cacao
2 cups spinach
1 small banana, cut into slice and frozen
1 cup frozen strawberries
1/4 cup fresh strawberries, from your local farmer's market, and 2-3 additional strawberries, sliced, to top the smoothie
4 ice cubes
Place all ingredients except strawberry slices (reserve those for garnish) in a blender and blend until smooth.  If using a high-speed blender, place ingredients in the order of the recipe. If using a regular blender, user your preferred approach. 
I am submitting this recipe to Linda, the Gluten-Free Homemaker, for Gluten-Free Wednesday. The theme this month is strawberries.
Before I wrap up this post to watch the Mad Men finale (and by the way, is it just me or did this season go by very fast), a quick note on these tokens for DC readers (applies to week of June 11, 2012 only):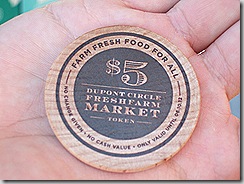 My husband and I each got a token (this is his, photographed in his hand).  Chipotle is partnering with FreshFarm Markets and will be at at all the markets organized by FreshFarm this coming week demonstrating their tomato salsa recipes and giving out samples, though, gluten-free friends, my understanding is that the chips are gluten-free, but there is  small chance of cross contamination at the field level.  From the Chipotle website:
….Everything else is fine to eat for most people wanting to avoid gluten, including our crispy corn tacos and our corn chips. However, you should know that it's possible our corn may have a small amount of gluten from potentially co-mingling with gluten-containing grains in the field.
I personally do not eat the chips there, largely for that reason (though I also do avoid fried foods) as to me that sounds like there is a risk of cross-contamination.
Bu back to this Chipotle-Freshfarm market initiative.  In addition to samples, Chipotle is also giving out tokens to spend at the market: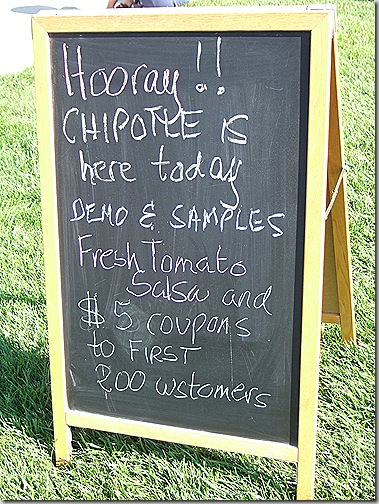 Below is a photo of Chipotle's stand at the Dupont Market this morning: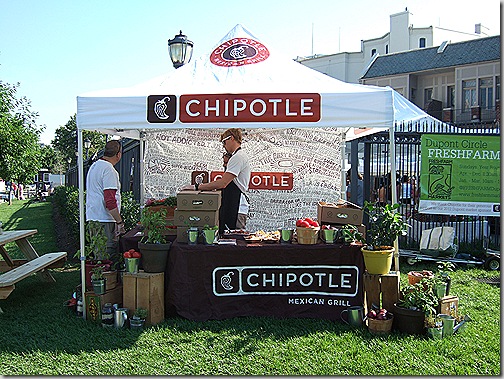 As a strong believer in farmers's markets with an emphasis on organic farmers, regardless of market size, it was nice to see a more mainstream brand name supporting farmers' markets as well.
General Disclosures
&
Disclaimers