Choosing Raw: Making Raw Foods Part of the Way You Eat is an amazing new book by Gena Hamshaw who, among many endeavors, writes Choosing Raw, one of  my very favorite vegan food blogs. In this recently released book, Gena shares her infectious enthusiasm for raw cuisine, inspires us with beautiful and creative raw recipes complemented with cooked recipes, and provides guidance on how to easily add more raw vegan foods to your life.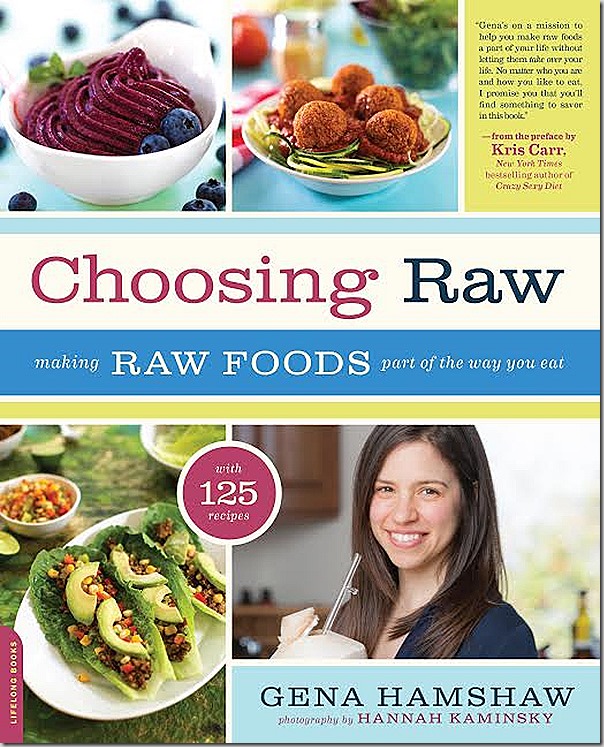 In addition to the recipes – which I can assure you are very good, having tested over 50 of the 125 recipes included, and tried several of the others as well, the book provides a simple path to health and wellness. Gena draws from a mainstream, scientifically sound perspective on healthy living, and makes a vegan diet with many raw options feel easy instead of intimidating.  The majority of the recipes are easy to make, and naturally gluten-free for my fellow gluten-free friends (or easily modified – i.e. things like replacing shoyu with gluten-free tamari, or substituting gluten-free bread for the tartine and avocado toast recipes).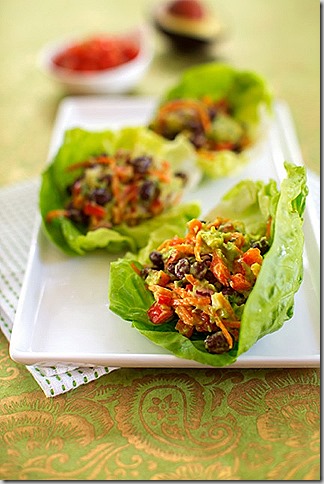 First, though, full disclosure – Gena is a dear friend. In fact, long-time readers know Gena and I became friends several years ago, initially through our blogs, and ultimately being neighbors in DC the last couple of years.  Over the years, we have shared many meals and moments of hilarity, as well as the less-fun-bits-of-life-that-don't-always-make-it-to-our-blogs. There have been birthdays and other celebrations (with cupcakes, more cupcakes and, did I mention cupcakes), potlucks, food sharing, juice pulp sharing (cue more hilarity), and many SweetGreen salads(recap of the first).
Choosing Raw, both the book and the blog, is quintessentially Gena – thoughtful, compassionate, inspiring and humble and, at the same time, informative, warm, and sensible.  Like the blog, the book is also beautifully written.  I initially found Choosing Raw just under five years ago, not long after Gena had begun blogging.  After overhauling my diet and going gluten-free/dairy-free/egg-free (I was not vegan at the time, though was leaning that way), I started dabbling in raw foods to increase my repertoire since many raw recipes are naturally gluten-free as well as vegan.  The food was great, but the raw foodie rhetoric did not sit well with me.  Lots of talk of cleansing, toxicity, and "all or nothing" approaches around raw eating. I loved the creativity of the recipes but was not running across many raw foodies I could relate to.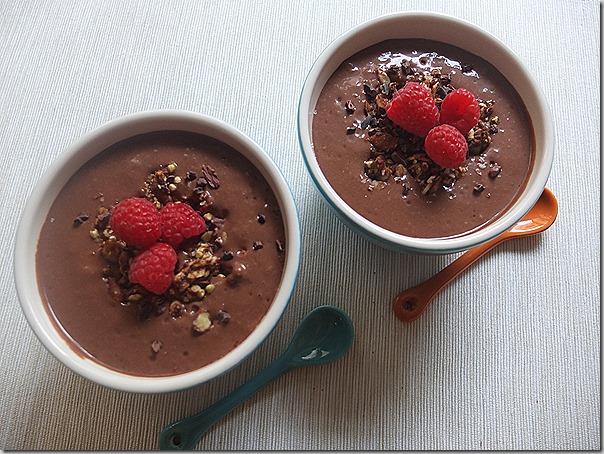 Enter Choosing Raw, the blog – at the time, Gena was an editor in New York and working long hours, and I could immediately relate to her enthusiasm for raw foods balanced with a solid dose of pragmatism in light of her heavy work schedule.  A few years later, Choosing Raw, the book, maintains that same balance – Gena writes about being a raw foods enthusiast and provides guidance on how to add more raw vegan foods to your diet in a completely judgment-free, relatable way. The book is chock-full of information on leading a vegan lifestyle, how raw foods can be beneficial (regardless of whether you want to adopt a raw-leaning lifestyle), and then introduces you to the food using an approach of building blocks.
The building blocks approach to the 125 recipes begins with the Essentials – lots of easy recipes for satisfying meal-sized salads, soups, spreads, crackers, snacks, desserts, and breakfasts, followed by the Tried and True section – then Something New, followed by Brave New World, which leans to the all-raw or high-raw.  The book concludes with Desserts for Everyone, like the No-Bake Tartlet with Raw Vegan Chocolate Ganache (p. 243) you see below.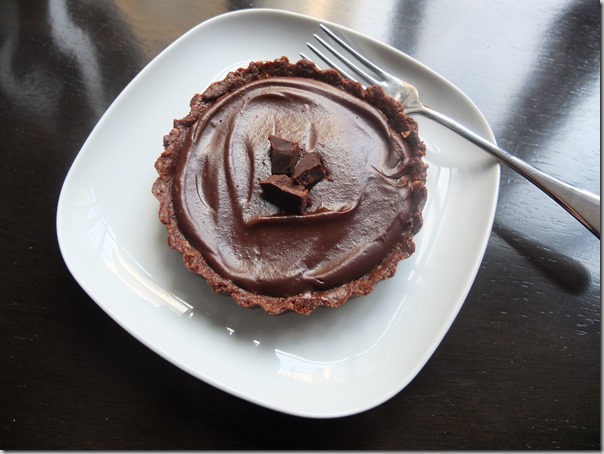 I mentioned above, as one of the recipe testers for the book, I tested 50 of the 125 recipes. Even more importantly, my husband tried all 50 of them. He is not vegan and, unlike me, does not think green smoothies are a way of life.  He also does not love hummus and quinoa anywhere near as much as me, though he likes certain vegan entrees and salads, regularly eats kale or spinach salads topped with hemp seeds, and often suggests zucchini noodles as a dinner option.  That said, he also eats meat, cheese, pizza and dairy/egg based desserts, and his palate is far more mainstream than mine, but he found the majority of the Choosing Raw recipes he tried very good, and put the remaining ones in the category of  "this is new, interesting, and might grow on me."  This should not be a surprise to me as an early Choosing Raw recipe for kale chips (and the inspiration of the kale chip recipes in the book) is known as the magical kale chips recipe in our household.  They were the first kale chips my husband liked and now, a couple of years later, he eats a wider variety of kale chips than he originally would have sampled.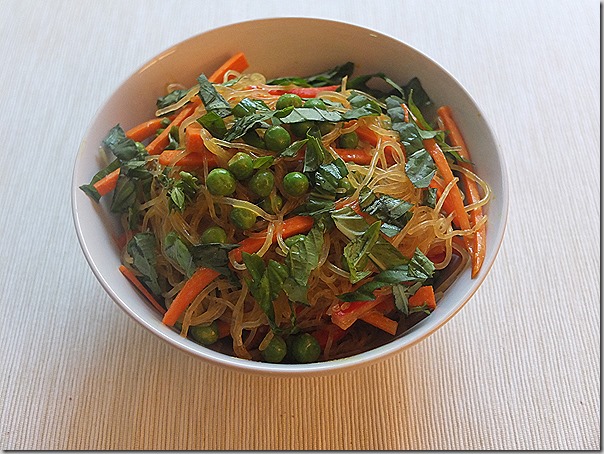 My experience working through the Choosing Raw recipe testing process with my husband sampling and opining on the recipes really confirmed my opinion of the accessibility of the book's recipes to anyone, regardless of their palate or preferences. Whether you are looking to add a few delectable salad and smoothie recipes to your repertoire or change your diet completely, Choosing Raw is a fantastic resource.  It also works very well for a couple or household like mine – i.e. where one person is vegan and/or raw and the other eats a more mainstream diet – because the recipes can work for both.  For example, you could make a dinner of Curried Chickpea Salad (p. 162, part of the Tried and True  section), with a Raw Cobb Salad (p. 145, Meal-Sized Salads), and Gazpacho (p.180, Something New) and address multiple palates and dietary preferences.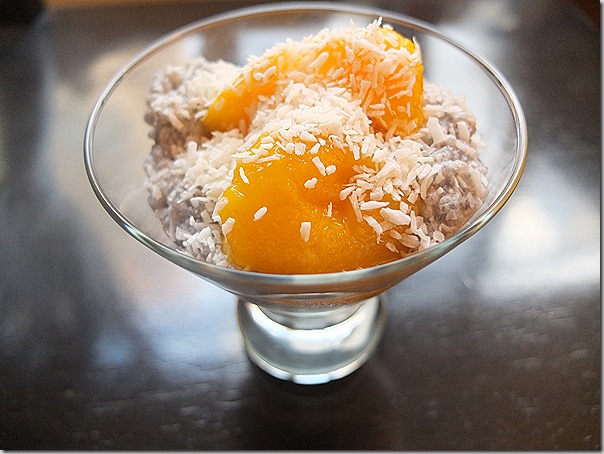 The photos I share in this post are of Mango Coconut Chia Pudding (p. 172, part of the intermediate Something New section) and the Chocolate Acai Bowl (p.209, Brave New World), both of which happen to be favorite breakfast or anytime snacks.  I am also sharing photos of the Coconut Curry Kelp Noodle (p. 223, Brave New World) and of the No-Bake Tartlet with Raw Vegan Chocolate Ganache (p. 243, Desserts for Everyone), which never cease to impress people, vegan or not.  There are several kelp noodle recipes in the book, and all have Asian-inspired flavor profiles – so I often pair them with veggie sushi.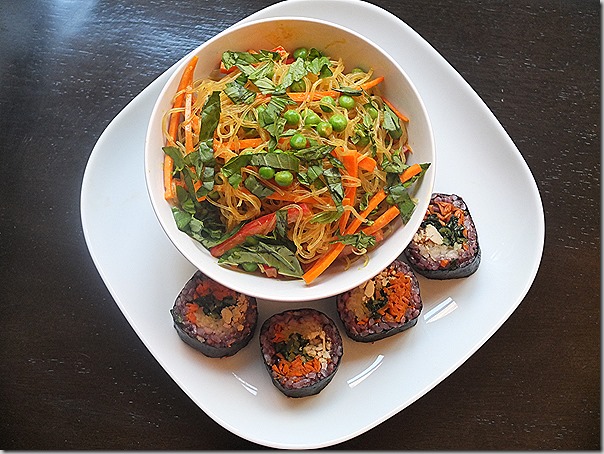 Below I share a recipe from Choosing Raw for the Avocado Black Bean Breakfast Scramble (p. 178, Something New) – if there ever was a recipe that made me believe that raw vegan foods can appeal to a palate as mainstream as my husband's this was it.  You will note it serves 4, but we finished the whole recipe between the two of us as dinner the first time we tried it.  The Avocado Black Bean Scramble has become a staple for us, as have the Heat-Free Lentil and Walnut Tacos (p. 191, also Something New), the Zucchini Pasta with Mango, Avocado and Black Bean Salsa (p. 216,  Brave New World) and the Pumpkin Quinoa Risotto with Pomegranate Seeds (p. 195, Something New).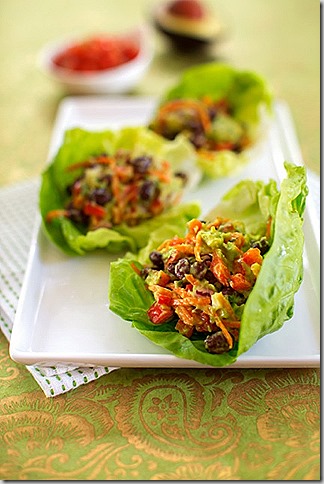 Avocado Black Bean Breakfast Scramble
Makes 4 Servings

2 large avocados (about 12 ounces), peeled and, pitted, and diced into 3⁄4-inch chunks
1 1⁄2 tablespoons freshly squeezed lime juice
1⁄4 teaspoon sea salt
Freshly ground black pepper
2 1⁄2 tablespoons nutritional yeast
1 red bell pepper, seeded and chopped
1 large carrot, grated (about 1⁄2 cup)
1⁄3 cup diced red onion
1⁄2 cup minced fresh parsley
1 cup cooked black beans
8 lettuce or cabbage leaves
4 slices sprouted-grain bread (optional)
1. Place the avocados in a large mixing bowl and, using a fork, mash them lightly with the lime juice, sea salt, pepper, and nutritional yeast.
2. Add the pepper, carrot, onion, parsley, and beans. Mix well, until the avocado resembles a "scramble" and the veggies are distributed evenly.
3. Scoop into lettuce or cabbage leaves and serve (about two per person). You can also eat this piled high on sprouted-grain toast.
To keep leftovers fresh, sprinkle them with lemon juice before storing in an airtight container in the fridge. Kept this way, the hash should last for 2 days.

From Choosing Raw by Gena Hamshaw. Reprinted with permission from Da Capo Lifelong, © 2014.
Gena, it feels like only yesterday that you moved to DC, or when we had this long discussion regarding eating disorders and the executive woman, or many of the other discussions we have had over the years.  It has been such fun having you as my upstairs neighbor, and not just because I got to try even more of the book recipes than I made myself (though that was certainly lovely).  Congratulations again on a beautiful book! 
General Disclosures
&
Disclaimers