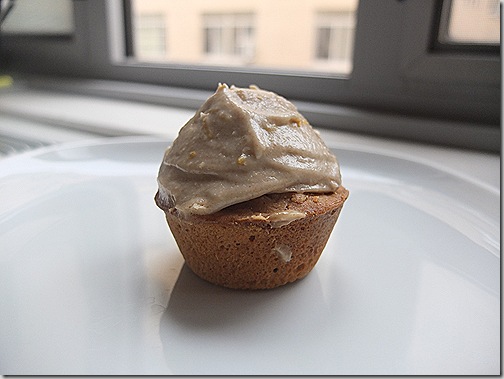 One of the many reasons I felt very lucky on my birthday this year:  Vanilla Lemon Ginger Cupcakes with Coconut Cashew Frosting from Gena.  
I usually try to take the day off on my birthday – it does not always work (see 2010) but when it does, it makes for a really nice day (see 2011).  For a couple of years, my birthday was on a weekend, which I just realized because I could look up old posts which reminded me. In  2009, it was on a Sunday, and in 2008, it was on a Saturday in our last month living in New York before moving to DC. That birthday (my 30th) my husband and I had a wonderful day walking around New York, going to the Met and eating an amazing meal at Tabla (RIP).  I do love the continuity of having a birthday post up every year (I only wish I had started back in 2007, when I first started blogging).   In fact, I wrote up this whole post back in October, but somehow it never got published.
So, even though it is no longer October, here is my birthday post.  This year, I could not take the day off on my birthday, but I still had a lovely birthday. I continued my birthday tradition of working out in the morning (I started it last year).  After work, my husband took me out to dinner at Rosa Mexicano, where I had wonderful guacamole and veggie tacos.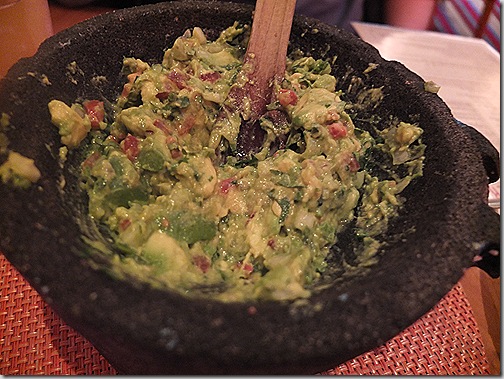 The tacos contained a combination of pumpkin seed salsa, sauteed vegetables and a potent cabbage escabeche on the side.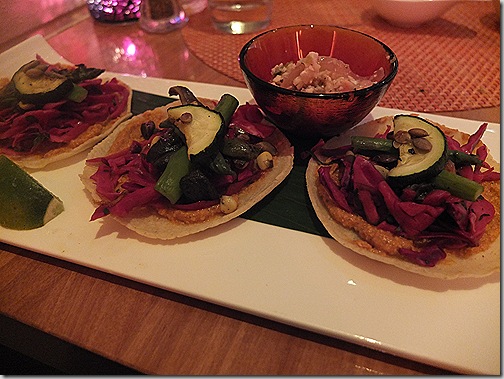 When we got back home, my husband gave me my gifts: art journaling supplies, Potomac Chocolate Upala 82% bars, and vegan gluten-free cupcakes from Red Velvet.  Looking back at other posts on the blog, these cupcakes are starting to be a birthday tradition.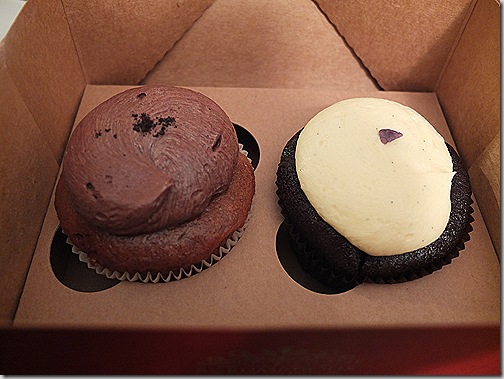 My friends also made sure I had a lovely birthday. Gena gifted me with some lovely dark chocolate and scrumptious Vanilla Lemon Ginger Cupcakes with Coconut Cashew Frosting.  A couple of days after my birthday, several friends and I shared sweets from Sticky Fingers (DC's vegan bakery – they have some great gluten-free vegan options) and got together to art journal and try out new crafts, thanks to our friend Laura's hospitality.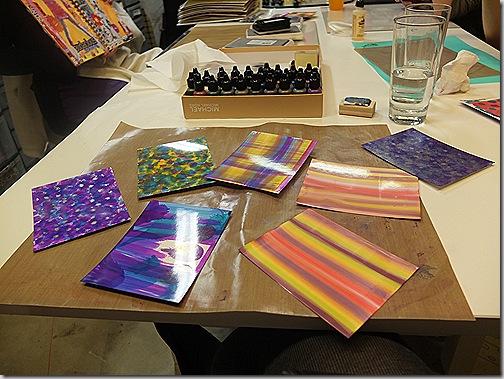 I got to play with alcohol inks (it was my first time using them!) as well as watercolors, which have both made my art journal that much more vibrant.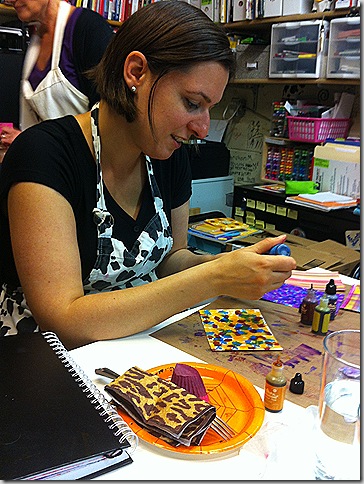 The watercolors were great for creating backgrounds for my pages, while I used the alcohol ink cards as accents on various pages.  It was a really wonderful afternoon. While we had not organized it specifically that weekend because of my birthday, it was a really nice day and, since it was just two days after my birthday, it very much felt part of my birthday week. I feel very grateful to have such wonderful people in my life.
General Disclosures
&
Disclaimers