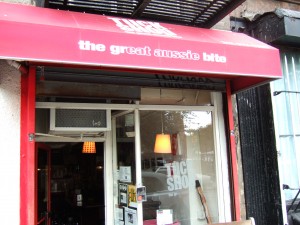 I discovered Australian meat pies this year – I had heard of them, but never had them — well, turns out New York has its very own Tuck Shop, which sells various kinds of meat pies as well as sausage rolls.
Incidentally, tuck shop does not just refer to meat pies, but in Australia it seems that meat pies are one of the main offerings at tuck shops. Tuck is slang for food.
The New York Tuck Shop is in the Lower East Side, very near to the famous Katz's Deli. The Tuck Shop is open basically all the time, and is a great place for a hearty warm lunch when you are walking around New York, especially in winter. The space is small, but warm, and I have never had trouble finding a place to sit.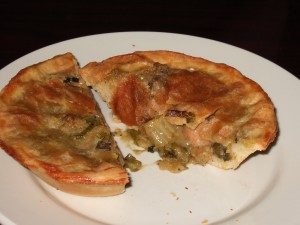 The meat pies are basically like hefty pot pies, but with a bottom crust– there are several types, and all the ones I tried were quite delicious. The basic ones are beef and chook (= chicken. That one is very much like a chicken pot pie). Then there is Guiness steak, which is lovely and peppery and tender, and Thai Chook, which is a nice green curry chicken pie. You can see the Thai Chook in the picture. I think those are all the ones I had. And they were all delicious. You can also ask to have your pie as a Pie Floater, which means you get a gravy with green peas over it. There are also a couple of vegetarian options, and on Thursdays a Vegan Pie (other days of the week, vegans have a sanger, or sandwich.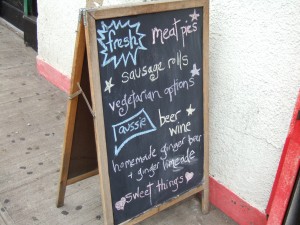 In addition to pies, there are also sausage rolls, sides and desserts. Pies are $5 each, and if you are not starving, you can even split one with a friend. But if you are starving, a pie is very warm satisfying experience, especially on a cold rainy day. They travel well too — my husband brought home two pies one Friday night, and they were still warm when he got to Brooklyn. Granted, it was only about 5 subways stops, but that's still quite impressive.
Oh, and if you go on warm day, be sure to try the ginger limeade. It is tart and gingery and sweet.
General Disclosures
&
Disclaimers