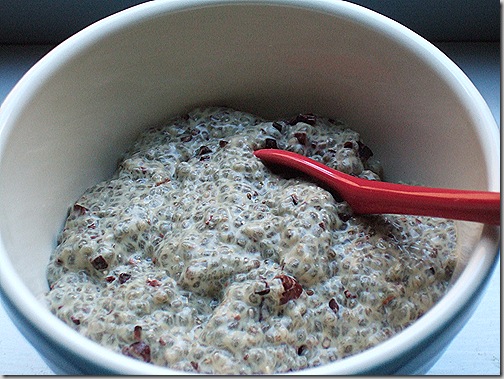 Breakfast is an ever-changing work in progress for me.   I often have smoothies, or green juice followed up with a roasted sweet potato or a chia pudding.  Lately, there's been some gluten-free oatmeal too.   This chia pudding arose out of me trying to capture the subtle mint flavor in my Minty Chocolate Smoothie and turning it into a chia pudding, while maintaining a distinctly minty-vanilla canvas, with the cacao nibs providing an additional flavor, rather than the chocolate being the main flavor.  Also, I wanted the pudding to be filling, which is why I added some protein powder.
Minty High-Protein Chia Pudding with Cacao Nibs (Gluten-Free, Vegan, Soy-Free) – Serves 1 to 2
1 cup unsweetened almond milk (or other non-dairy milk of your choice)
2 tablespoons protein powder (I used Sunwarrior vanilla)
1/4 teaspoon mint extract
1/2 teaspoon vanilla extract (if your protein powder is not vanilla-flavored, you might want to increase this to 3/4 teaspoon)
5 tablespoons chia seeds
3 tablespoons cacao nibs
Sweetener of your choice to taste (I used stevia, but any liquid sweetener would work well)
Whisk almond milk, protein powder,mint and vanilla extracts in a bowl.  Combine with chia seeds and allow to stand for 10 minutes while chia seeds absorb liquid. Stir again until well combined and add cacao nibs.  Sweeten to taste. Eat immediately or refrigerate overnight.
I am submitting this recipe to the following weekly events:
General Disclosures
&
Disclaimers