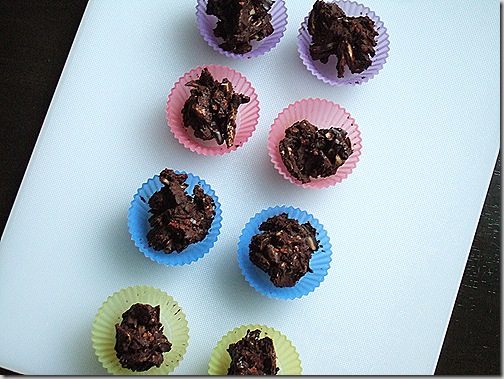 As for many people, this tends to be a busy of time of year at my job, so, as a quick break from work,  I am just stopping by with a recipe for these wonderfully crunchy, sweet with a touch of savory chocolate bites. They are gift-giving-worthy, which is why I am submitting them to Gluten-Free Holiday, created by Amy of Simply Sugar and Gluten-Free and hosted this week by Alta of Tasty Eats at Home.  
A shopping note: For this recipe you will need slivered almonds and raw pumpkin seeds, as well as some unsweetened dried fruit or berries.  I don't know about you but most packaged nuts and fruits at stores I go to always seem to carry a disclaimer such as "packaged on same equipment as gluten-containing ingredients" – so I was thrilled to discover nutsonline last year.  Their gluten-free policy put my mind at ease, and, with the exception of a few products (such as my beloved Navitas raw cacao) I order most nuts and seeds (and things like gluten-free flours and dried beans) from them, as well as any dried fruit for recipes or for my husband.  
Crunchy Bittersweet Chocolate Bites (Gluten-Free, Vegan, Soy-Free) – Makes 16 to 20 pieces
You can replace the nuts/seeds/fruit with other combinations, such as sunflower seeds and chopped walnuts. I used agave for this recipe as it is easier to find, but you could also use coconut nectar or another liquid sweetener. I recommend making these in silicone mini muffin cups and then transferring them to festive paper cups for gift-giving.
1/4 cup unrefined coconut oil
1/2 cup raw cacao (note, you could use unsweetened cocoa powder as well, but the final bites might tend even more dark chocolate in flavor)
1 tablespoon vanilla extract (I used this one)
1 tablespoon agave or other liquid sweetener
1/2 cup slivered almonds
6 tablespoons raw shelled pumpkin seeds
1/2 cup dried berries or dried fruit (if using something like dried apricots, chop into berry-sized pieces. I used goji berries, which had a nice sweet-tart profile)
Flaky sea salt (I used pink salt as it is so pretty)
Melt coconut oil over low heat.  While coconut oil is melting, place raw cacao in a large bowl.  Take coconut oil off heat source and whisk in vanilla extract and agave or other liquid sweetener.  Pour coconut oil mixture into bowl and whisk with cacao until well combined.  You should have something that looks like thick chocolate souce.  Stir in slivered almonds, pumpkin seeds and dried berries/fruit until everything is well coated in chocolate.  Divide mixture among 16-20 mini muffin cups.  Top each with a small pinch of salt. Chill in freezer for a crispier result, or in fridge for a fudgier result.  Store in either fridge or freezer until time to eat or give as a gift, as the bites melt fast.   
I am submitting this recipe to the following weekly events:
General Disclosures
&
Disclaimers