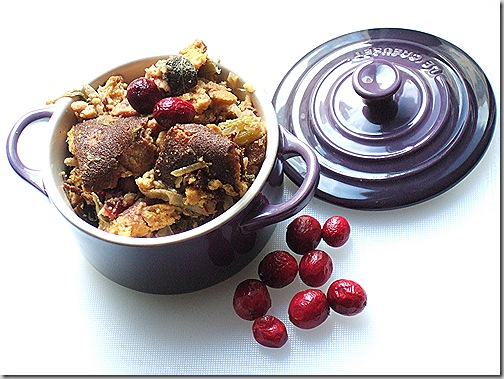 Happy Thanksgiving!
First, I am so grateful for you reading, year after year. This blog has grown a lot from a friends and family blog in 2007 to what it is today. So thank you!
I am also grateful for family, friends, good food, and good health. I went to the gym this morning and was grateful for just that – a couple of years ago that was something I was not inclined to do.
Now I know many of you are probably wondering why I am posting a bready dressing recipe on Thanksgiving evening. I could just wait until Thanksgiving next year, but that's a while away to share.  Not to mention, you might be having a second Thanksgiving this weekend, or like to have Thanksgiving food on days other than Thanksgiving or, like me, associate stuffing/dressing with Christmas.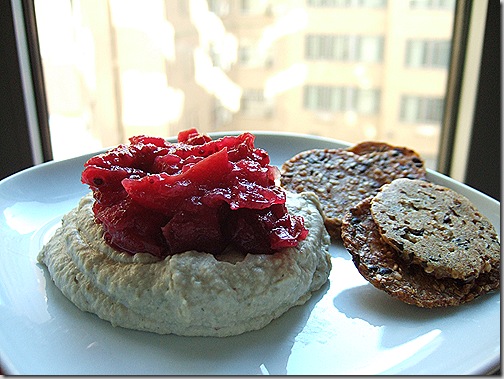 Also, this dressing may be a new tradition for me, and I want to talk about traditions a bit tonight.  Holiday traditions are still something my husband and I are working on, though considering this is our seventh holiday season together, there are definitely some returning favorites: some form of ice cream (like pumpkin ice cream and strawberry ice cream last year), root vegetables and homemade cranberry sauce. We discovered Kim's Apple Cranberry Sauce last year, and it is safe to say it will be a returning favorite.  We made three batches last year that were gone within days. And we made two batches last night (one with maple syrup and one with stevia, his and hers style) and both batches are 2/3 gone already.  We put it on everything today.  It was good on top of my "cheese" appetizer (Kim's Cashew Pumpkin Seed Cheese – see above), with dinner itself, and on top of dessert, which were quick mini vegan pumpkin cheesecakes.  Very mini, as all I had to mold them were silicon muffin cups, but they worked out well. 
So, slowly but surely we are finding new favorites, since the first set of favorites was disrupted by my switching to gluten-free and changing my diet completely.  We navigated the first two years after the switch by having grain-free Thanksgivings, but this year I decided to tackle stuffing/dressing and gravy. I know, I know – both are easy to make gluten-free but, you see, I am the one who likes stuffing/dressing and gravy, so the last two years I was more focused on finding whole menus that worked for both of us.  We are getting to the point where we have repeats we look forward to – steamed peas, Broccoli Pick Up Sticks from The Meat Lover's Meatless Cookbook: Vegetarian Recipes Carnivores Will Devour, and a sweet potato mash.  This year we made the Ginger Mashed Sweet Potatoes & Apples from Appetite for Reduction instead of the extra-virgin olive oil and sea salt sweet potato mash which we had the last couple of years.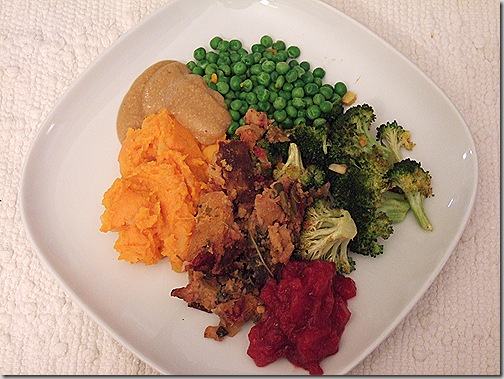 The gravy may be off to the side for the picture,but I added more right after taking the photo.
And now, enter stuffing/dressing.  I wanted it to be a source of protein for me as well as dense stuffing/dressing goodness, so skipped making a bread-based stuffing (if I had, I would have reached for a Food for Life bread, either the Brown Rice or the Millet, as both are dense and appropriate for stuffing) and decided instead to integrate one of my favorite bread substitutes, socca, aka dense chickpea flatbread/pancake.  I stopped by the Pure2Raw site, where the Twins have a whole tribute to socca, including pumpkin socca, which made me think Thanksgiving.  Then I thought of making cranberry orange bread of sorts ( maybe with almond flour) because I go to thinking about one of the first stuffing recipes I ever made, soon after getting married, which was a Rachael Ray recipe for Cranberry Orange Stuffing, using cranberry orange muffins as a shortcut.  Having grown up with wild rice stuffing and traditional bread stuffing on holidays, this recipe was a revelation in terms of sweet and savory stuffings.
I had all these great ideas but never did a test run in the last couple of weeks (life, work, other recipes, crunchy bittersweet chocolate bites, you know).  Then Gena posted two amazing recipes for stuffing this week and I almost forgot about my whole project as I was trying to pick which of her two recipes to make … but I was stuck on trying socca in stuffing, so this morning, I decided to go with this approach, without a test run. Also, I had leftover roasted pumpkin and canned pumpkin puree – just enough for about a 1/2 cup of pumpkin purée when combined, so I went with cranberry pumpkin over cranberry orange.
The dressing (I think I need some sort of grain to call it stuffing) turned out really good.  Basically, you make a socca pancake, which admittedly takes a bit of baking time but, and here is the important part, it is both dense and a bit crunchy, so you don't have to do the whole dry the bread out in the days leading up to Thanksgiving.  In the 40 minutes of time the pancake takes to bake, you have plenty of time to chop your onions and herbs and celery, before combining it all and returning it to the oven for another 30 minutes.  Considering that you have homemade stuffing, from scratch, within under 90 minutes, with no pre-Thanksgiving preparation, with plenty of inactive time to focus on your other Thanksgiving preparations, I would call that a win.
As for gravy – Sea of Book of Yum solved that with her fabulous (and easy!) nutritional yeast gravy.  I had initially thought of making Maggie's Deliciously Dark Pan Gravy, but I did not want to have chickpea flour overload, and I liked that Sea's recipe was lighter on the oil (since, you know, I was the only one eating gravy today).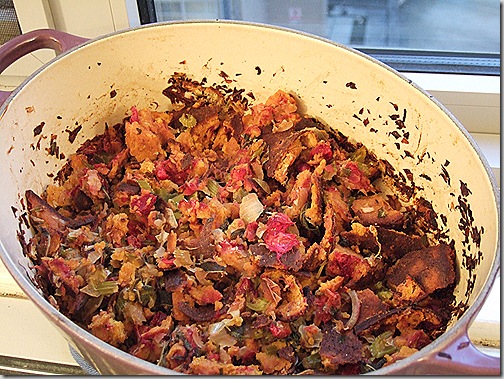 Grain-Free Cranberry Sage Dressing (Gluten-Free, Grain-Free, Vegan, Soy-Free) – Makes 4 generous servings
This dressing has a distinctive savory note amid the sweetness, which is because of the chickpea flour.  Chickpea flour has a strong savory taste, so be aware of that if you have never worked with chickpea flour.  If you would like to use another quickbread or flatbread, the socca portion of the recipe is equivalent to 3 cups of cubed bread/flatbread.  Also, I used extra-virgin olive oil for a more traditional flavor, but you could easily substitute coconut oil,which is a better oil to use at higher heats and what I generally use to make socca.  You could use more oil to cook the onions and celery to ensure a richer tasting dish as well.
2 tablespoons extra-virgin olive oil, divided
1 cup water
1/2 cup pumpkin purée
1 teaspoon sea salt
2 tablespoons coconut nectar or other liquid sweetener
1 cup chickpea flour (I used Bobs's Red Mill)
1 cup frozen or fresh cranberries
1 1/2 cups finely chopped onions (about one large onion)
1 cup finely chopped celery, including leafy bits (about 2 celery stalks)
2 tablespoons fresh thyme leaves (a few sprigs of thyme, stems removed)
Lots of fresh-ground black pepper (I used about 1/4 teaspoon) and salt (I skipped it, but feel free to salt to taste)
2 tablespoons sage leaves, chopped coarsely
1 cup vegetable broth
Dried cranberries for garnish (optional)
Preheat oven to 375F.  Place 10-inch cast iron skillet in oven as oven preheats.  Preheat pan for about 10 minutes as the oven temperature rises.  Add extra-virgin olive oil to hot pan and preheat oil and pan (about 4 to 5 minutes).  While oven and pan are pre-heating, whisk water with pumpkin purée, salt and liquid sweetener.  Add chickpea flour and whisk well.  You want to try to avoid lumps.  Carefully remove pan from oven.  Pour batter in. It should sizzle. Sprinkle cranberries over batter. Bake for 40 minutes, until dark golden. 
While socca is baking, chop onions and celery.  Heat second tablespoon of oil in an ovenproof pan or skillet (I used a 3 1/2 quart cast iron dutch oven) over medium heat.  Add onions and celery and cook until tender, about 10 minutes.  Add thyme leaves, pepper and salt (if using, stir well to combine and cook an additional 2-3 minutes.  You may have some time between reaching the end of this step and the socca being ready for the next step, or you might not, depending on when and how fast you chopped the onions and celery. 
Remove socca from oven. Remove socca from pan and place on cutting board. Cut into 1 inch cubes. You will end up with about 3 cups.  Stir into pan with celery and onion mixture. Stir in sage and 1 cup vegetable broth until all ingredients are well combined.  Place dutch oven or other oven-proof dish into the oven and bake an additional 30 minutes, until top of stuffing is a little drier.  Serve as you wish, though I personally like the approach to individual ramekins or mini cocottes (see first picture).
I am submitting this recipe to the following events:
General Disclosures
&
Disclaimers