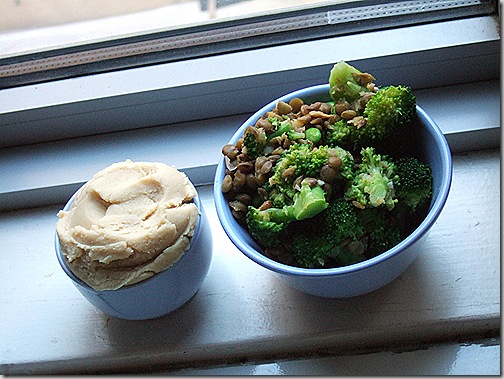 I discovered Vicky's blog Gluten-Free SCD and Veggie back in June after she commented on my Facebook page she made Quinoa Pizza.  I immediately loved Vicky's blog recipes – lots of beautiful vegetable dishes, many naturally vegan or easily made vegan with a few simple substitutions – she also has a great gluten-free recipe index.  Vicky and I have also chatted over email a bit and she gave me great advice on grain-free vegan baking. 
This is all to say, there were many, many, recipes I wanted to make for my adoption of Gluten-Free SCD and Veggie  for Adopt a Gluten-Free Blogger, an event created by Sea of Book of Yum and hosted this month by Kalinda of Wheat Free Meat Free.  I eyed the Carrot and Courgette Fritters (I would have used some unsweetened vegan yogurt or cultured coconut milk in them), as well as the Lentil Pie and the Lentil Soup.  Ultimately, though, I was hankering for summer, and remembered that back in June, Vicky had posted a recipe for Green Lentil Salad, which has broccoli and sunny lemon and garlic flavors.  I made it and it tasted exactly as I imagined – meaning that the cold and grey outside evaporated a bit.  The dressing is rich, so I actually used about a third of the recipe for it.  To round out what was already a splendid lunch, I made Vicky's Oil-Free Hummus, which was fantastic.I usually like my hummus heavy on the tahini, but this oil-free (and tahini-free) version had just the right ratio of lemon, garlic and salt to make up for the lack of oil.  Another hummus recipe to add to my ever-growing list.
Be sure to check out Gluten-Free SCD and Veggie for some great recipe ideas, as well as Kalinda's blog for the round up of Adopt a Gluten-Free Blogger.
General Disclosures
&
Disclaimers