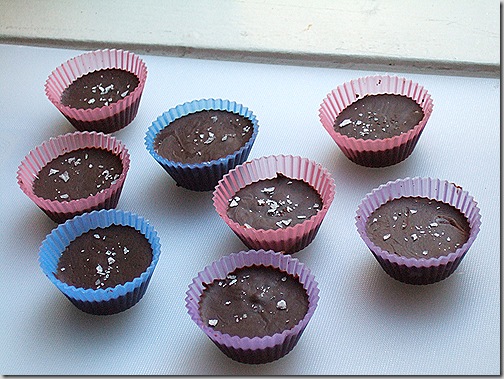 We are closing in on the last week of Gluten-Free Holiday, created by Amy of Simply Sugar and Gluten Free and hosted this week by the lovely Maggie of She Let Them Eat Cake.  This week the theme is dessert and my submission is these Sunflower Mini-Cups. I was looking back on my chocolate recipes and resolutions for the year, and remembered one of them had been to make chocolate.  I have done plenty of chocolate recipes using raw cacao and coconut oil, but have yet to break out my lovely cocoa butter. For this week's recipe, I really wanted to avoid the coconut oil and nuts in general, since I know I have nut-free and/or coconut-free readers, but after a little reading on tempering etc, I decided to postpone breaking out the cocoa butter and instead bring out this shortcut: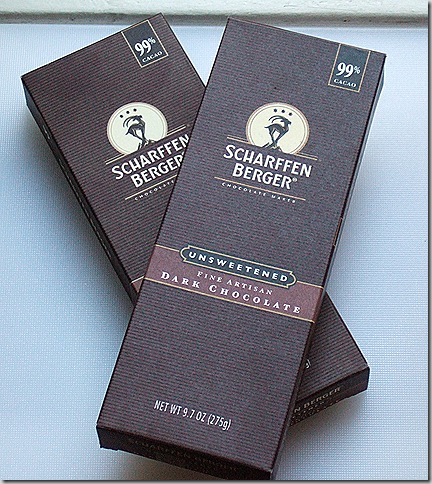 I am a huge fan of this 100% unsweetened chocolate.  From everything I have read, Scharffen Berger does not use grains anywhere in their facility, so while not gluten-free certified, that provides me with quite a bit of comfort.  Also, I really do not do well with unsweetened chocolates that may have traces of dairy, as I get way too easily congested from even trace amounts of dairy, so I love love love Scharffen Berger 100% unsweetened for that reason.
These mini-cups are completely nut-free and quite decadent.  I have included notes below on substitutions and my preferred method, i.e. instead of measuring out half a tablespoon of chocolate mixture at a time per mini-cup, I just eye-ball it.  It seemed to work well.  Enjoy.
Sunflower Mini-Cups (Gluten-Free, Vegan, Nut-Free, Soy-Free if using chocolate that contains no soy lecithin) – Makes 16 mini-cups
I highly recommend using silicon mini-cup molds for this recipe as they work like a charm.  While I do give both a freezer and fridge option, I recommend the freezer option as it makes the sunflower seeds crunchy and like rice crispies in chocolate.   If you use regular Sunbutter (which contains both salt and sugar), dial back the agave by about half a tablespoon and consider skipping the sea salt topping.  These cups are made with Sunbutter to be nut-free, but if nuts and/or peanuts are not an issue for you, feel free to substitute almond butter or other nut butter of your choice.  If you avoid agave, experiment with other liquid sweeteners, but remember that agave tends to be the more liquid of liquid sweeteners in terms of altering texture, so you may want to up the liquid sweetener by about half a tablespoon if using another kind.  Finally,  the yield of 16 mini-cups is give or take 1-2 cups – based on my math, this should have been 14 cups, but I had enough for two additional ones. 
Set out silicon mini cups on a large plate so they are ready to have chocolate poured into them.  Melt chocolate (either using a double-boiler method or microwaving for 30 seconds at a time, alternating with stirring) until liquid.  I recommend the microwave approach using a pyrex measuring cup, if available, as it makes pouring far easier.  Once chocolate is melted completely, stir in sunflower butter and agave. You should have about 1 1/4 cups of the chocolate mixture. Fill each silicon mini cup with about half a tablespoon of the chocolate mixture.  Rather than measuring it out as it could get tedious and messy, I recommend just filling the bottom of each mini cup with an even but thin layer (this is where the pyrex measuring cup with a spout comes in very handy).  The goal is to use about half of the chocolate mixture.  Evenly distribute the sunflower seeds among the mini cups, placing the seeds atop the melted chocolate mixture (I used a scant half teaspoon per cup). Distribute remaining chocolate among the mini-cups (about a half tablespoon of chocolate mixture per cup), topping the sunflower seeds until completely covered  Transfer plate containing mini cups to fridge or freezer (fridge yields a fudgier texture but the freezer makes the sunflower seeds more crunchy, like rice crispies).  After ten minutes, sprinkle a few grains of flaky sea salt atop each mini-cup. Return to fridge or freezer for at least a half hour.
In addition to Gluten-Free Holiday, I am also submitting this recipe to the following events:
General Disclosures
&
Disclaimers