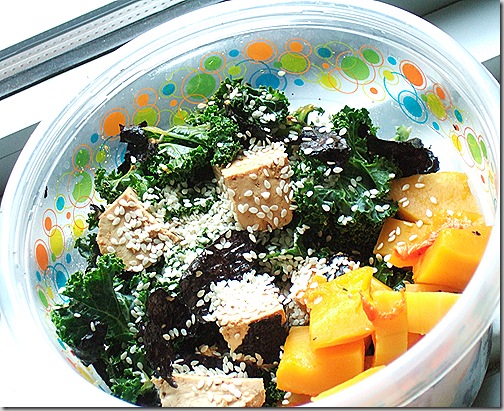 Lately, I have been all about chocolate. Sunbutter Mini-Cups, Festive Cranberry Chocolate Smoothie, and Crunchy Bittersweet Chocolate Bites.  So I thought today we would go the savory route – I first made this salad a couple of weeks ago when I got home from work late and wanted a kale salad, but needed a change.  I was thinking of Katie's Something Easy and Green Salad, which has dulse and kale, but as I was looking for the dulse, I noticed I had a large package of nori seaweed I had not touched in weeks – it has been a long time since I made at-home sushi or quinoa sushi, though I have been making rolls with parsnip rice a la Gena lately.
I also had a vague recollection of seeing nori and kale in a raw salad on a blog once, or maybe a cookbook,  but I was at the point of wanting to gnaw on my own arm of being very hungry, so decided to forsake google and just make it up. 
This is where I was very glad to have purchased some Twin Oaks tofu earlier in the week. I am a huge fan of their products – I loved them before I received a whole box of tofu from them and I continue to purchase their products.  Their tofu requires no pressing and is not packed water, so I can skip the tofu pressing part, which allowed this dinner to come together in under 10 minutes.  Also, it makes for a fantastic lunchbox salad, as you can see on the picture above.  In fact, I think this is a great anytime salad. It would be particularly good with avocado and/or roasted or steamed winter squash, to add some texture to the dish, or some sauteed mushrooms to heighten the umami. You could of course grill or roast the tofu, but this recipe is all about fast for me, so I go for pressed tofu that has been briefly marinated. Below is the basic recipe – enjoy!
Nori Kale Salad (Gluten-free, Vegan, Nut-Free) Serves 2-4     
I am very partial to Eden's Hot Sesame Oil for this recipe, because unlike other spicy oils, Eden's contains only expeller pressed sesame oil and red chili peppers, with no dubious vegetable or soy oils or the like.  Also Eden is very transparent about their gluten-free practices, which I appreciate.  For my soy-free friends, I think you could make this salad using coconut aminos and replacing the tofu with your choice of protein.  Like all kale salads, this holds up well in the fridge for a couple of days, though I would recommend adding the nori no more than a couple of hours prior to serving.   
6-8 cups kale, torn into pieces (about one large bunch kale, destemmed and torn into pieces)
1 Tablespoon grapeseed oil or extra-virgin olive oil (both work well in this recipe, but I think I slightly prefer the olive oil, even though the neutral grapeseed is more traditional with the flavor profile)
1 teaspoon toasted sesame oil (I like this one)
1 Tablespoon  brown rice vinegar (makes sure it is unseasoned and contains no sugar or added salt – otherwise you may have to tweak the amount of tamari you use)
16 oz extra-firm tofu, pressed for at least an hour if packed in water, cut into small 1 inch cubes
3 Tablespoons tamari or other gluten-free soy sauce
1/2 tsp hot sesame oil
6 noris sheets (I like Navitas nori), torn into strips
Sesame seeds and/or hemp seeds for topping
Massage grapeseed or olive oil and sesame oil into kale pieces, until slightly wilted.  Pour brown rice vinegar and mix well.  While you are preparing the kale, allow the tofu to sit in a marinade of tamari and hot sesame oil at least 10 minutes (up to overnight is fine).  Once kale is massaged, mix in strips of nori sheets and evenly distribute in the salad. Pour tofu and the marinade into the slaad. Top with sesame and/or hemp seeds.  Serve with tamari and hot sesame oil for additional seasoning, as desired.
I am submitting this recipe to the following events:
General Disclosures
&
Disclaimers