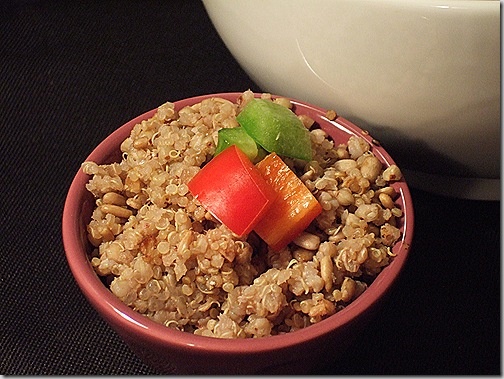 It seems like there is a lot of breakfast love based on the comments and tweets and FB comments I got on yesterday's Breakfast Bias post.  I am glad you enjoyed the breakfast ideas I shared.  I know the science on the benefits of breakfast is split (much research says it is essential, while other research does not), but science aside, I believe a satiating breakfast is good for body, mind, and soul, and it seems many of you do as well.  If you nee inspiration to incorporate breakfast into your life, do check out the comments on Breakfast Bias.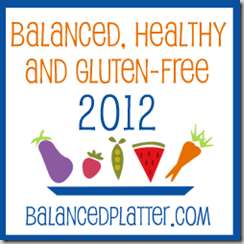 Today's recipe could also be turned into a breakfast (or part of breakfast – see recipe notes), but I initially designed it more as a savory higher-protein pilaf.  I am sharing this as part of my participation in The Balanced Platter month long event called Balanced, Healthy, and Gluten-Free in 2012. as I mentioned in my post on healthy habits and resolutions,  The Balanced Platter a new gluten-free website created by Maggie of She Let Them Eat Cake and Amy of Simply Sugar & Gluten-Free, which launched on January 1.  The Balanced Platter's purpose is to provide you with gluten-free diet tips from your favorite gluten-free bloggers.
I can easily get stuck in cooking ruts, especially when managing a busy schedule.  I tend to default to quinoa as it is the quickest cooking grain/pseudo-grain I keep on hand.  I often make quinoa first thing in the morning when I need to supplement a lunchbox, which usually means I can also have a quick warm breakfast.  Unlike most food prep, even half-asleep me can put a cup of quinoa in the rice cooker along with some water. I love that quinoa is high in protein, and I find it easy to digest,but the other day I was thinking how much I missed barley and wheat berries – yes, I miss more mainstream gluten-based foods too (hmm, sourdough bread) but I also miss those that few people miss, like cooked barley.  Short-grain brown rice has a similar chewiness compared to barley and wheat berries, but I wanted to create something higher in protein – both for me, but also for many of you who prefer more protein and/or who are mindful of grains or focus on pseudo grains only.  Enter this mixture of buckwheat, quinoa and sunflower seeds. Buckwheat and sunflower seeds contribute to the chew, while quinoa and the seeds up the protein quotient of the dish.  My husband suggested naming this dish farley (as in fake barley) which tells me I met the barley chew effect challenge.
This is a nicely versatile dish, as outlined in the recipe notes below, and cooks up fast, which is always nice when you are trying to maintain a healthful lifestyle with limited time.  I have included it in several lunchboxes in the last few weeks, usually with salads and sides of hummus or white bean hip. 
Speaking of lunchboxes, initially this post for Balanced, Healthy, and Gluten-Free in 2012 was going to be about gluten-free lunchboxes before I got distracted by making this dish.  I wrote a series called Today's Lunchbox for 13 months.  There are over 250 lunchboxes on my blog, including the four below:
I could have called the series the Gluten-Free Lunchbox I suppose, but I think everyone can benefit from a good lunchbox, whether or not they must eat gluten-free. Initially I was going write the lunchbox series for a week, then a month, then I figured a year was a nice number, then I did this brownbag challenge just as the year mark came up, which stretched the series into thirteen months.  Then I decided I wanted my blogging to include lunchboxes,but not on a near-daily basis.  That said, the archives for that series are full of fun ideas – and here are some lunchbox links for you:
To see all the other bloggers contributing to this month long-event, check out this post at the Balanced Platter.  And now, here is the promised recipe.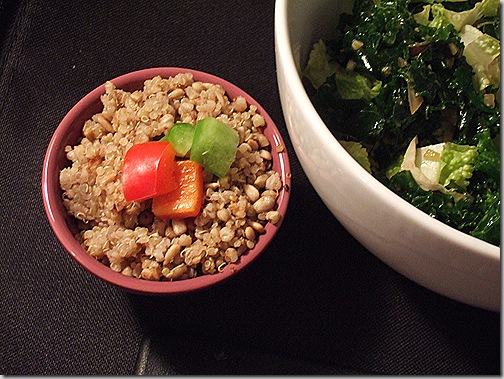 Quinoa Buckwheat Pilaf (Gluten-Free, Vegan, Soy-Free, Nut-Free) – Makes 3 to 4 servings.
I like this pilaf as a side to or mixed with a large salad (like this Romaine Kale Salad).  It is satisfying warm, at room temperature or cold.  I would also substitute this recipe for any recipe that calls for brown rice or barley or quinoa as the base upon which a stew can be served.  I have also stirred some of this pilaf (when fully cooked) into soup for added chew.  Speaking of chew, this pilaf has the texture of barley or short-grain brown rice, but with added protein.  For a blank canvas version of this recipe, omit salt and substitute water for broth.  You can then reheat it, mix it with almond milk and have as breakfast with some berries, or in another less savory applications.  Finally, a note on quinoa and buckwheat groats.  Both are naturally gluten-free, but do check on labels for cross-contamination with wheat-based grains at the packaging stage.  I did not soak the quinoa, buckwheat or sunflower seeds, but if soaking helps the digestibility of any of these ingredients for you, feel free.  In that case, you may need to reduce cooking time. 
1/2 cup quinoa
1/2 cup whole raw buckwheat groats (not the toasted kasha type)
2 1/4 cup vegetable broth
1/2 cup raw hulled sunflower seeds
1/2 teaspoon salt
Rinse quinoa and buckwheat using a sieve. 
Stovetop instructions: Combine quinoa and buckwheat with broth in a saucepan and bring to a boil.  Lower heat to a simmer, cover partially and cook for 10-12 minutes, or until broth is absorbed.  Turn off heat, cover complete and allow to steam another 5-10 minutes. Stir in sunflower seeds. Season with salt.  
Rice cooker instructions: I have had success making this recipe in the rice cooker using the same measurements of broth, buckwheat and quinoa.  Place all three ingredients in the rice cooker and use either the "Quick" or "White Rice" settings, depending on the brand and capabilities of your rice cooker (consult your instruction manual).  Cooking time will be about the same.  Allow an addition 10 minutes of steaming once the rice cooker chimes or turns off from the cooking cycle. Once the buckwheat and quinoa are ready, stir in sunflower seeds and salt.
Serve immediately, or at room temperature,or cold out of the fridge.  The pilaf microwaves well, but add a couple of drops of water to prevent it from drying out.  I have stored leftovers for up to 4 days in the fridge, but use your discretion.  The pilaf also freezes well.
General Disclosures
&
Disclaimers