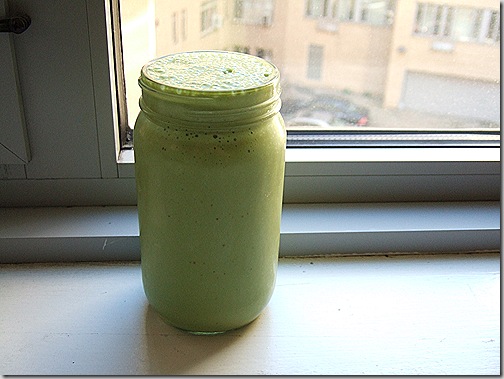 It has been a while since I posted about green smoothies, but lately I have not had the time or mojo to make juice, so have been fulfilling my 16oz of a green drink a day promise with green smoothies.  So I have definitely had smoothies on the brain. Gena's recent post with this beautiful salad also reminded me of when green smoothies were on every blog, as a result of Angela starting the Green Monster Movement.  Last weekend, when I wrote my Breakfast Bias post, I decided I needed to do a follow-up with all my favorite green smoothie options.
When people are not shuddering at my green smoothies, they often ask me how I could possibly like them.  The thing is, I never really found the taste that prominent, and now that I am going on three years of drinking them, I especially do not taste the greens.  That said, I have a few favorites from my archives and blogger friends:
Super quick green smoothie – this is the standard banana spinach combination you see on many blogs. The only difference is that I like adding some chia seeds to thicken the smoothie.
Red, White & Blue Smoothie – no one said green smoothies had ot be green, just that they should contain greens.  I love using raw cacao in smoothies, and this is a great smoothie if you are afraid of spinach. It also tastes like dessert.
Pink-Topped Carob Smoothie – another long-standing favorite. The carob also masks the greens.
Kale Cranberry Smoothie – this is a great refreshing smoothie Wendy created. One of my favorites when I want something hydrating, like green juice, but only want to make a smoothie because of time constraints.
Mellow Green Smoothie – this recipe from Gena contains romaine, tahini and bananas and, if you use vanilla protein powder as she recommends, kind of tastes like a smooth vanilla shake, except it has romaine, which you really cannot taste.
Green Smoothie with Banana, Hemp, and Kale – another Gena recipe that is fantastic and mellow. 
German Chocolate Zucchini Smoothie – the spinach in this smoothie is supplemented with frozen zucchini juice pulp, which makes it marvelously smooth
The above favorites have been in heavy rotation lately, but I also like playing with new combinations, like this Tropical Tango Smoothie or this Festive Cranberry Chocolate Smoothie.  I also really love Heather's Green Mango Coconut Smoothie, but have run out of my spirulina sample, so I need to get some to add to it.  It is good without too, and a nice way to get Swiss Chard in.  You can see more smoothie ideas (most are green smoothies of some kind) in my smoothies & beverages recipe tab (see above for the drop down menu for gluten-free allergy-friendly recipes).  Do you have any favorite green smoothie combinations?
General Disclosures
&
Disclaimers