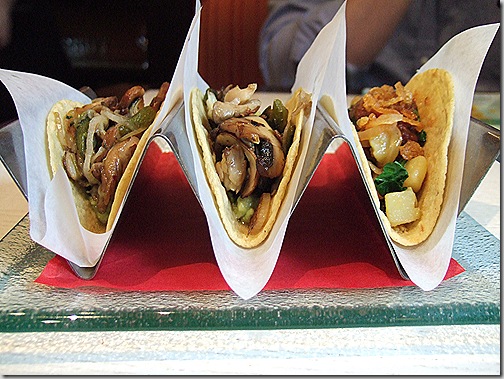 Update December 2012 – sadly these particular mushroom tacos are no longer on the menu. There are different mushroom tacos on the menu that can be easily veganized by asking them to be prepared dairy-free. However, I have gotten sick the last few times I ate at Oyamel, and while I realize this is my personal experience only, I no longer feel like I can recommend it as gluten-free-friendly.  My symptoms have been consistent with how I feel when I eat gluten. To Oyamel's credit, the manager there was amazing and I tried eating there a couple more times, but for some reason I react to the corn tortillas there now, which is odd, because I can eat corn-based products with no problems.  Now, I get my guacamole and upscale Mexican food experience at Rosa Mexicano. 
By some serendipity, one of my husband's absolute favorite restaurants in Washington, DC, Oyamel, is very gluten-free- and allergy-friendly while providing some solid vegan options. Oyamel is a Mexican restaurant owned by Jose Andres, who also owns Zaytinya's and Jaleo.  Just like Zaytinya's and Jaleo., Oyamel features allergen-friendly menus and the wait-staff is generally informed on said allergen-friendly menus.  There are gluten-free, dairy-free, and egg-free menus (I use all three to build a gluten-free vegan meal), as well as nut-free and shellfish-free menus, and at least one other allergy-friendly menu.  While we tend to go to Zaytinya's for dinner, this last year we have started going to Oyamel for brunch/lunch on weekends, usually before going to a museum or walking around in downtown Washington, DC – I actually order the same thing at brunch or dinner (the mushroom tacos), but going at brunch gives my husband more choice son the menu and I think have just come to enjoy Oyamel the most at that time of day. (See Update above. Also, I have no issue eating at Zaytinya's or Jaleo).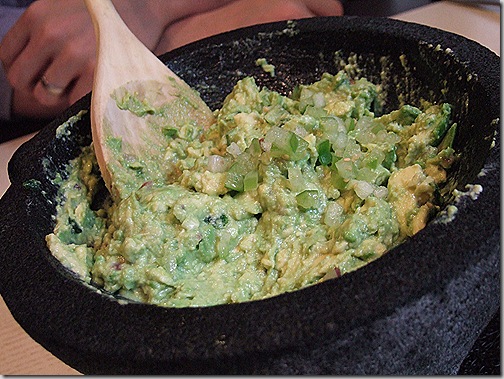 The chips at Oyamel are not gluten-free, so I always order warm tortillas to go with my salsa.  We love the guacamole there, but be sure to ask for it without cheese as for some unknown reason, their standard guacamole includes cheese.  I say unknown, because the guacamole is replete with flavor from cilantro, lime and tomatillos.  They make the guacamole table-side, so you can always ask for substitutions.
I rarely order anything other than water at restaurants, but I really love the agua frescas at Oyamel, though they do taste a bit too sweet to me lately.  That said, if you like sweet fruity drinks, Oyamel would be a good place to try them. 
When we go for brunch, I always get the Gaspacho estilo Morelia (no, I have no idea why a Gaspacho can be a salad).  I just ask that they hold the queso fresco and dig into the crunchy jicama and cucumber, combined with seasonal fruit.Of all the salads I have tried, it is by far my favorite.  I do not enjoy the cactus paddles salad or cooked dish as much, and have tried all the others on the menu as well, and keep coming back to this fruit salad, which is simple and seasoned with a bit of lemon and salt.  
And now, the tacos – incidentally, many (if not all – be sure to check) the tacos are gluten-free, and two types of the gluten-free tacos are vegan.  The year-round vegan taco option is my beloved mushroom tacos. I am obsessed with them and, while they are a bit greasier than I would like at times, they are truly amazing.  The mushrooms are plentiful and varied, and nestled into mashed avocado, along with some delightfully caramelized onions.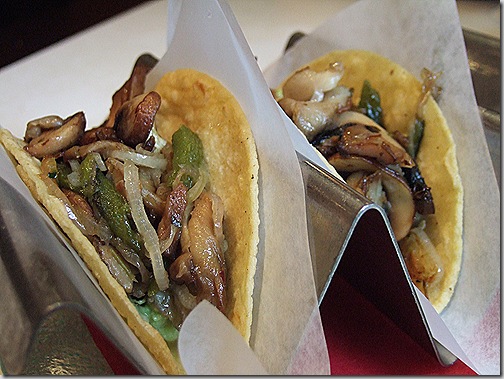 The second vegan taco option is usually a potato and chard one with some avocado – it is good, but I do not love it the way I love the mushroom tacos so I do not always order it (it is the taco on the right on the first picture of the post).  In spring, the chard potato taco is sometimes replaced with an asparagus taco which is as phenomenal as the mushroom tacos.
In addition to the above dishes, there are at least three, if not more other salads that are either naturally vegan or can easily be made vegan by removing the cheese.  If you come at dinner, I do not believe the fruit salad is available, but this golden beet and avocado salad is: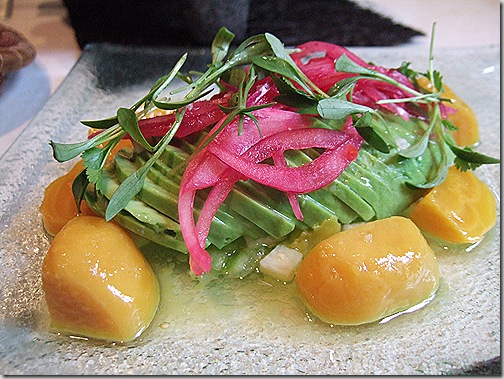 Brunch, dinner – you really cannot go wrong with Oyamel. Just please promise me to get the mushroom tacos.
Disclaimer: When dining at a restaurant, please always confirm its gluten-free items and kitchen handling procedures for gluten-free diners, as well as for any other allergy-related needs.  Menus can change (Oyamel rotates a few dishes seasonally for example).  Do not assume an item is gluten-free or vegan just because it sounds like it could be – it is always better to ask.
General Disclosures
&
Disclaimers