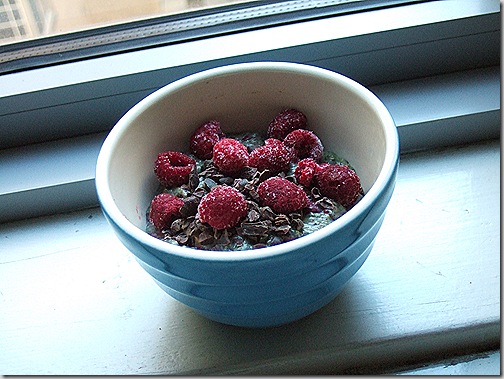 Happy Sunday! I am alternating working on professional projects with yoga, a little blogging and time with friends this week.  I have a very full day ahead of me, but wanted to share this quick chia pudding recipe to add to your breakfast or snack repertoires.
For me, chia puddings are the ultimate fast food – yes they take a bit of time to soak and pudding up, but once you mix the ingredients, you can forget about it until it this time to eat.  I eat them for breakfast and sometimes as snack. I love my Almond Banana Chocolate Chia Pudding and Almond Mocha Chia Puddings (you can see other chia puddings and breakfast ideas here). I also often check out Gena's blog for chia ideas – she has a whole page of chia puddings.  I usually substitute stevia for any dates or other sweetener – I love this Vega variation, minus the banana and topped with frozen blueberries. The beauty of chia puddings is you can assemble them the night before. 
The Vega variation is what led me to this particular flavor combination.  No, it won't win any awards for looks (then again, chia puddings don't often), but the combination of frozen raspberries and cacao nibs with nut butter of your choice makes the whole thing taste like dessert.  Unlike dessert, however, this is the kind of breakfast that keeps me full for hours, on account of the combination of fiber and fat.
Raspberry Swirl Chia Pudding (Gluten-Free, Vegan, Soy-Free) – Serves 1 heartily or makes two snacks
The swirl in this recipe refers to swirling the raspberry and nut (or seed) butter together into the chia pudding.  Be sure to use a gluten-free protein powder to make this recipe gluten-free. I really like Vega Vanilla Chai but  Sunwarrior vanilla would work well (whether the brown rice or blend options) but use any vanilla protein powder that suits your diet.  The Vega I used is what gives the pudding such a distinctive hue on the picture. 
1/2 cup almond milk
3 tablespoons chia seeds 
1 scoop no-added-sugar vanilla flavored protein powder – I think Vega vanilla chai tastes best for this recipe, but you could also use
2-3 tablespoons cacao nibs (make sure to buy unsweetened cacao nibs)
1/2 a cup frozen raspberries plus a few more for topping
1 tablespoon nut or seed butter of your choice
Whisk together the almond milk, chia seeds and protein powder. Stir in cacao nibs, then frozen raspberries.  The mixture will start to thicken.  Add the nut or seed butter on top, without stirring it in.  Cover and place in fridge at least an hour, but overnight is fine too (I make this is in a gladware and store it in the same container I assembled the pudding but feel free to use a bowl and transfer to a covered container).  Immediately before serving, swirl in the nut butter.  Top with additional raspberries and/or cacao nibs.
When I initially discovered chia seeds a couple of years ago, I was under the impression that you had to stir the seeds and liquid well, let sit, wait five minutes, stir again, wait again, stir again. After a few hurried evenings, I realized that you can get a perfectly good chia pudding with the method above.  I wish I had known that sooner!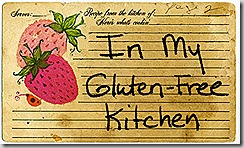 You will see below that I am submitting this recipe to several blog events, but I am also submitting the above tip to a new series that Wendy of Celiacs in the House just started In My Gluten Free Kitchen.  Every Friday a different gluten-free blogger will be sharing a tour of their kitchen (see Wendy's kick-off post from two days ago) and part of the news series Wendy started on Friday is a post on Sundays sharing tips, wisdom, or new ways of doing things in our gluten-free kitchens. Each week will have a theme and a place to link up and share your tips and photos, and peeks into pantries.  This week is tips, next week is cookbook shelves.  I am sharing the above tip because chia puddings are a nice alternative to oatmeal for breakfast, so thought this might be interesting to other readers and bloggers who eat gluten-free.
I am also submitting this recipe to the following weekly events:
General Disclosures
&
Disclaimers