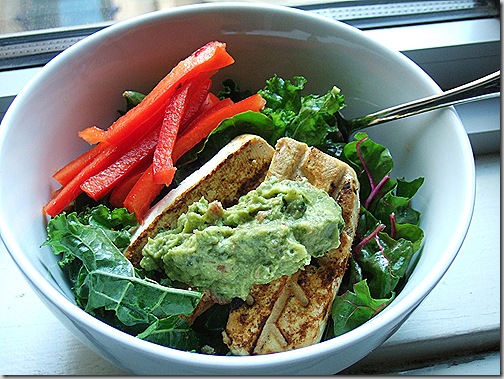 A thirty minute weekend lunch: grilled tofu, quick guacamole, Swiss chard and kale massaged with lemon juice and salt, and sliced red peppers.
I am participating in in the Food Network's Healthy Eats blog January Healthy Every Week Challenge. Week one was focused on breakfast (see Breakfast Bias), week two on whole grains (see Whole Grain Affinity), This week's challenge is to cook at home more.
There are many reasons to cook at home more – I hear people who want to do so for health reasons, dietary reasons, weight loss reasons, financial reasons, family reasons, and food allergy reasons.  I am sure I have missed other reasons, but whatever the reason, it can seem daunting.  For me, even before I switched to a gluten-free and eventually also vegan diet, I tried to eat at home as it meant I generally felt better (in hindsight, this makes complete sense as my at-home meals tended to be naturally gluten-free back then) – now I find eating at home is a necessity.  As lucky as I am to have access to several restaurants that are educated on handling gluten-free diners and have gluten-free vegan options, there is still a risk of cross-contamination and, of course, it is so much more cost-effective to cook at home.  I try to eat at home 19 out of 21 meals a week – some weeks it is 21 meals, but some weeks 1 or 2 meals are out because they involve seeing friends.
I think there are two types of successful models to eat and cook at home frequently.  There are people who like to do a lot of prep on Sundays (like Gena and JL), and then there are people like my husband, who like a moderately planned week, and prefer to cook for 10-30 minutes at a time. The lunch above is from Saturday a week ago – the reason I used it to illustrate this post is that it was made by my husband, he of the 10-30 minutes in the kitchen at a time model.  In just about 30 minutes, he made salads for both of us, threw together a quick spice rub, used it on the tofu I ate, which he grilled before he grilled a pork chop for himself, also made with the same spice rub.  While the tofu and then the pork cooked, he stemmed some kale and chard, washed the greens, massaged them with lemon juice and salt, and made a quick guacamole (I say quick because this was a basic avocado-lime-red-onion guacamole). The sliced red peppers were left over from the night before, as was the lemon juice. 
Today, knowing I had no time for any sort of real prep for the week, I dumped a cup of lentils into the rice cooker, along with water and a leftover piece of onion and a bay leaf. After the lentils were done cooking, I portioned out a third of the lentils along with the onion for a bean dip of sorts later in the week, and added leftover cooked quinoa to the rest of the lentils and broth, along with a couple of cups of kale.  As soon as the kale had wilted, I pulled that out, put it in a large bowl, and added miso, cayenne and some of the lentil and quinoa mixture on top.  It made for a warm hearty dinner, which I sorely needed.  The rest of the lentil quinoa mixture will serve as lunch tomorrow, along with some romaine salad.  I spent literally 10 minutes total in the kitchen today, but it generated enough food to get me to tomorrow night, when I hope I can get some more things prepped for the week.  I like to make one nut cheese and/or one hummus or other bean dip, but some weeks I try different recipes and live off the leftovers. It totally depends on my mood and my time.
These vignettes are all about showing you that if you want to cook at home, it is indeed possible.  It requires foresight and, depending on your approach, varying amounts of time at varying points of the week, but it is possible. When I am short on time, I continue to cook at home but eat more simply – lots of green smoothies, lentils in the rice cooker with the approach I used tonight, some quinoa, salads, chia pudding (one of the ultimate fast foods for me).  Snacks become raw nuts or apples with nut butter.  If I have more time, I will of course make more interesting recipes, along with making green juice ahead of time, and great snacks like kale chips, snack bars and so forth.
The underlying foundation for success in consistently cooking at home, no matter whether you like quick meals or prefer to prepare ahead:
A few go-to recipes – there are always new recipes to try, but when speed is the essence, using go-to recipes helps a lot.  I found in the last year I went from go-to recipes to go-to methods, which are even simpler for me.
A spice selection with lots of your favorite spices, allowing you to change dishes up
Some quick-cooking / quickly prepared staples – for me they are quinoa, sprouted bean trio or other lentils, spinach and romaine, and snacks rely on apples and chia puddings.
Some planning but not too much planning – making a rigid meal plan feels overwhelming to some, including me – I would rather have some prepared items in the fridge and a loose idea of the week's meals.  
One kitchen tool that cooks beans and grains fast or without any watching –some people swear by their pressure cookers, other by their slow cookers. I like my rice cooker.  Either way, one of those appliances will definitely speed things up.  Pick the one that works for you.
The willingness to cook at random times—I often soak beans at night and then cook them in the morning in the rice cooker while my husband sleeps and I go to yoga or the gym.
And finally, let go of should's.  Just because several people prepare all their meals on a Sunday does not mean you should – you might be perfectly happy throwing together a quick meal every night, and if that works for you, even better.  If, however, you lose motivation and resort to take out often, you might want to try cooking ahead a bit. If, on the other hand, you are totally burnt out with bulk cooking (I know, I have been there), experiment with some quick dishes.  The key is to cook at home more, not cook grandiose meals and try out new recipes every night.  
General Disclosures
&
Disclaimers