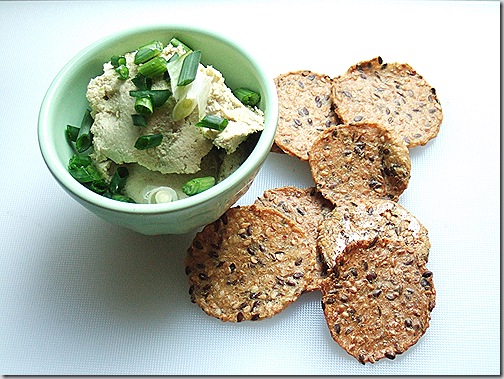 Thank you for all the kind comments on my guest post over at Wendy's blog, Celiacs in The House, on how to organize a small kitchen.
And now let's talk about this cheese. Obsessed. That is the only way to explain why I have made this "cheese" several times this month already. it all started with the scallion-flavored macademia nut cheese I had at Elizabeth's Gone Raw at the end of December.  The menu there has two parts – the actual menu, and then a page with the ingredients of each dish (very handy as one of the dishes contained nama shoyu and was not gluten-free, so I could catch that before hand).  That is where I noticed that one of the ingredients in their macademia cheese was celery, and that got me to think of some ideas for a new cheese.  My winter-time cheese go-to is Kim's Cashew Pumpkin Seed Cheese, which I blogged about at Thanksgiving, and I also love Gena's Pizza Cheese, though that is more a summer thing, since it calls for basil.  I have not yet ventured into the world of fermenting nut cheese, but am eventually going try this nut-based goat cheese recipe as well.  
In the meantime, though, I was determined to make a more rustic and fast version of Elizabeth's Gone Raw macademia cheese, based on the ingredients I have on hand.  I say rustic because when you make nut cheeses (or pates) macademia and pine nuts yield the more delicate and creamy results, but are also the most expensive nuts to buy, which is why I never keep them around.  I do however have an ongoing obsession with raw cashews, so always have those, and also keep sunflower seeds on hand as they are inexpensive. This cheese was the result of my experimenting, and having now made it four times, I can say I am very pleased with it.  It has the consistency of thick but spreadable goat cheese, and a flavor a bit reminiscent of the original Boursin cheese (though not quite as garlic and herby, though I am going to play around with another version eventually).  I have eaten it with crackers, but also as a spread in a sandwich, as well as stuffed into a collard leaf with sliced vegetables, and all three approaches were delectable.
Scallion Cashew Vegan Cheese (Gluten-Free, Vegan, Soy-Free) – Makes about 1 cup
I tried this with several ratios of cashews to sunflower seeds and I do think you need at least 1/2 cup of cashews to get the cheese to have a nice texture.  I liked the 1 cup of cashews to 1/2 cup of sunflower seeds the best, but the 3/4 cup to 3/4 cup approach was just as good.  You do want to soak the cashews and seeds at least an hour, but you can soak them up to 6 to 8 hours.  Discard the water after soaking. Just be sure to adjust the amount of water you use when blending up the cheese. If you do not have a food processor, you can make this in a Vitamix-type blender easily (I made this in my Vita once), and likely in a regular blender as well, though you may need to add more water and thus have a slightly runnier cheese spread (I have not made this recipe in a regular blender). 
1 cup raw cashews (or 3/4 cup), soaked for at least an hour and rinsed
1/2 cup raw unsalted hulled sunflower seeds (or 3/4 cup ), soaked for at least an hour and rinsed
3 tablespoons nutritional yeast (for those of you who asked me which brand to buy, I like this one)
1/4 cup chopped celery (I like using the leafy parts)
1/4 cup chopped scallions (about 2 to 3 scallions, roots removed, and using both the green and white parts) and additional chopped scallion for garnish
1/4 cup fresh squeezed lemon juice (2 small lemons juiced)
3/4 to 1 teaspoon sea salt (I start with 3/4 teaspoon and add more salt to taste)
water
Place all ingredients except the water into a food processor and turn food processor on.  After about a minute scrape down the sides and assess whether you want to add water. I find that just under a three tablespoons of water, streamed in as the motor is running, is enough to get a thick spreadable cheese, but if you want a slightly looser consistency, add more water. I think the amount of water you need to add is really dependent on the strength of your food processor and how long you soak your cashews and seeds.  For example, I made this recipe once after having soaked the cashews and seeds for about five hours and barely needed an additional tablespoon of water for it to come together.  The goal is a thick and spreadable texture, sort of like hummus, but use your kitchen intuition when adding water, because it really depends on your food processor. 
I am submitting this recipe to the following weekly events:
General Disclosures
&
Disclaimers