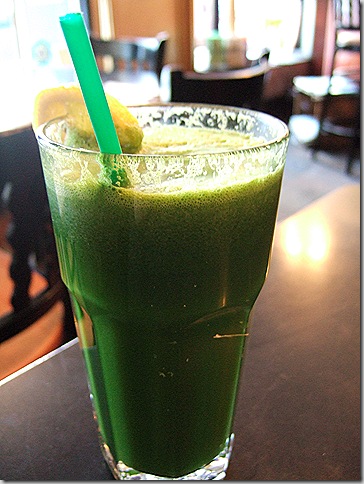 I mentioned yesterday that I made a quick day trip to New York last week to see former co-workers and good friends – it was lovely to see everyone.  Even though I was in New York for just under 12 hours, I ate marvelously well – lunch was delicious brown rice avocado cucumber rolls at one of my old Brooklyn go-to's, Nanatori's – I used to go there after going to the gym around the corner. I was delighted to find out they could handle gluten-free well.  I meant to stop by Babycakes, but I ran out of time (though I was able to get in some successful shopping at Moo Shoes) before meeting up with a long-time college friend at Candle Café.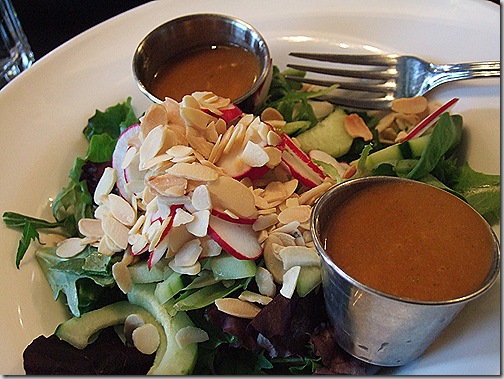 Candle Café was one of my favorite places to visit when I made it to the Upper East Side (I worked downtown and lived in Brooklyn, so trips uptown were sporadic) – I have always loved the atmosphere. It is both classy and comfortable, and I have had great meals there.  It has extensive vegan offerings, and the gluten-free version of the menu has plenty of choices.  I started with a Viva Verde juice, which was vibrant and green without being too green or bitter (I can drink kale dandelion ginger juice straight, yet still prefer milder green juices) and a House Salad with the Toasted Cumin dressing, which was divine.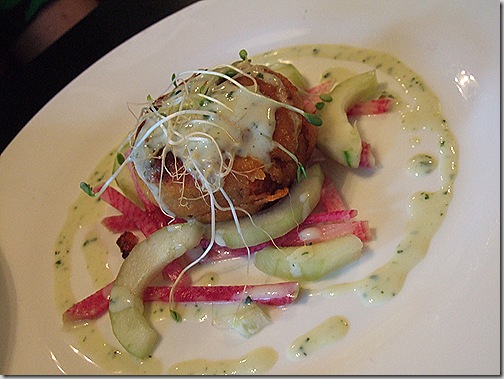 My friend and I then split the Sweet Potato Cake filled with Tempeh Chorizo and served with sour cream and cucumber radish salad.  I enjoyed it though I would have liked a little more tempeh, as I think it would have added to the texture of the sweet potato cake.  That said, the flavors were spot-on – sweet but savory, with a little creaminess and crunch from the sauce and garnish.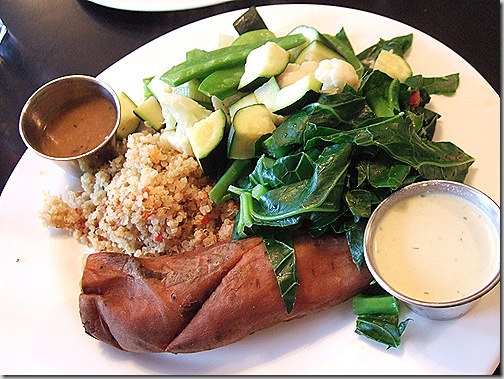 Tuesday last week was cold and dreary, so while I was tempted with the Chipotle Baked Tofu, I wanted milder comfort food – so I went with the Good Food Plate (choices of four sides and two dressings or sauces).  I picked the Quinoa Vegetable Pilaf, steamed vegetables, steamed greens and a baked sweet potato.  For the sauces, I went with the country gravy for the baked sweet potato, and tahini dressing for the quinoa and steamed vegetables.  Everything was superb – the vegetables had crunch, the quinoa was well seasoned and the sweet potato perfectly steamed.  I felt full and satisfied and warm.  Candle Café was exactly as I remembered – soothing setting, comforting food and great green juice. 
General Disclosures
&
Disclaimers