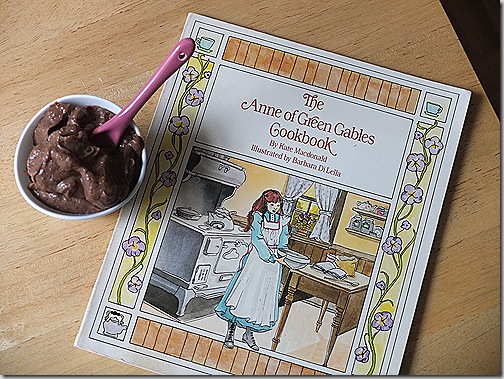 One of my absolute favorite children's series is Anne of Green Gables -  I loved her imagination, her friendship with Diana, her college years in Anne of the Island, and of course, always wanted her to end up with Gilbert.  While the books are at my parents', somehow, the Anne of Green Gables Cookbook is on my cookbook shelf (my edition is from 1988 and has survived the years well). I made several dishes from the book as a child, including the Raspberry Cordial (not to be confused with the raspberry liqueur that got Diana drunk) and the Lemonade.  These two recipes, along with several others, are true to the books in terms of ingredients and techniques. The others, a little less so.
When Zoe of Z's Cup of Tea announced that the theme this month for Go Ahead Honey It's Gluten-Free (created by Naomi of Straight to Bed Cakefree and Dried) was Fictional Food – Treats and Dishes from Children's Stories, I immediately pulled down the Anne of Green Gables cookbook.  After debating a stevia version of the Rapberry Cordial, I settled on an interpretation of Marilla's Caramel Pudding Sauce (you know, the same sauce that had Anne saying "Diana, fancy if you can my extreme horror at fining a mouse drowned in that pudding sauce).  In the book, the Pudding Sauce is served with Marilla's Plum Pudding, but had to be served dry considering the mouse mishap.  My version of the Caramel Sauce below has no mice, or butter, flour or refined sugars.  I used dried mission figs as the base to for both its caramel undertones and dried fruit flavor reminiscent of the plum pudding itself.  You could also use pitted dates instead. 
Reinterpreted Pudding Sauce (Gluten-Free, Vegan, Soy-Free if you do not use soymilk) – Makes 2/3 cup.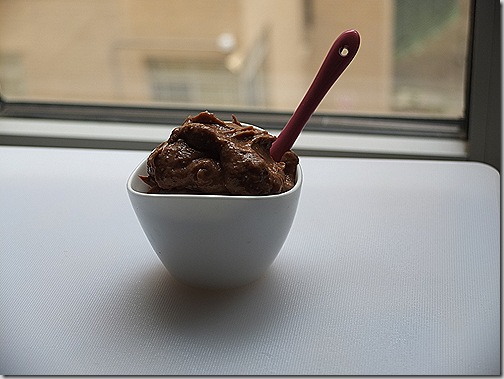 I used dried mission figs as the base to for both its caramel undertones and dried fruit flavor reminiscent of the plum pudding itself. You could also use pitted dates instead. The recipe is sweet but not very sweet, and the palm sugar serves more to enhance the caramel flavor than to sweeten, so feel free to add additional palm sugar or stevia.  This pudding sauce could be a topping for dessert tarts, but I ate it with apple slices and I could see it working atop some banana soft serve too. One last note: the flavor is not a traditional dessert sauce so might not appeal to all palates (my husband, for one, really disliked it – more for me!) 
1 cup dried mission figs
2/3 cup hot water and 2/3 cup room temperature water
2 tablespoons tahini (I used this roasted tahini variety)
1 tablespoon palm sugar
3/4 teaspoon vanilla extract
1/8 tsp sea salt
3 tablespoons unsweetened non-dairy milk (optional – avoid rice milk as it is too thin. good choices are almond, cashew, hemp,coconut milk and soy milk)
Trim figs of any stems. Place in a bowl. Pour hot water over figs. Soak figs for at least an hour. In a food processor, place figs and soaking water and tahini.  Process until you have a chunky purée. Scrape mixture down the sides. Dissolve palm sugar in remaining 2/3 cup water by whisking together in a bowl (if your sugar is very grainy, slightly heating the water should help).  Whisk in vanilla extract and salt.  Add mixture to food process and process until smooth and puréed, stopping to scrape down sides.  For a creamier texture, add in non-dairy milk and briefly process to incorporate. 
In addition to GAHIGF, I am also submitting this recipe to the following blog events:
General Disclosures
&
Disclaimers