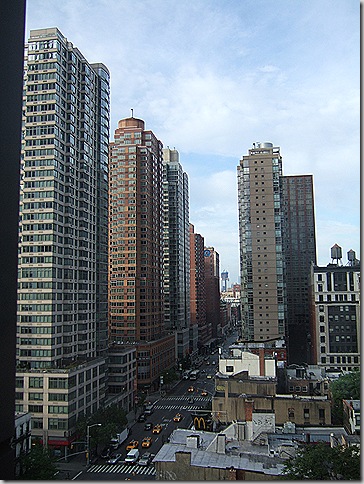 I was in New York earlier this month for a wedding. It was truly one of those New York minute type trips, but I did fit in some yummy eats and walking around my old haunts in Union Square, the East Village and the Lower East Side. I lived in many neighborhoods in New York over the years, but my first apartment was on Avenue B and I later lived off the F train in Brooklyn, which made those neighborhoods the ones I was often in.  I also worked downtown, so the Tribeca Whole Foods was one of my go-to grocery stores.  The wedding reception was in Tribeca, and I was in need of a few snacks – I got to eat a lovely meal at the wedding, mainly because the Tribeca Grill had no problem coming up with a gluten-free vegan dish on the fly, kudos to them, but I still wanted some snacks.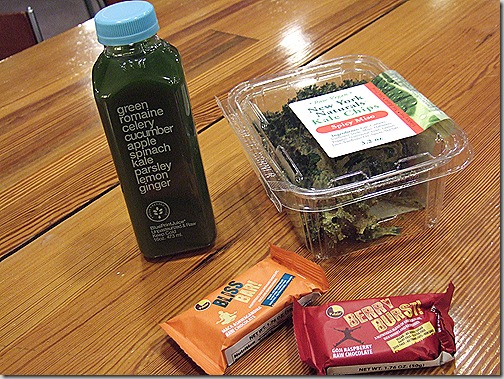 I was tired and congested after a super early start to a day of travelling (let's just say Amtrak almost broke) followed by immediately going to the wedding (which was lovely), so I was grateful to down the green juice.  I am not a fan of the Blueprint cleanse system (I am not a fan of liquid cleanses, period), but I do like that they have vacuum packed green juice that I could buy at Whole Foods.  This is a world apart from getting any other kind of bottled green juice or smoothies I have seen at stores – most taste off to me since they are not freshly pressed, which is why I prefer to make my own or buy freshly made, but I am always thrilled to find vacumn packed freshly pressed (as it can be stored for a couple of days).
I was also very drawn to these kale chips, which I bought despite not being organic (I am usually a stickler about organic greens). I assumed it was because I was dying to try spicy miso kale chips (it was almost 11pm when we were at Whole Foods so I was not thinking that clearly).  I will be making my own version but once I looked up New York Naturals Kale Chips, I concluded it was because of the name of the company.  When I lived in Brooklyn, I always lived close enough to a health food store by the same name on Flatbush, so had shopped there for years.  Turns out, that store is closed as the couple owning it went into the kale chip business:
Amy Hamberry was working in the New York Naturals health food store owned by her and her husband when she started wondering why they couldn't get a good supply of the hot new item: kale chips. She decided it was time for New York to have its own kale chips, and started making them and selling them in the New York Naturals store on Flatbush Avenue in Brooklyn. With plenty of feedback from customers, she eventually created a delicious chip that is now sold in more than 180 stores in New York City and on the East Coast as well as online.
The chips did so well that Amy and Joe decided to shut down the retail store in order to focus on kale chip production, opening a facility at the Monti Building in Brooklyn, a 100 year old warehouse with one of the country's largest solar installations on the roof.
Small world, right? I hope these chips become more widely available and switch to organic. The spicy miso chips were amazing.
The snack bars are British and called Pulsin' Bars.  They are a less sweet, more complex version of a Lara Bar. Perfect post-wedding dessert.  I ate half of each that night, and the other halves the next morning before going to the hotel gym.
As for the DC discovery? Within a few days of returning from New York, look what I found at the Foggy Bottom and P Street Whole Foods locations: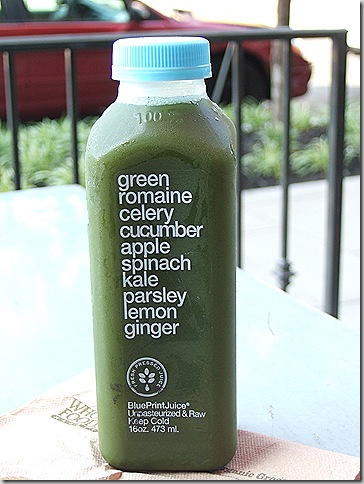 As someone who likes her green drinks (they do wonders for keeping my hydrated and my belly happy) this was a very exciting discovery. I still plan to make juice and green smoothies at home, but I do have a bottle of the above in my freezer for a back-up, which I probably will use once a week (and replace so I have one on hand).  Also I love that I can always pick up a bottle as a snack, whenever I want. For me green juice is either half of breakfast or a late afternoon snack, while green smoothies (loaded with seeds and protein powder in addition to fruits and veggies) tend to be a small meal.  Still, freshly pressed green juice within a few blocks of where I live is a pretty sweet addition to my options.
Update 1:  Washington, DC now has its own local pressed juice company!
Update 2:  Blueprint is now all all-organic. 
General Disclosures
&
Disclaimers