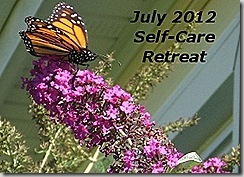 I am delighted to announce that I am working with several wonderful bloggers on this year's Annual Self-Care Retreat.  Our inspiration is Cheryl of Gluten-Free Goodness, who got this started last year and this year, and always reminds us to take care of ourselves.  We hosted a self-care retreat last July, and I am so glad we are doing it again!
Self-care has been a work in progress for many years for me, and I have found that it is helpful to surround one-self with like-minded souls when focusing on self-care. Whether the support is virtual – such as a community of bloggers – or in person, such kinship is so valuable.
Our fantastic group of bloggers and themes:
These posts are to inspire you all to make July a month of reflecting on self-care and the many ways to nourish ourselves. We would like everyone to participate in this event in a way that feels appropriate to them, whether that's through personal reflection, journal or other self-care.  If you would like to share your experience with self-care, we would love to include you in the experience, whether you join us for one week or every week.  You can write generally about self-care and how you include it in your life, or "try on" one of the practices we're blogging about over the course of the next week (food, support and connection, movement, creativity and inward reflection). We ask that you link back to this post so that more people can learn about this retreat, and leave a comment for the weekly theme host, too! At the end of the month, we'll include a roundup of all the self-care posts you write to inspire others to work on their own self-care.
As a little added incentive, for each post on your goals and your progress you link back here or one of the other co-hosts, you'll be entered to receive a $50 gift certificate to Nuts.com (they are not sponsoring, Cheryl is donating this gift and wanted something with healthy gluten-free, vegan, sugar-free, etc. options).
I updated last year's badge to use for the retreat; feel free to use it in your posts.  If you would like to be included in our roundup and the drawing, please email a link to your post, along with your name and blog name, to us at selfcareretreat at gmail dot com by July 30, 2011. 
Non-bloggers who would like to contribute, please e-mail the full text to the same address and it will be included in the roundup.
For a "flavor" of previous retreats, here's a link to the July Self-Care Retreat and the December Sanity Retreat.
General Disclosures
&
Disclaimers