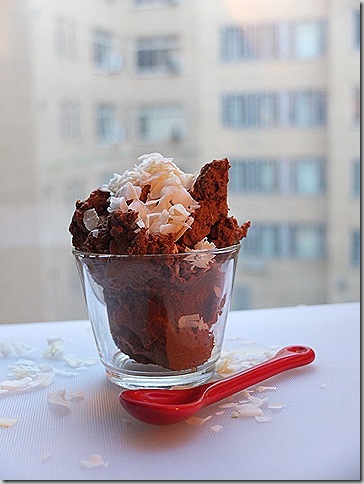 Happy Friday! I did a little catching up last night and posted two new recipes: Coconut Chocolate Frosting Dip (picture above) and Thai Chopped Salad.  Both are scrummy recipes and may provide you with some weekend cooking inspiration. Also, they work well in the same meal – the night I had that salad, the protein component of my meal was a big scoop of Coconut Chocolate Frosting Dip since, after all, the base of the dip is white beans.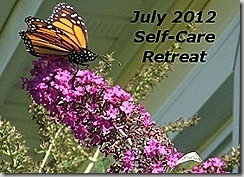 I also wanted to check in about this month's self-care retreat and thank you for the thoughtful comments and emails about my post on reconciling diet restrictions for food allergy and other health reasons with a history of trouble with food restrictions from an eating disorder perspective.  The interesting thing to me was that, while the reasons behind avoiding foods were completely different (i.e. avoiding foods that were making me sick), for a long time the fact any restriction in any form was involved was very troubling.  It was only when I realized that while I was avoiding certain foods but not whole food groups that I was able to separate making food choices to sustain my health (i.e. eating gluten-free and ultimately switching to vegan instead of solely egg-free and dairy-free, to which I react) as opposed to restricting my food intake in a way that was not health-promoting.  At the worst of my food restrictions when I was a teenager, I barely ate any protein or fat and viewed most dense carbs suspiciously which, compared to my gluten-free vegan eating now is very different – I  am mindful of eating well-balanced meals now, with abundant sources of all macro-nutrients, and it is heartening to see how far I have come. 
On the self-care front, I am working on getting enough sleep, but am pleased with the added emphasis on yoga I have focused on the last couple of weeks.  It always fascinates me how going from 2-3 practices a week to 4-6 practices makes such a huge impact on my flexibility.  I went back to yin yoga, again, this week and my hips protested a little more quietly. I also read this article on the "busy trap" with interest – it is so easy to overschedule ourselves and I so appreciate reminders such as this.
Finally, more information on our retreat this month:
Our fantastic group of bloggers and themes:
These posts are to inspire you all to make July a month of reflecting on self-care and the many ways to nourish ourselves. We would like everyone to participate in this event in a way that feels appropriate to them, whether that's through personal reflection, journal or other self-care. If you would like to share your experience with self-care, we would love to include you in the experience, whether you join us for one week or every week. You can write generally about self-care and how you include it in your life, or "try on" one of the practices we're blogging about over the course of the next week (food, support and connection, movement, creativity and inward reflection). We ask that you link back to this post so that more people can learn about this retreat, and leave a comment for the weekly theme host, too! At the end of the month, we'll include a roundup of all the self-care posts you write to inspire others to work on their own self-care.
As a little added incentive, for each post on your goals and your progress you link back here or one of the other co-hosts, you'll be entered to receive a $50 gift certificate to Nuts.com (they are not sponsoring, Cheryl is donating this gift and wanted something with healthy gluten-free, vegan, sugar-free, etc. options).
I updated last year's badge to use for the retreat; feel free to use it in your posts. If you would like to be included in our roundup and the drawing, please email a link to your post, along with your name and blog name, to us at selfcareretreat at gmail dot com by July 30, 2011.
Non-bloggers who would like to contribute, please e-mail the full text to the same address and it will be included in the roundup.
For a "flavor" of previous retreats, here's a link to the July Self-Care Retreat and the December Sanity Retreat.
General Disclosures
&
Disclaimers