My love for green juices and green smoothies is well-documented on this blog.  You can see it in numerous lunchbox posts, when I travel, in my smoothie recipe line-up.  Green smoothies are one of my go-to breakfasts, and I usually make green juice for two to three days a week.  A green juice is either half of breakfast or a late afternoon snack, while green smoothies (loaded with seeds and protein powder in addition to fruits and veggies) tend to be a small meal, like breakfast, or a sizeable late afternoon snack, which is great on weekend days when I know I might be eating dinner late. 
Both green juices and green smoothies have done wonders for my health – green juice in particular has really helped me with having increased energy and smoother digestion.  Years of eating foods that I kept reacting to weakened my digestion and made nutrient absorption a challenge.  Therefore, green juices, which are essentially concentrated fountains of micronutrients, have made a huge difference.  And I like the convenience of fresh-pressed juice, which I sometimes buy to supplement the green juices I make at home.  BluePrint juices are nice in a pinch (I started buying them at Whole Foods a couple of months ago), but I am really glad to have the more local option of SweetPress here in Washington, DC.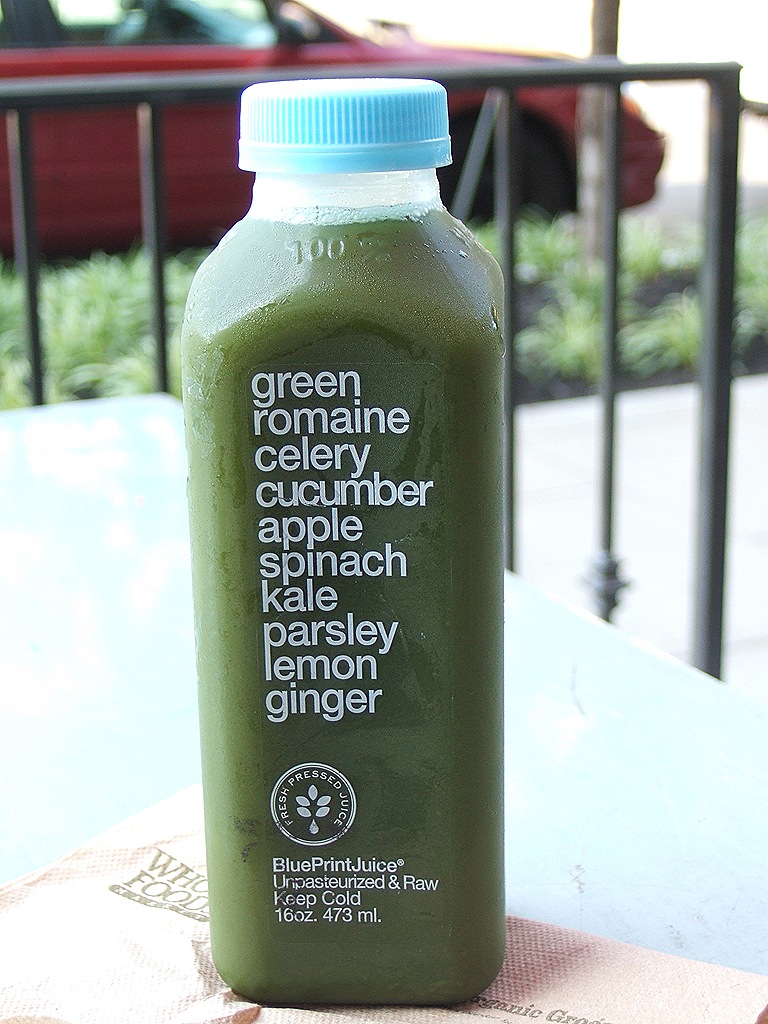 Having said all that, I am a fan of green juice as an add-on, not as a substitute, to what I eat and actually have some pretty strong feelings against the liquid-only cleansing culture.  I don't think it is a sustainable health practice, as it encourages a mentality of "who cares if I eat less than healthfully, I can always cleanse" which is a problematic pattern for both physical and mental health.  My bias is that it is more beneficial to have a green juice a day as part of a hearty, nutrient-dense, health-promoting diet, than to engage in juice cleansing.  I recognize that others find benefit in liquid-only cleansing and detoxing, so I try to balance my strong feelings against the culture with the reminder that different things work for different people.  Obviously (disclaimer time!) this is my position as a lay-person, seeing as I am not a doctor/nutritionist/dietician/other medical professional, and these thoughts are just that, my opinions.
While I am not a medical professional, I have spent several years working in just the type of corporate work environments described in this New York Time article, Companies Try to Build Team Spirit Through Juice Cleansing.  In fact, in the spirit of full disclosure, I worked at one of the companies mentioned in the article when I lived in New York. 
I lost my <profanity deleted> when I read the article. 
Yes, of course, it would be awesome to have pressed juice in a corporate cafeteria. I would definitely be the one buying a bottle as a mid-morning snack, or an add-on to lunch, or a late afternoon snack, but that's not the point of the article.  Lest I subject you to a rant (feel free to email me if you want a full diatribe, occasional profanity and all caps included), here is a concise summary of my problems with the idea of a whole team of colleagues doing liquid juice diets, with no additional food:
–Failed team building strategy: Corporate team building should use an inclusive exercise, that makes everyone feel welcome.  While you can never please everyone, a team building activity should at least attempt to be an inherently positive activity, not one that involves peer pressuring others or where non-participants are "referred to as "doing the walk of shame" to the refrigerator".  
–More promotion of the all or nothing approach of liquid juice-only cleansing: Liquid-only juice cleansing at work just promotes cleansing culture which, as I discussed above, has several downsides, particularly in terms of being unsustainable.
–Decrease in employee performance: The quality of the legal advice or transaction decisions from someone who is existing on juice and limited calories is not going to be great. Yes, big giant disclaimer: this is my opinion only, but seriously, having been in stressful high-octane work environments, I truly believe the last thing you want is someone making decisions that require sound judgment on an empty stomach.
I see no conflict between my viewpoint and purchasing pressed juice.  In fact, the article notes that office cleanses are a significant portion of revenues for several juice companies. Why can't these juices be used to stock the corporate fridges and cafeterias on an ongoing basis instead of used in occasional group cleanses?  
What are your thoughts on all this?  Also, for more reactions to the article, check out Gena's brilliant post.
General Disclosures
&
Disclaimers