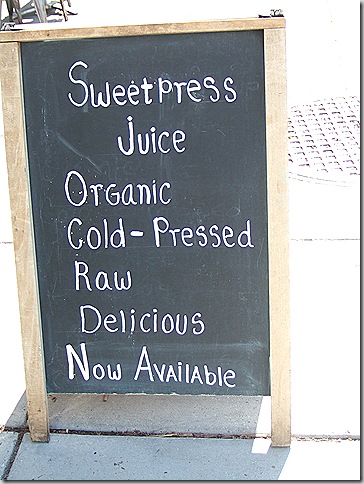 I am so so so excited that SweetPress, SweetGreen's cold pressed juice brand, has come to Logan Circle, mere blocks from where I live.  For a long time, I have been wishing Washington would have its own local, organic, cold pressed juice brand.  Sure, I juice at home and there are a few places I can get a green juice, but the later are generally made with centrifugal juicers, which means you should pretty much drink them on the spot.  BluePrint juices are nice in a pinch (I started buying them at Whole Foods a couple of months ago), but they are flown in from California, so hardly local.  Therefore, I have been eagerly awaiting SweetPress, and was thrilled to hear that Gena was part of the development of the brand.  
The wait for SweetPress was well worth it – I love everything about the brand – the juices themselves, the convenience and the marketing concept.    
First, let's talk the juices.  Here is the lineup:
Purify: Apple, kale, spinach, cucumber, lemon, ginger
Satisfy: Carrot, beet, apple, cucumber, lemon, parsley
Hydrate: Cucumber, pineapple, coconut water, pear, and lime
Detox: Pineapple, apple, ginger, mint
Energize: Carrot, orange, grapefruit, ginger, cayenne
Seasonal: Watermelon, coconut water, lime, mint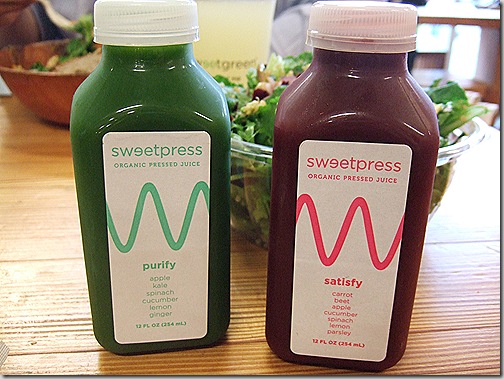 So far I have tried Purify, Satisfy and Hydrate, and loved them all.  Hydrate is complex, refreshing and, yes, perfect for DC summer ( though in winter I know I will happily drink it for a taste of sunshine). Purify and Satisfy (see above) are closer to the juices I make for myself at home.  They have the right balance of greens and natural sweetness (from ingredients such as carrots, beets and apples).  When I make my green juice at home, I tend to make it less sweet – while SweetPress is tad sweeter than my own concoctions, it is not too sweet, which is what I have often found when I buy green juice.  I also have bought SweetPress for a couple of weeks now, and the juices have been wonderfully consistent in their deliciousness. 
The convenience of SweetPress also cannot be beat.  The beauty of vacumn packed, cold pressed juice, such as SweetPress, is that they last a couple of days in the fridge (or, you can also freeze them), so you get all the convenience, tastiness and benefits of fresh-pressed juice in ways that suits your schedule.  If you want your juice right after your morning workout, it is there waiting for you or, if you want to bring it to work to have as a snack, that is easily done with a SweetPress juice.  I still plan to juice, especially as that is the best way for me to use up the numerous kale, chard and broccoli stems that pile up in our fridge (my husband and I go through 4-5 bunches of greens a week for salads and smoothies, usually steam at least two heads of broccoli, and that is before we even get to the baby spinach and romaine that flies out of the fridge).  The nice thing though, is knowing I can have fresh juice anytime, without having to juice it myself unless I have time/energy/inclination, which is why I love the added convenience that SweetPress brings to my life, particularly considering it is local and that SweetGreen and SweetPress support farmers' markets. 
I also love supporting a local, eco-friendly brand, with a marketing concept that resonates with me.  I appreciated that SweetPress is not marketed as a meal replacement or a cleanse or a detox, but as an add-on to one's lifestyle.  While I love the convenience of pressed juice (and have purchased BluePrint green juice, despite not liking the branding message), I do not fast, juice cleanse or otherwise use juice as a replacement to food. Therefore, the ethos of many of the companies who offer the products not in line with my own approach to incorporating fresh juices in my diet.  SweetPress is different.  Not only is the juice wonderful, but the branding speaks to me, which is really the key to making me a loyal follower. 
General Disclosures
&
Disclaimers