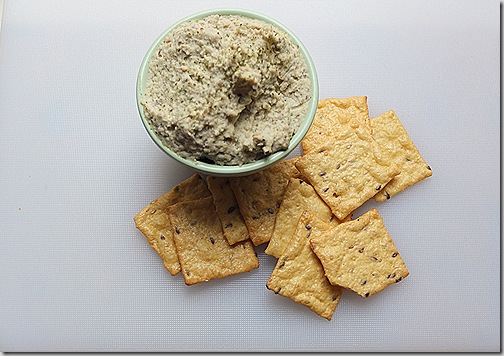 Tonight, I am breaking one of my blog rules: I created a new hummus recipe today and I am posting it on the same day, rather than waiting to see how the flavors blend after a night in the fridge. "Creatively flavored" hummus can sometimes taste amazing out of the food processor, but then become a bit… odd – this has happened every time I have put miso in a hummus recipe.  Also, sometimes, a new creation tastes great out of the food processor, but not blog-worthy the next day.
For this version of hummus, though, I am willing to take the risk.  It has a complex salinity from the kelp and an added dose of fiber from the broccoli.   Usually, I use leftover broccoli stalks in green juice, but tonight, I decided to try something new, so coarsely chopped the stalks and used them in a new variation of a black-eyed pea hummus.
As for the kelp – there are many benefits to eating seaweed.  I used this brand: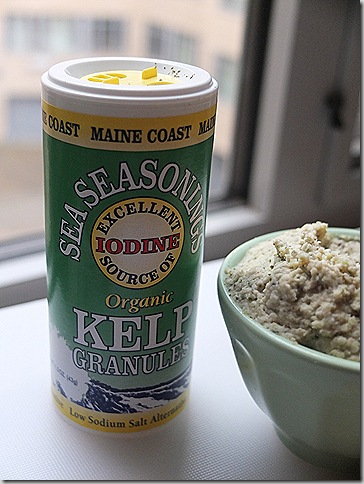 I happen to like my hummus on the saltier end, so when I was debating whether to up my half teaspoon of salt, I decided to try kelp instead. The earthy flavor pairs well with the black-eyed peas in the recipe.  You could of course just up the salt a bit for a perfectly lovely broccoli hummus.
Broccoli Hummus with Kelp (Gluten-Free, Vegan, Soy-Free, Nut-Free)
Makes about a cup and a half
I wrote this recipe as though you steam just the two cups of broccoli required for the recipe.  That said, I would encourage you to steam a whole head of broccoli, use two cup's worth of the stalks for this recipe, and have some steamed broccoli with the hummus. 
2 cups coarsely chopped broccoli (using stalks is fine, but you could use broccoli florets instead).
2 cups cooked black-eyed peas (equivalent to 1 15oz can drained. Eden Foods is a good brand with transparent standards for managing allergens, including gluten)
3 tablespoons freshly squeezed lemon juice
1/4 cup tahini (raw or roasted)
½  teaspoon sea salt
1/2 to 3/4 teaspoon kelp flakes (start with 1/2 a teaspoon)
1/4 teaspoon crushed red pepper (optional, replace with freshly ground black pepper for a less spicy flavor)
water, if necessary
Using your favorite approach to steaming vegetables, steam broccoli until fork-tender (about 10-12 minutes).  Allow to cool briefly.  Warm black-eyed peas by steaming or simmering for three minutes.  Place broccoli and black-eyed peas in bowl of food processor. Add remaining ingredients and process until smooth.  If the hummus is very dry and crumbly, stream in about two tablespoons of water if necessary.
I am submitting this recipe to:
General Disclosures
&
Disclaimers