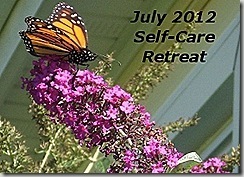 Our theme this week for the 2012 Self-Care Retreat – led by Cheryl of Gluten Free Goodness – is creativity.  This week, our hostess is Carrie of Ginger Lemon Girl, who wrote about mandalas and journaling as creative outlets, and lists many additional suggestions. Cheryl also wrote a posts on creativity in the kitchen, complete with a scrumptious recipe.
Much like my post on movement, I thought I would use the opportunity of this week's post on creativity as a little trip down memory lane.  This blog is actually a direct result of wanting to have more creativity in my life, as I recounted last year during the First Annual July Self-Care Retreat.  Looking back at 5+ years ago (the blog turned 5 in April!) the progression is interesting to watch.  At the time (2006, 2007 and to some extent 2008), I remember feeling like I needed to get over how intimidating creativity was.  Yet, looking at the list of posts below, little by little I have overcome that feeling:  
This represents quite a change in my outlook, considering that my old views on creativity.  I had been terrible at all school subjects such as Art, or Music, or Choir, or Drawing.  Piano lessons were a disaster for me.  I thought being creative meant being good at those subjects.  I thought that through high school, college, the years after college.  I also always told myself I did not have time for things like scrapbooking or collaging because, after all, I was not creative or Creative.  Somehow I felt like it needed a Capital C. I started rethinking that assumption. It hit me that I needed a way to relax my brain. In fact, starting to blog in April of 2007 was actually a step towards incorporating creativity as part of my self-care.  I was working long hours, had a nagging headache all the time, my husband and I were in different cities during the work-week, and I wanted a project for me that could be done anytime. 
Alongside dabbling at blogging, reading the Artist's Way was instrumental in changing my outlook, as was Kimberly Wilson's first book, Hip Tranquil Chick. I did not finish The Artist's Way, but it allowed me to figure out three things:
I liked to write about a variety of things
One of the things I missed most from childhood was playing with pretty paper and pens and making collages
To relax I needed to find activities that did not involve too much thinking and more doing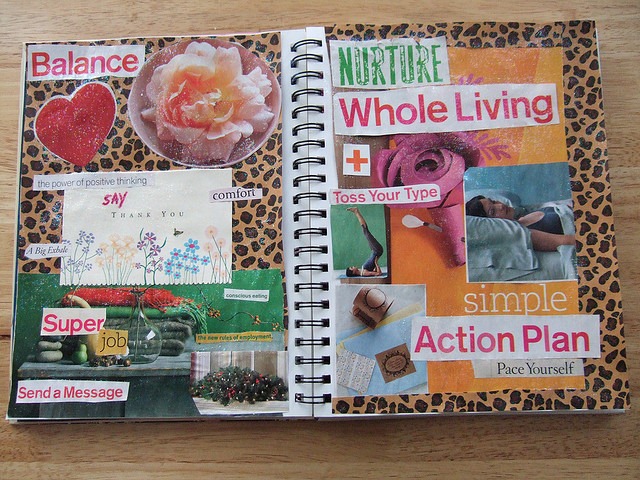 While those books had been the impetus of my blog, working my way through them on and off for a year led to me broadening the focus on my blog.  Alongside my blogging, I also bought some collaging supplies. I made cards instead of buying them when I sent cards to friends and family.  I decided to collage a page at the beginning of every month in my planner.  Over time, incorporating more creativity became a habit for me.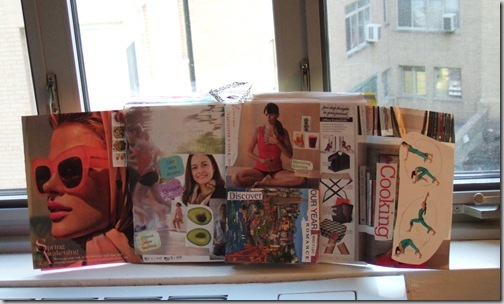 In addition to more passive exposure to beauty (ie museums, flowers), my three active creative outlets are:
Blogging
Cooking, particularly creating new dishes
Playing with pretty paper and pens, aka art journaling or collages or vision boards
Discovering art journaling was actually a name for something I had been doing all along was particularly gratifying and, looking back at my posts from the years, I can see the evolution clearly – over recent months that has been my favorite paper-based creative outlet – like Carrie described in her post, there is such a variety of ways to journal, and I play around with several, both just writing versus actually incorporating images.
General Disclosures
&
Disclaimers