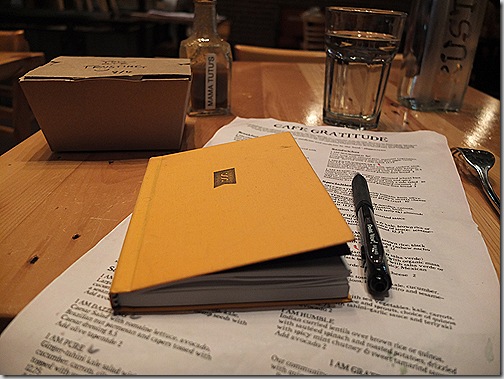 I promise my recap of my several amazing meals from Café Gratitude Kansas City will be tomorrow's post, but as I was writing the post about how I got to have dinner with Johnna of Johnna's Beyond 52 (as well as her other blogs, 52 Sweets, 52 Donuts, and 52 Foods on a Stick) there, I wanted to talk about how grateful I was for Johnna's kindness, and also for Shirley of Gluten-Free Easily.  And speaking of gratitude – above is my gratitude journal (sadly, my Bound planner was too small for my purposes but great for a gratitude journal, a suggestion from my marvelous friend Laura), which I wrote in while at Café Gratitude. 
At some point right before July 4, as I was making my travel arrangements for early August in Kansas City, I had a full-on panic moment about food for that trip.  I have travelled since switching to a gluten-free vegan diet, both for work and fun, and I know how to travel without getting sick from gluten, but this trip was different. I was looking at 4 long presentations, 6 days of travel, additional meetings, and 12-ish hour days. My usual business trip gluten-free vegan eating strategies were not going to work – they work for 2-3 day business trips, but 6 is a longer stretch, especially as I was thinking through how demanding my schedule would be.  The usual approach of lots of plain salads, topped with avocado (and hemp seeds that I tote along), all supplemented with fruit and nut bars, raw nuts, protein powder – that is decent in terms of density and works well for a few days, but looking at six days and the schedule I had, I needed more density and more cooked foods.  The truth is, I do tend to undereat in fear of getting sick while traveling and that was not going to work.  The hotel food options seemed very limited (lesson learned there though – while the catering person made me nervous, in the end the chef knew how to feed me safely, but I had no way of knowing that ahead of time).  So there I was, having completely stressed myself out. I was reading reviews and knew there was Café Gratitude, but it was not right by my hotel, and while I could find other options closer, I did not have a good sense of selection and cross-contamination issues.
In hindsight, I was way more nervous than I needed to be, and completely irrational, but I had this horrible vision of doing two and a half hours of presenting and feeling hungry or, worse, being sick from gluten. I toyed with the idea of a meal service, but I knew there were options near where I was staying, including a small organic store Nature's Own.   I just needed more information. So I emailed Shirley and asked if she would mind setting up an email introduction to Johnna, who is a Kansas City base gluten-free blogger and a vegetarian who avoids dairy.  Shirley put me in touch with Johnna, and Johnna was a complete rockstar.  That's Johnna at Café Gratitude by the way: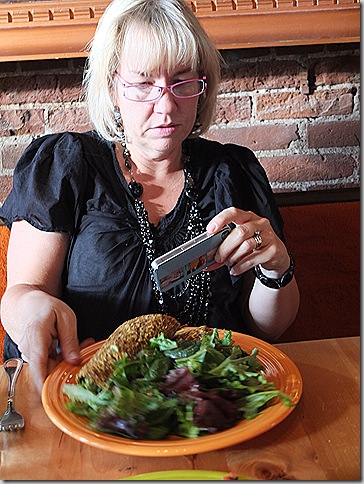 Johnna gave me the inside track on the options I had found in Kansas City, confirmed Café Gratitude Kansas City was a great way to go, that FuD also had options (but, beware, to avoid their gluten-free tortillas) and that Eden Alley (Kansas City's original vegetarian restaurant) was safe to eat at for a gluten-free vegan.  She also made several additional suggestions: that the quinoa dish at Westside Local is a great option, that Lulu's Thai Noodle Shop could feed me safely (but to go at off-hours and ask for both the gluten-free and vegan menus and cross-reference), that Bluebird Bistro was local and organic and could feed me safely, and, for salads, that Ingredient and The Mixx were good options.  There too, she provided more insider information – things like the fact that  The Mixx. has local grilled tofu, but to be sure to ask for a manager.  She said Nature's Own had a good selection despite the small space. And, in addition to the treasure trove of information she had already provided me with, she even mentioned a dessert option next door to FuD:  Little Freshie, a coffee, soda and snow cone shop.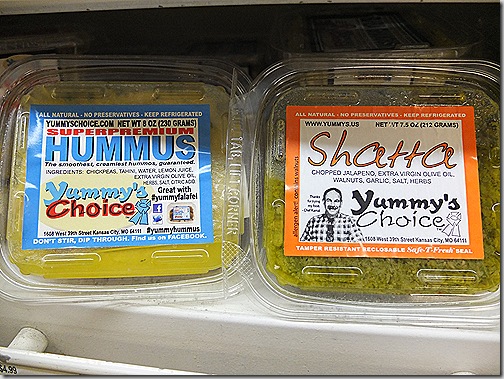 One travel staple for me is hummus (ok, who am I kidding, hummus is a constant staple, but that much more so travelling).  I always buy some along with pre-washed salads when I travel – the hummus makes great dressing, and I add my hemp seeds on top,and it's a pretty satisfying meal.  Until I got to Kansas City, I have never been in a store where I could not identify at least one brand of hummus as safe to eat (whether because of disclosures regarding cross-contamination on the labels, or based on quick web research, or just because it is a brand I know).  My first day in Kansas City, as I was stocking up for my hotel room at Nature's Own, I was standing in front of the hummus selection, completely at a loss. Three local brands of hummus, yet nothing that could provide me with any clue on cross-contamination. So I snapped a picture and sent it along to Johnna, and she replied almost immediately letting me know that all three brands were safe but that Yummy's was the way to.  Incidentally, that Shatta concoction is amazing too – like a jalapeno pesto.  I am so glad I also got to meet Johnna while I was in Kansas City – we had a lovely evening, discussing our respective careers (I loved hearing about the balloon sculpture installations she and her husband build), our growing interest in raw foods, and travelling gluten-free.
Thanks to Shirley's introduction to Johnna, I ended up eating better in Kansas City than I do some weeks at home – and I also felt more confident with knowing the places I ate at had been recommended.  And yes, it was definitely a great week of food – witness these few photos – I brought chia seeds and made chia pudding in my hotel room for breakfasts, but these lunches and dinners were all either at restaurants or take-out.  Everything was gluten-free and vegan and delicious:
Soup and salad at Café Gratitude: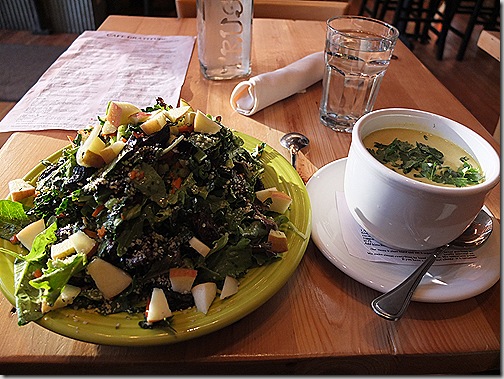 Hotel-prepared lunch tray: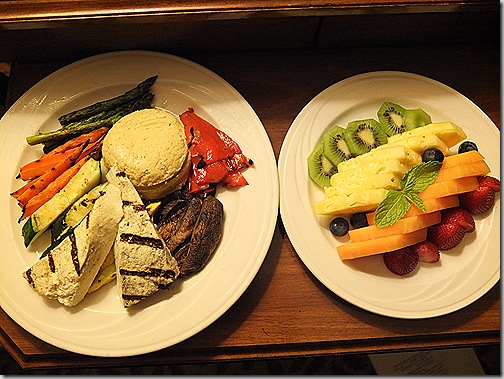 Café Gratitude leftovers in my hotel room (with a side of presentation preparation):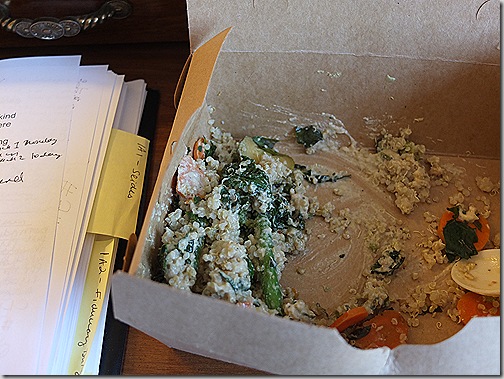 Eden Alley gluten-free vegan baked falafel: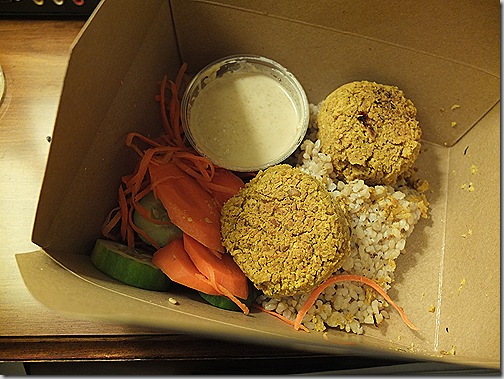 Eden Alley leftover falafel and brown rice, tossed with mixed greens picked up at the nearby organic grocery store, as well as with extra hummus and shatta (a jalapeno pesto essentially):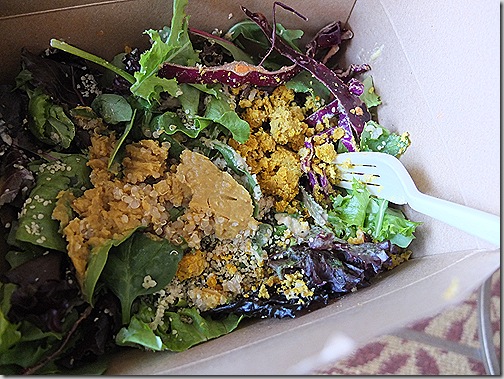 Vegan mushroom tacos at Port Fonda (a newly opened restaurant in Kansas City – I must pass that info on to Johnna)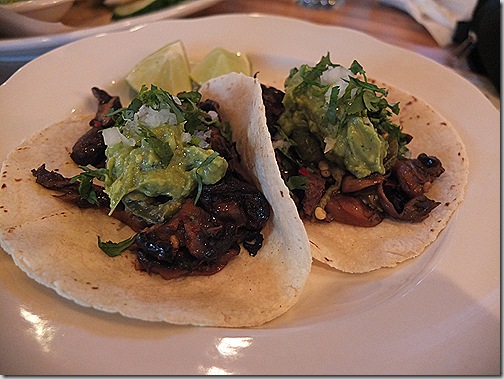 I am immensely grateful to both Johnna and Shirley.  My trip was good, my presentations went well, I did not feel sick once, I ate amazing food and I had energy left over to work out five days out of my trip.  As a result, I am also less anxious than I have been in the past about food when travelling.  Living gluten-free is an adjustment, particularly when it comes to travel,. and the success of this trip has really helped me.
General Disclosures
&
Disclaimers