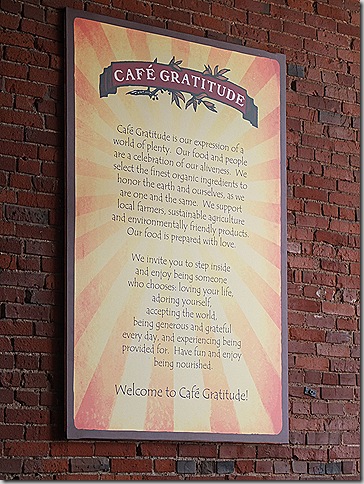 I promised you a recap of my many meals at Café Gratitude Kansas City, and this is indeed an epic recap, full of gluten-free vegan deliciousness.  First, though, a little story on gratitude and irony. Obviously, I was very grateful I could get so many meals at Café Gratitude while I was in Kansas City for work.  The food is all vegan, and the majority of the menu is gluten-free.  Also, I had been wanting to eat at Café Gratitude for years, so it was exciting to finally experience the food at a Café Gratitude instead of through cooking from their cookbook.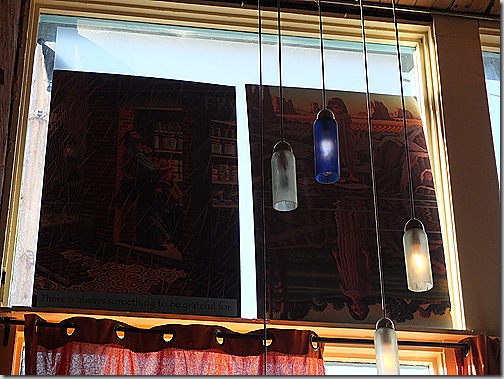 As for irony – there is a lot of it in my life – both "big irony" and "little irony." Here is an example of what I call "little irony": in my years of living in New York, I loved Pinkberry and Tasti D-Lite.  Then I moved to Washington, and missed them, eventually gave up eating dairy for unrelated reasons, and then both establishments opened outposts within a 10 minute walk of where I live.  Sometimes, though, irony can work out – one of my regrets about my last trip to San Francisco, several years ago, is that I did not yet know about Café Gratitude (to be fair, I did not yet eat a gluten-free vegan diet). Earlier this year, as I was finally planning a return visit to San Francisco, I realized that Café Gratitude locations in San Francisco had closed. Then I started a new job, which made me postpone the San Francisco trip.  And then I found out I would be spending a week in Kansas City, MO, where a Café Gratitude opened on May 1 of this year.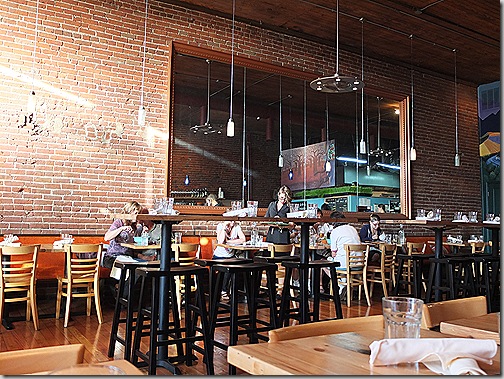 You can imagine my excitement. I ate many meals from Café Gratitude that week, whether at the restaurant itself, or takeout that I got when dining there, and stowed away in my hotel room fridge. The food was amazing. The setting was beautiful.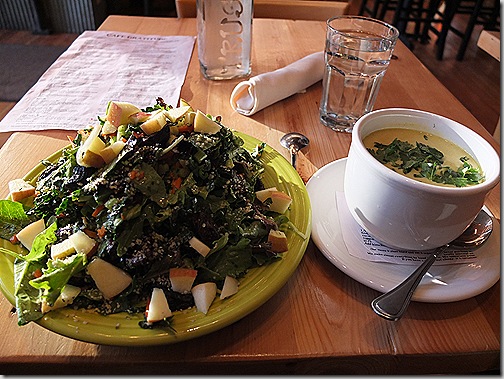 And the food – the food …. my first meal there was I Am Thankful, a raw spicy curry coconut soup which had some heat, but was not too spicy, and I Am Gorgeous, a wonderful hearty salad with many of my favorite ingredients (mixed greens, kale, basil, mint, cucumber, carrots, apples) and then topped with hemp seeds and beautiful petite dried figs, which were fantastic.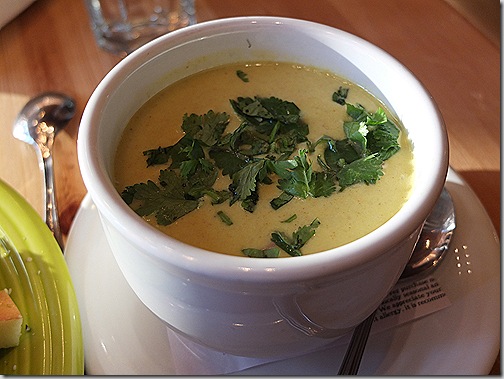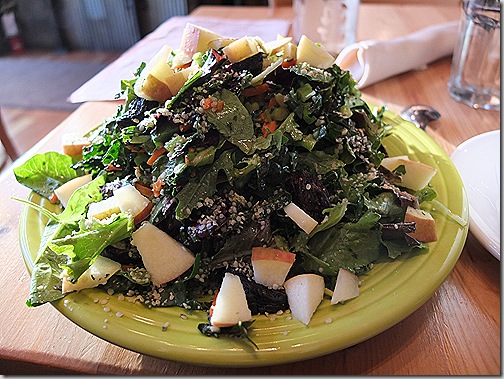 I also had an I Am Healthy, which contains kale, celery, lemon and cucumber. It was perfectly refreshing and a repeat order for my visits at Café Gratitude.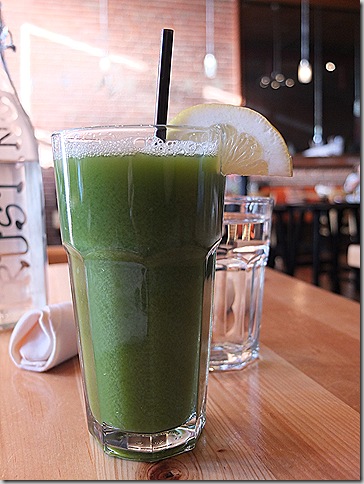 The above were my must-tries, but the rest of my choices were very much influenced by the advice of Sarah, one of the servers, who was lovely and very knowledgeable on the menu. Here are the other dishes I tried over the week I was in Kansas City: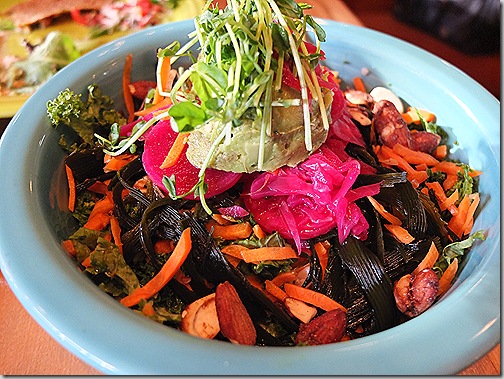 I Am Whole was a dish I would not necessarily ordered myself, but which I am glad Sarah suggested I order. I was initially leaning towards the I Am Pure ginger-tahini kale salad, but wanted something heartier, so Sarah suggested I Am Whole, which is a macrobiotic bowl with sea vegetables, kale, carrots,house-made kim chee and sprouts and a tahini-garlic sauce.  Instead of choosing between quinoa and brown rice, I asked for a mix of the two and added some guacamole for good measure.  The flavor profile is similar to the salad I was considering, but with additional layers and the addition of sea vegetables.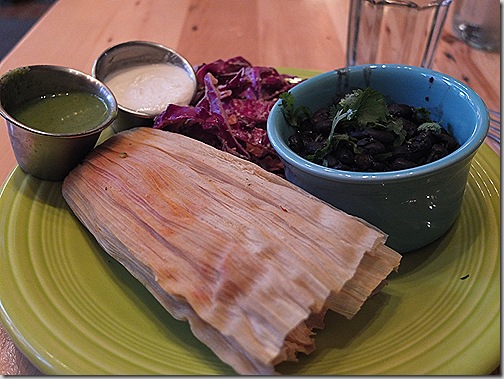 I Am Trusting, with sides of both salsa verde and vegan ricotta cheese, was an amazing corn tamale with vegetables cooked in a smoky chipotle sauce.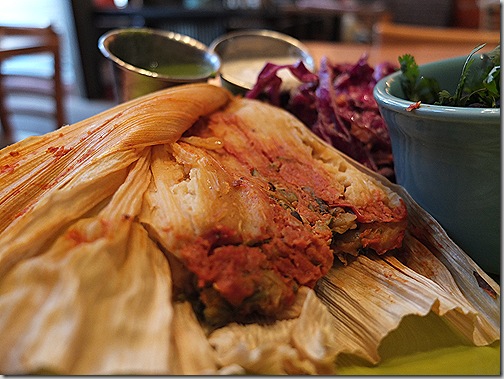 I added a bit of the house hot sauce for additional tangy spice.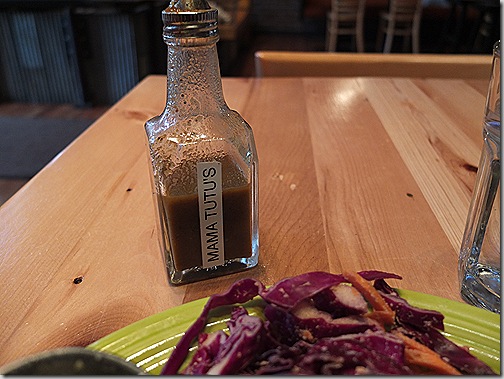 The tamale was the perfect combination of hearty yet not dense. The salsa verde was bright and the vegan ricotta was rich and satisfying.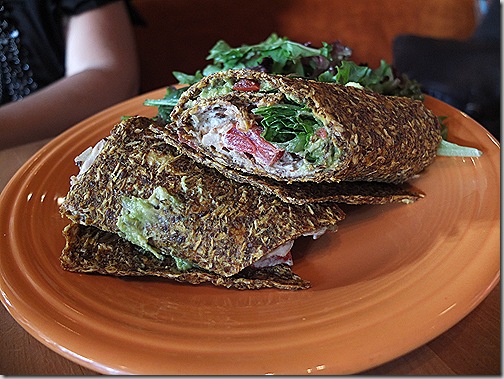 I Am Extraordinary, a toasted chipotle maple coconut bacon sandwich, with cashew aioli and lettuce and tomato, served on an apple curry raw wrap was another recommendation Sarah made.  There are few gluten-containing items on the menu, but this sandwich is one of them.  It can be made gluten-free by asking for the raw curry apple flax wrap bread.  Johnna (whom I raved about yesterday) actually ordered it and was kind enough to share a sizeable piece with me.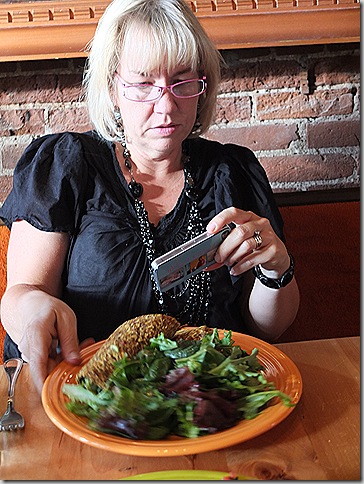 Johnna and I also shared the I Am Honoring, which are raw nachos with spicy sunflower "bean pâté guacamole, salsa fresca, nacho cheese and beautiful flax crackers.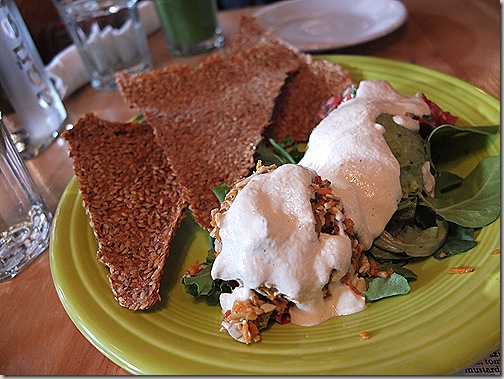 We also shared two wonderful desserts that were raw, vegan and gluten-free.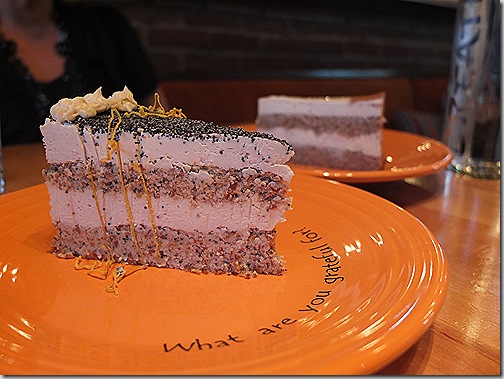 Vanilla chai spice layer cake (in back) and lemon poppyseed layer cake (in front). Both made with almond pulp and both amazing. The lemon poppy seed cake was a great combination of lemon and vanilla, rather than being overly lemony.  Both were complete winners.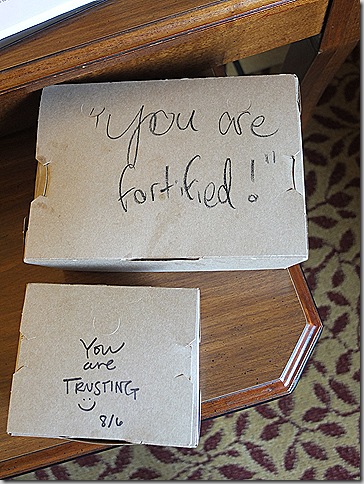 As you can tell, I had some amazing meals at Café Gratitude, but I also had amazing takeout in my hotel room.  I ate something from Café Gratitude every single day of my week in Kansas City. It was amazing, and a great way to fuel through the long days I had.  Some of my hotel room eats were leftovers (such as of the tamale) but I also got a couple of dishes for the express purpose of eating the next day.  It worked out perfectly.  I picked dishes that would hold up well, and held off on avocado so I would not have to worry about it browning.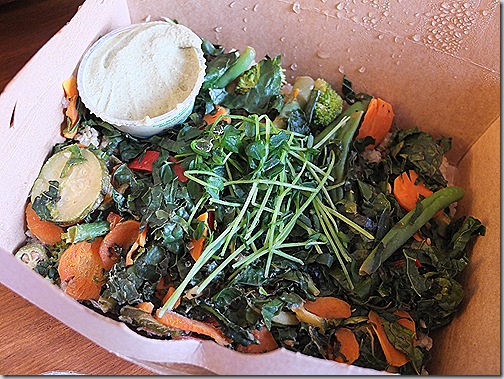 I Am Fortified was a hugely generous dish of quinoa and sautéed seasonal vegetables & kale. This dish comes with a choice of sesame ginger dressing, garlic-tahini sauce or Thai almond sauce. I chose the later, since I had tried the other two in other dishes (sesame ginger dressing in my salad, and garlic tahini in my macro bowl).  The Thai Almond was herbaceous and smooth and perfect to stir into the quinoa and veggies.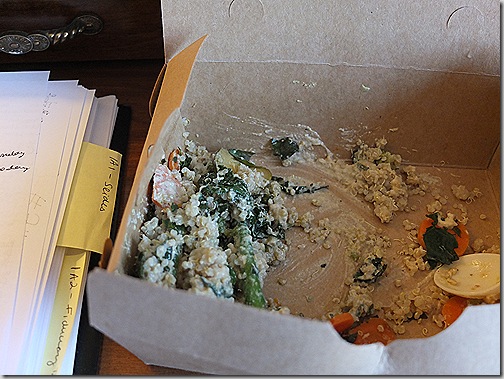 The portion was generous so I had half for breakfast one day (to take a break from my usual hotel room chia pudding) and half for lunch another day – rather than spend time getting to the microwave available to me on a separate floor of the hotel, I ate the half for lunch at room temperature and it worked out perfectly.  It was the perfect meal before an afternoon on my feet presenting (hence my picture of lunch with a side of my presentation binder).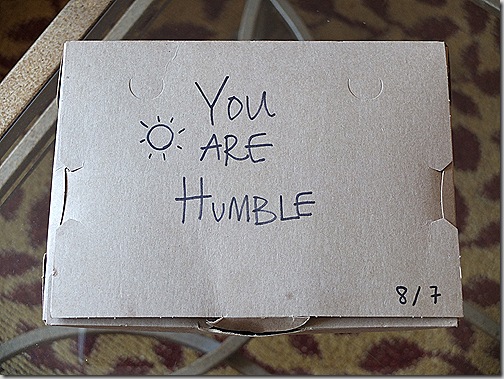 The final dish I tried was I Am Humble, Indian curried lentils with quinoa and spinach.  At Sarah's advice, I had it with spicy mint chutney, tamarind and some of the house hot sauce.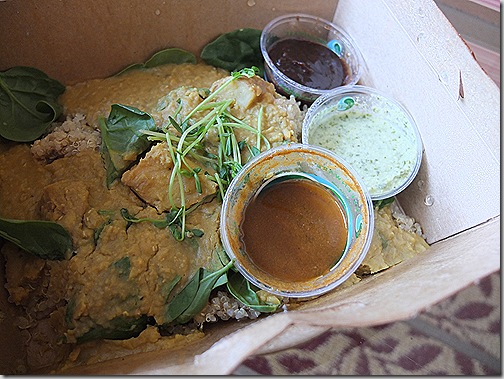 Scrumptious and filling, though better reheated in the hotel microwave than at room temperature.  After reheating I also added from extra spinach I had bought. 
And thus ends the recap of my wonderful week of food from Café Gratitude Kansas City.  I feel so very grateful I had the option of eating there and trying out as many dishes as I did.
General Disclosures
&
Disclaimers