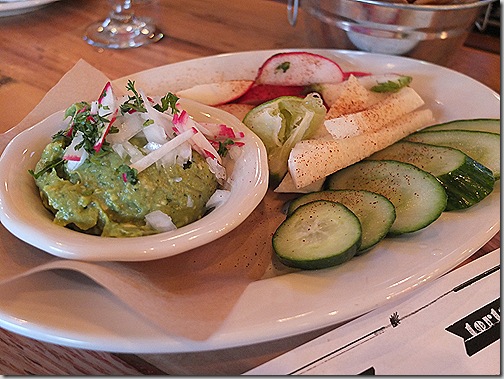 My last night in Kansas City, I had a scrumptious meal at Port Fonda: fantastic guacamole with jicama sticks, cucumber slices and radishes, and then a.m.a.z.i.n.g mushroom tacos with more guacamole to replace the cheese and crema and therefore veganize them: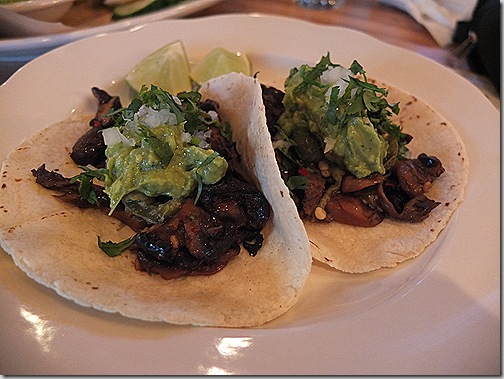 And it was all my complete accident. Let's back up, shall we.  My last day in Kansas City I was the last presentation of the day, fielded some pretty tough questions, and was ready to take a break. I walked around the Plaza, which is a downtown shopping street in Kansas City that was very close to the hotel. We shopped a bit. I had thought I would get take-out at Eden Alley, since my Café Gratitude leftovers were almost finished, but then we saw this: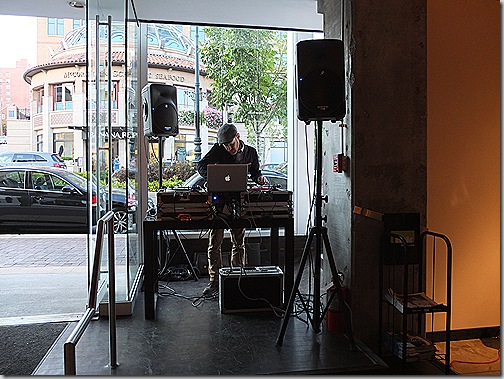 A DJ at this store: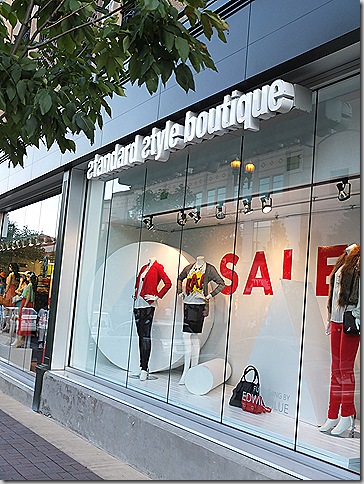 Standard Style was having a party for its Magazine/Lookbook, and in the back there was an amazing spread of food: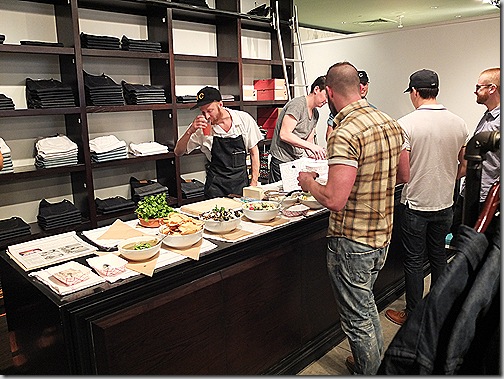 The food blogger side of me wanted to take a ton of pictures, but I was trying to be circumspect with the camera.  I never expect to be able to eat anything off a buffet table, but Patrick Ryan, the owner of Port Fonda (the restaurant is newly open, having started in an Airstream) was there, and explained that everything was gluten-free – including the chips as they have a dedicated fryer.  So I had some guacamole and jicama sticks at the event – as did my colleague, who declared we had to go there for dinner, especially since we were only about a mile away from the restaurant. Patrick assured me that I would be just fine, and there would be vegan options (I was already pretty convinced on the gluten-free aspect of things).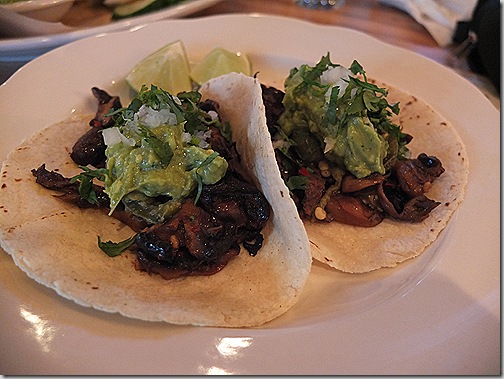 And sure enough, I had an amazing meal. The jicama is sprinkled with chile and salt – I wish every Mexican restaurant had such a wonderful plate of raw veggies available as an alternative to chips.  The tortillas used for the tacos is white corn, which initially gave me pause. I checked with the server to make sure they were not flour tortillas, but once he assured me it was white corn, I ate away and was fine.  And the mushrooms – oh my. Mushroom tacos are one of my favorite things ever, and these were absolutely lovely.
It was a lovely surprise to find yet another restaurant where I could get a safe gluten-free vegan meal.  While Port Fonda has only a couple of vegan options, they are absolutely worth the visit.  If you eat gluten-free, be sure to ask questions about your dishes, as always, but it seems that the vast majority of the menu is gluten-free. 
Previous Kansas City Recaps: Part 1, Part 2, and Part 3.  
General Disclosures
&
Disclaimers