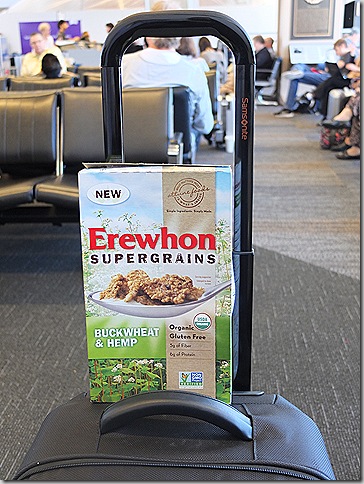 Attune, which makes gluten-free Erewhon rice and corn cereals, was literally the first cereal brand I discovered after switching to a gluten-free diet.  At the time I remember being really impressed with how informative their website is – first, of course, the gluten-free information, but also the general transparency about all the products, the brands, and the processes.  And, as a blogger who cares about online and real-life community, I loved that there were parts of the website that addressed community, that there was an Attune blog and that the website was not just about the products, but about lots of really great information on healthy living.
Chances are, even if you have not yet bought Attune products, if you are a healthy living or gluten-free blogger (or, in my case, a bit of both), or if you read blogs in either space, you are likely familiar with Attune – Erewhon cereals (the gluten-free ones are all GFCO certified), as well as the Attune Probiotic Chocolate, and many other great products.   That is because Attune understands the importance of online communities, and the fabulous Annelies is the Online Community Manager and is a rockstar at her job.
And now, a bit of a confession. I like several Attune products – the Crispy Brown Rice Gluten-Free Cereal is great to make Spicy Indian Snack or Gena's Date and Puffed Rice Balls. The probiotic chocolate is lovely, and a go-to for travel for me.  It's easy to find at Whole Foods in many cities, and my probiotics are something I consistently forget when I travel, even if I leave a note on the door to get my probiotics from the fridge before I head out. 
Back to the confession though: I was just not that much of a cereal person for years. Before going gluten-free, I liked super-chewy high-fiber hearty cereals, but I had not eaten any in years, because it always seemed to make me sleepy and achy instead of energized.  After going gluten-free, I would occasionally buy some Crispy Brown Rice Gluten-Free Cereal to make snacks (or to top a green smoothie for a bit of crunch) but cereal was just not a go-to.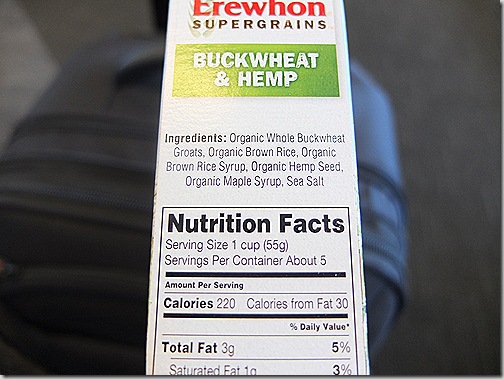 This has all pretty much changed with this cereal – the new Erewhon Buckwheat & Hemp.  It is hearty and crunchy and satisfying and just lovely.  Annelies gave me a box of when I was in San Francisco last month, and I am so glad she did.  Incidentally, I saw Annelies on my last day in San Francisco (see see days 1, 2,  3, and 4) so Erewhon Buckwheat & Hemp became my airplane snack, and then my "I got home late last night and want a quick breakfast" bowl of sustenance for a couple of mornings, and then, well, it was gone.  Fortunately, Erewhon Buckwheat & Hemp is going to be available exclusively at Whole Foods starting this month.  The ingredients are all things I love – buckwheat, brown rice, and hemp seeds, accented with just a bit of brown rice syrup and maple syrup, but nothing too sweet.  The nutrition is impressive: very low sugar, a nice boost of protein and fiber, and zero additives.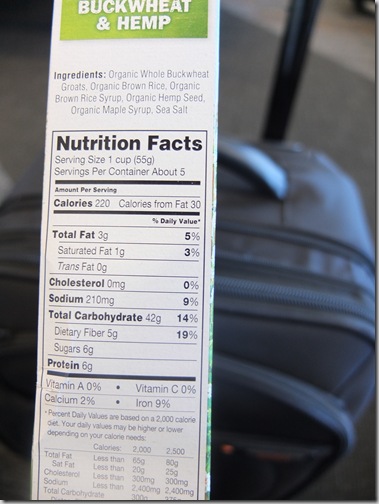 And the crunch – the crunch is fantastic.  There is also a recipe for Apple Buckwheat Crisp from Gluten-Free Girl and the Chef, which I thought was a lovely touch. Also, in case you are wondering, I took the pictures when I got the airport, hence the odd setting, but the box was getting crushed in my shoulder bag.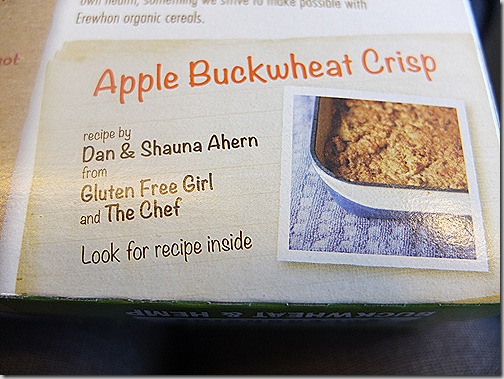 And finally, did I mention the crunchy hearty bite of this cereal? It is great with almond milk, but also just so so so good on its own.  I head out for another work trip this Friday – I hope I can buy some before then!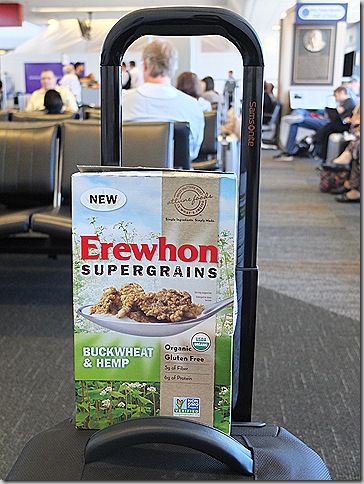 Disclosure: Over the last year, I have received Attune coupons from Anne of fANNEtastic Food and Amy of  Simply Sugar and Gluten-Free, in addition to receiving this cereal from Annelies.  None of this has affected this review.
General Disclosures
&
Disclaimers