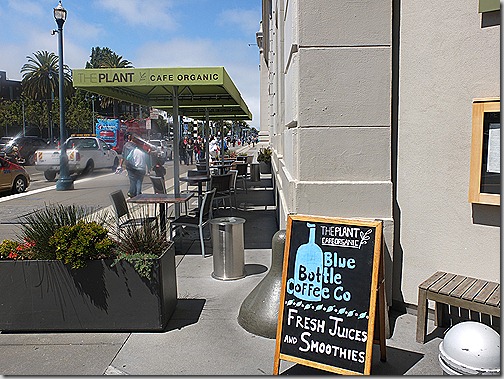 One of my favorite places to eat in San Francisco was The Plant Café – I had several meals there over the course of my almost five day-stay, including dinner on Day 1, which was absolutely wonderful. I visited the Plant Café Embarcadero Pier 3 location the most (see top picture), as that is near the Ferry Building and the hotel we were staying at.  There are actually two halves to the Plant Café Embarcadero location. First, there is a wonderful sit-down restaurant, with a beautiful view of the Bay. Second, there is a café as well, where you order at the counter and either eat at a table there, or have the option to getting your order packed to go. Both parts of the restaurant offer freshly-squeezed juice and smoothies. Since I like to get buy green juice as an on-the-go snack, I loved having a counter option to order my juice.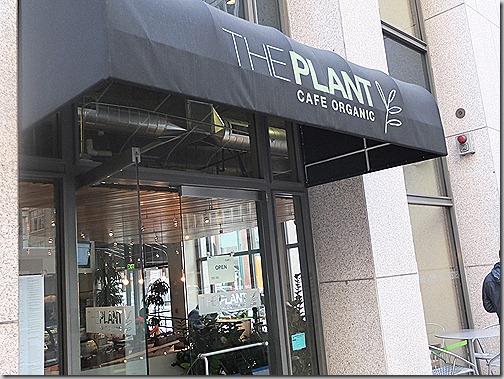 The other location I visited was Plant Café Downtown (picture immediately above), which has only counter service, where I got some takeout a couple of times, as well as green juices.  There is a third location called Plant Café Marina, as well as a location at San Francisco Airport, but I did not visit either. With regard to Plant Café Embarcadero, I highly encourage you to visit the sit-down side, as it is a gorgeous setting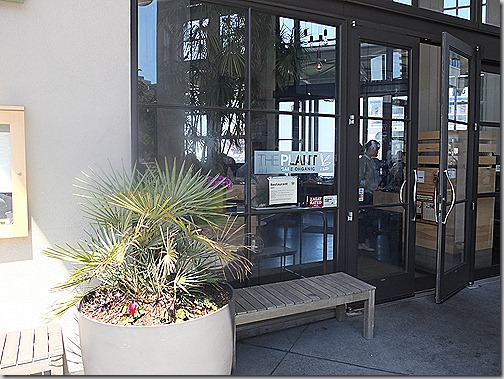 I had dinner there on the first day in San Francisco, which was one of the highlights of the trip.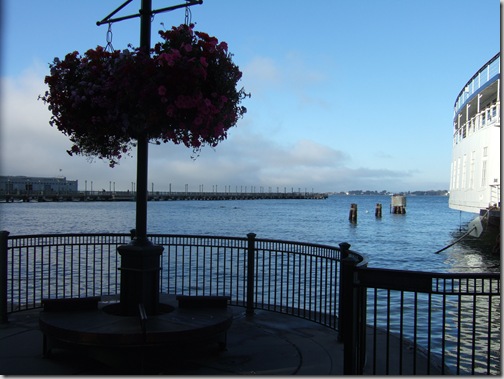 I had picked up lunch there (see below for more thoughts on the delicious takeout).  At that point, we had not yet made a decision on where to eat dinner, but when we saw the chef's palette on the menu – which was both vegan and gluten-free – we knew we had to come back.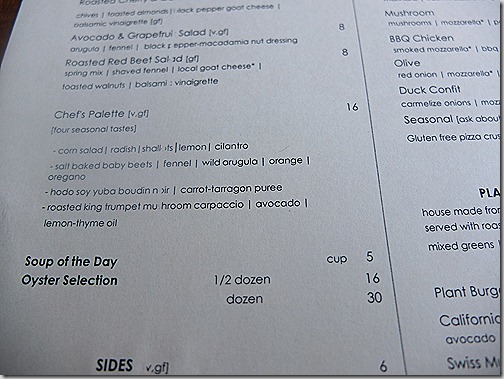 It did not disappoint: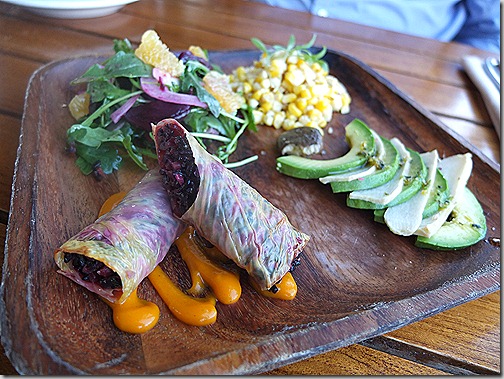 The corn salad was sweet and bright, while the baby beets with arugula were both earthy but tangy.  The avocado mushroom "carpaccio" had a fantastic texture – both chewy from the mushroom and mild and creamy from the avocado.  I have never had traditional carpaccio, so I cannot say how they compare, but I really enjoyed the combination of flavors, with the lemon thyme oil.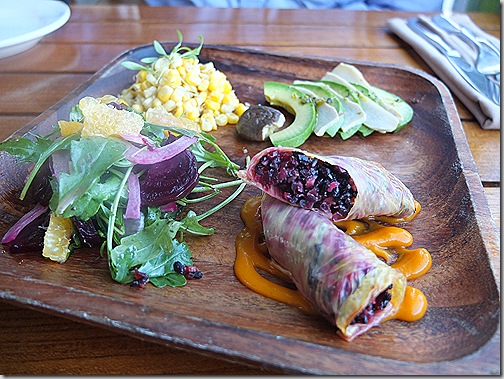 That said the highlight of the plate was the faux "boudin noir" (sweetened wild rice stuffed into Hodo Soy yuba skin).  I had discovered Hodo Soy and its various products at the Ferry Terminal earlier that day, but was surprised to see how the yuba (which, while called tofu skin, is really not tofu skin, but more a soy milk byproduct, as detailed here) was creatively used as a toothsome wrapper for a very mild but nevertheless very flavorful filling of wild rice with spices and I think a bit of beet purée.  As with the carpaccio, I had never had boudin noir, but thoroughly enjoyed this vegan take on it.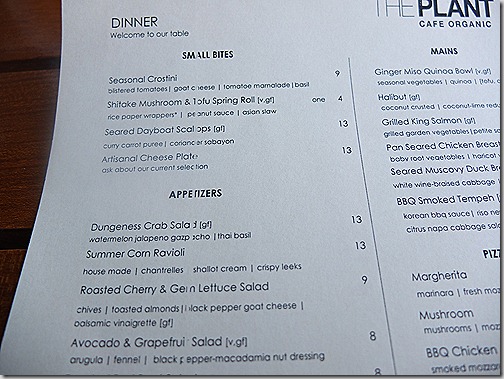 I also ordered the spring rolls because, hey, how often are there two vegan gluten-free appetizer options at a restaurant: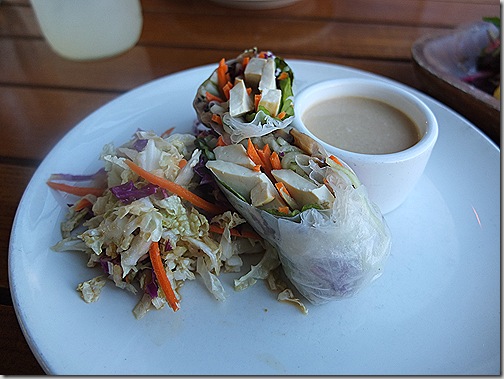 And chased all of that with a green infusion juice (carrot | beet |celery | kale | broccoli | ginger):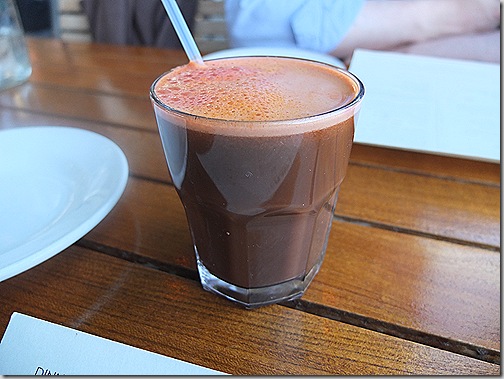 All of the produce at The Plant Café is organic, which is pretty wonderful – and while the majority of options are plant-based, there are a few poultry and fish options, which made this a good place to have dinner with my husband (who had the duck).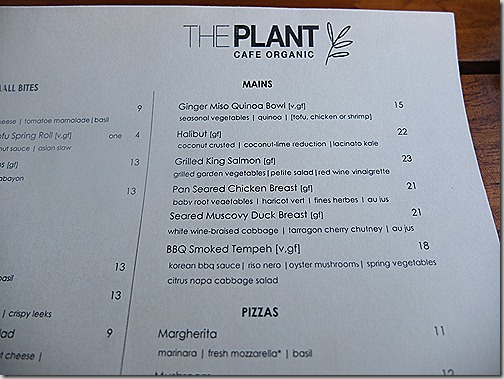 I had the BBQ Smoked Tempeh, which was a great example of the use of umami to make an ingredient like tempeh – which can be a bit bland or bitter or just plain scare people – be absolutely scrumptious.  That said, while the umami made the dish, like the appetizers, the flavors were subtle and in complete harmony, as opposed to heavy on the salt and spices.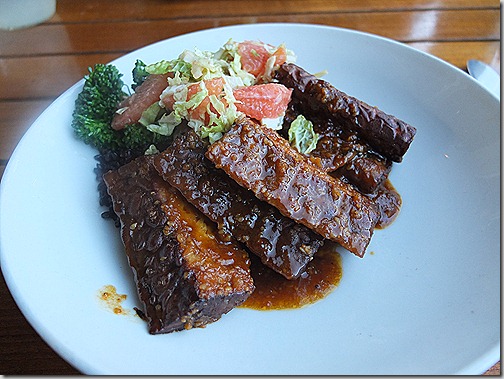 The black rice and other sides were also pretty darn scrumptious, and allowed for lots of leftovers the next day, especially since I had already seen the dessert menu and was absolutely planning to try some of those: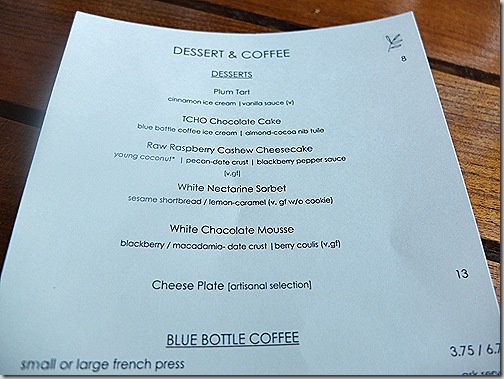 We split the raw cheesecake and the white chocolate mousse. Both were subtle, like the savory foods, but very satisfying.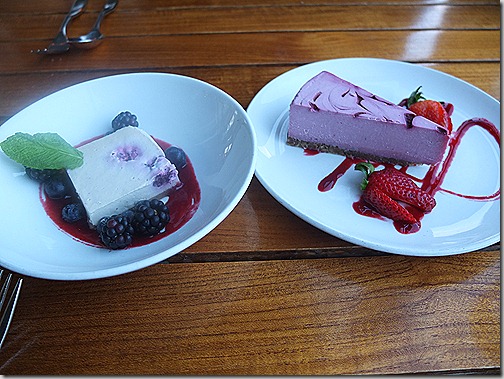 Gratuitous dessert photos: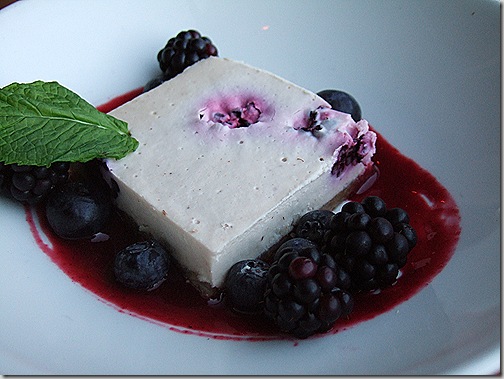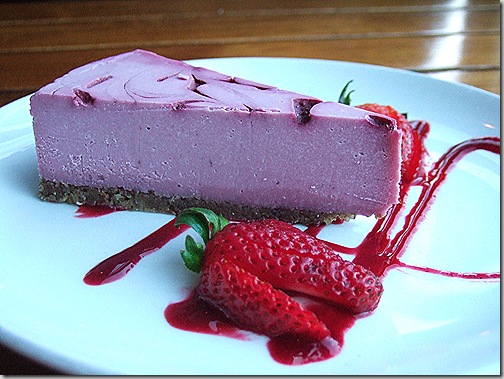 I chose to write about the dinner in great length, because it really was such a revelation in how subtle flavors can have such an impact, but I had many other meals at The Plant Café, including lunch earlier that day from The Plant Café Embarcadero. Most of the menu items are identical for the sit-down and café sides of that locations, however, I did notice a couple of items that were offered only at the sit-down side. The menu rotates quite a bit as Plant Café prides itself on seasonal options, but I would say about 80 to 90% of the menu is vegan and a large subset of that is also gluten-free. Of the few non-vegan options, I remember most being gluten-free, but of course you will want to check.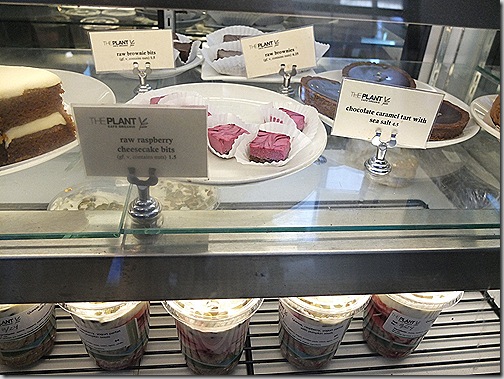 The cheesecake bits were a mini version of the cheesecake I had at dinner. On my first day in San Francisco, I had the Dino Kale Salad with quinoa: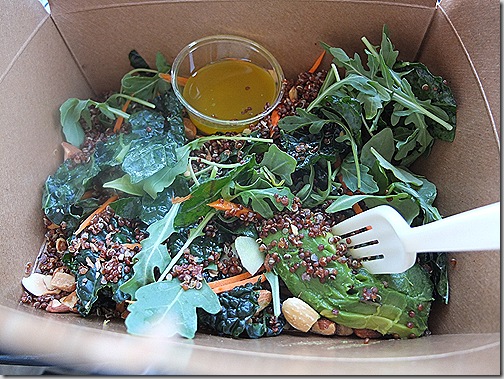 I am of the mindset that if in California, one must have as much avocado as possible, so my first meal there, I immediately got to work on that. From the same location of Plant Café, over the course of my stay, I also tried the Ginger Miso Quinoa Bowl: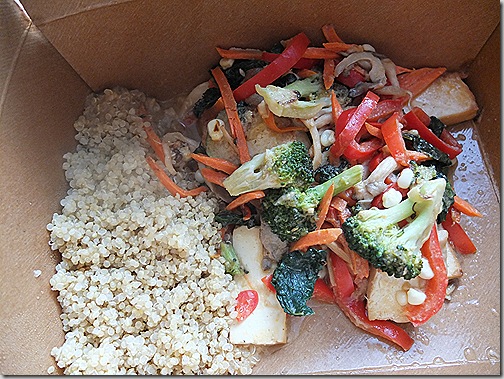 Truth be told, I had been debating it at dinner, but had gone for the tempeh instead, but not before promising myself to come back at some point during my stay to try the ginger miso quinoa.  It was, like all the other dishes, mild, not heavy on seasonings or salt, yet wonderfully flavorful.  I had also numerous green juices (I did not photograph them all), and will say that even the ones that included lots of bitter vegetables still had the trademark subtlety of the food.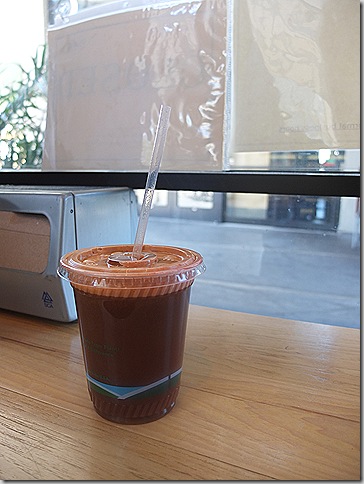 Above is the Spicy Red with Green juice (beet | kale | celery | apple | ginger) which was actually not that spicy and very delicious.   I mainly ate at the Plant Café Embarcadero location (though I picked up a couple of green juices and had breakfast at the Plant Café Downtown location) – the most important thing to know about Plant Café Embarcadero is that, while my experience showed that they had a very good understanding of gluten-free and cross-contamination with everything prepared at that location (I went there several times over the course of my vacation), you want to be sure to inquire about cross-contamination with every item. I would especially encourage you to be very specific about asking if the item is made on-site, or shipped from another location, as, for some inexplicable reason, it seems that some of the gluten-free and gluten-full items shipped to them are packed together. I was all set to order a slice of chocolate hazelnut deliciousness, clearly labeled vegan and gluten-free, but, as always, inquired about cross-contamination and am so glad I did. The person working behind the counter was very clear that the item was made with gluten-free ingredients, but had been packed with a gluten-full carrot cake in the same large box, only separated by paper, and that he would not recommend it to someone with Celiac. I was actually really shocked (also, I don't eat dessert often, so I was kind of sad), but he went on to explain that this is unusual, and that their kitchen on site was very safe in terms of cross-contamination, and that this odd cake-shipping arrangement is an exception rather than the rule.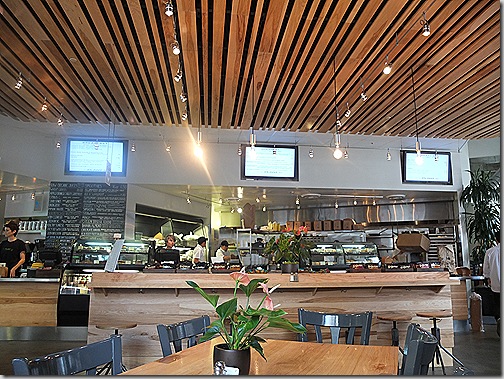 As for Plant Café Downtown, which just has one large counter,  I had breakfast there on one day of my stay.  As numerous as I found the options for me at lunch and dinner, they were actually pretty limited for breakfast, to just a couple of options. One was the Sambazon Bowl, which contains acai berries blended with blueberries, strawberries, an apple/OJ blend  and is topped with seasonal fruit and granola: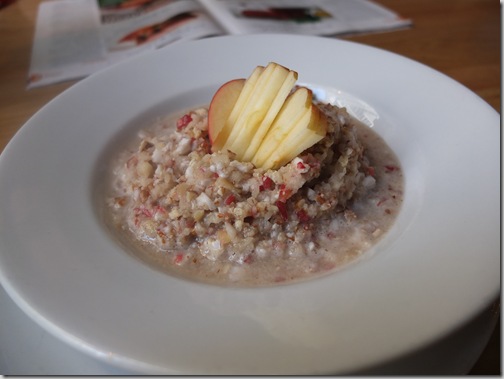 If I recall correctly the granola was also more of a rawnola, in keeping with the raw-ish theme of the breakfast. I asked for the maple syrup on the side, as I guessed (correctly) I would find the bowl on the sweet end, plus I was also having a large juice with breakfast: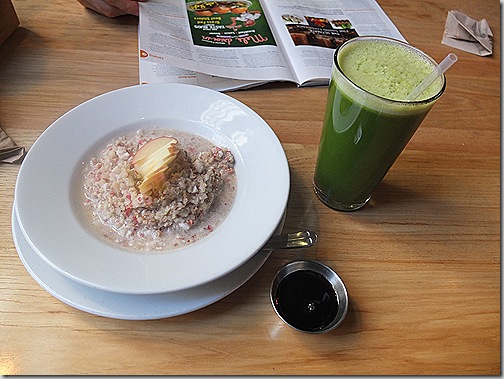 The other breakfast option I considered was the Green Banana Almond Butter smoothie, but I picked the Sambazon Bowl to try something new that I would not necessarily make at home: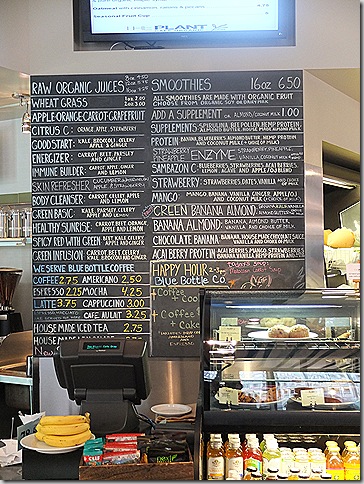 I loved the hustle and bustle of the Plant Café Downtown location, as I always seemed to be there early in the morning or early afternoon, and people were stopping in before going to work or as part of their lunch break. I would love places like that in the DC area, with lots of organic and vegan and gluten-free options.  That said, regardless of your dietary preferences, I think The Plant Café in San Francisco is a must visit, as it really showcases how subtle flavors can have such an impact on a dining out experience.
General Disclosures
&
Disclaimers