The morning of our second day in San Francisco started with a walk from the Ferry Building area, which we had explored the previous day, to Downtown, the Financial District and Union Square. And, of course, breakfast: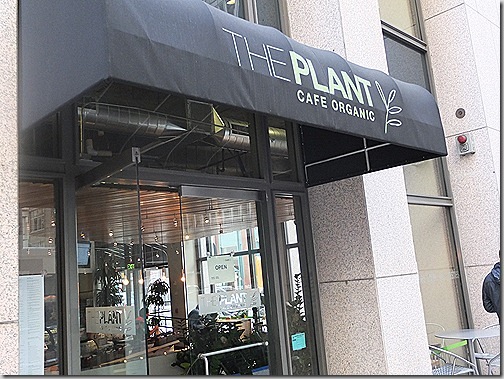 Breakfast at The Plant Café (see Breakfast, Lunch and Dinner at The Plant Café) – yes, after a beautiful dinner at the Plant Café Embarcadero location, we had breakfast at Plant Café Downtown.  I had the Sambazon Bowl (gluten-free and vegan) which contains acai berries blended with blueberries, strawberries, an apple/OJ blend and is topped with seasonal fruit and gluten-free granola. If I recall correctly the granola was also more of a rawnola, in keeping with the raw-ish theme of the breakfast. I asked for the maple syrup on the side, as I guessed (correctly) I would find the bowl on the sweet end, plus I was also having a large juice with breakfast: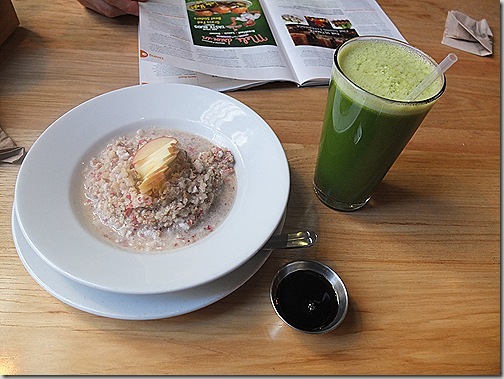 Once fortified, we resumed walking, ending back at the hotel, with a brief stop at the Ferry Building (more Mariposa for me!). We took a break on the roofdeck of the hotel, which had lounge chairs and where I played with my camera.  For some reason, while I had been to San Francisco before, and knew how blustery and cold it can get, I still found the palm trees and the cold weather an odd contrast: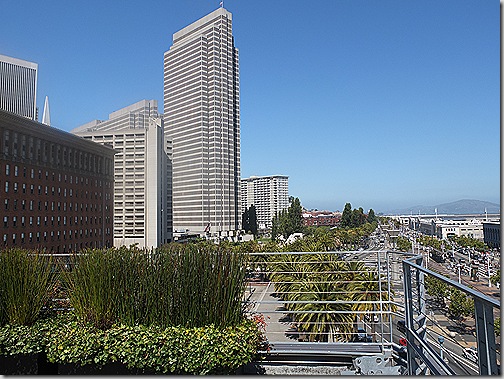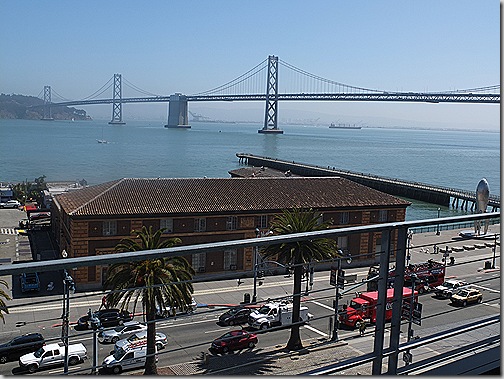 Initially, the plan for lunch had been to stop by a buckwheat crepe place, which was highly rated for gluten-free eater, but once I found out the buckwheat was processed on the same lines as wheat, I decided to skip it. I had a combination of delicious leftovers from The Plant Café (review here), along with some Hodo Soy tofu "egg salad" I had picked up the day before, and a Mariposa roll, and was very happy with my lunch.
One thing I had really wanted to do on this trip was visit Golden Gate Park – I knew we were spending the majority of our vacation the upper Northeast part of San Francisco, so wanted to venture beyond that.  Since it was my husband's first time in San Francisco, that seemed like even more reason to venture a little further afield. We also both wanted to have more of an active vacation in terms of walking, and what better place than go for a long walk than a part – so that afternoon we took the BART to Haight Ashbury and to Golden Gate Park: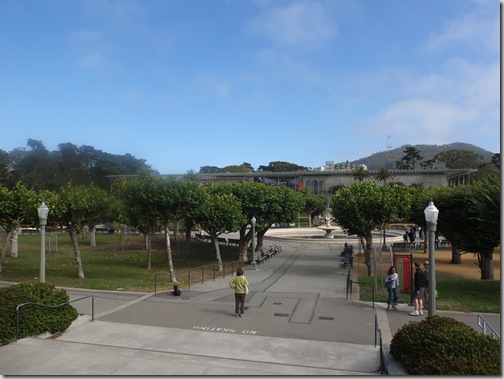 The park is enormous, and we only saw about a third of it, but it was beautiful and a really wonderful place to walk around.  I took some pictures near the Music Concourse.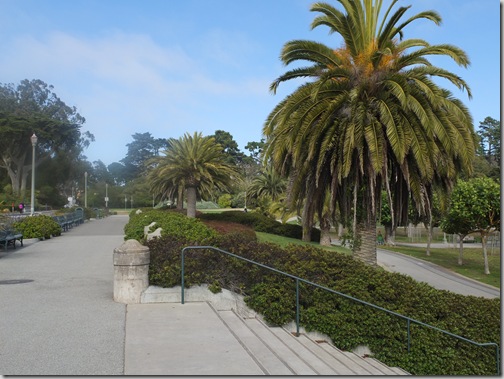 Oddly, the park reminded me of a cross between Prospect Park in Brooklyn and a couple of parks in Switzerland – with the addition of palm trees, of course.  We also visited the Japanese Tea Garden, which was really lovely: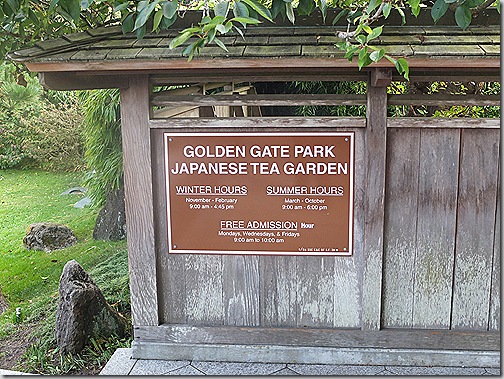 It was very peaceful: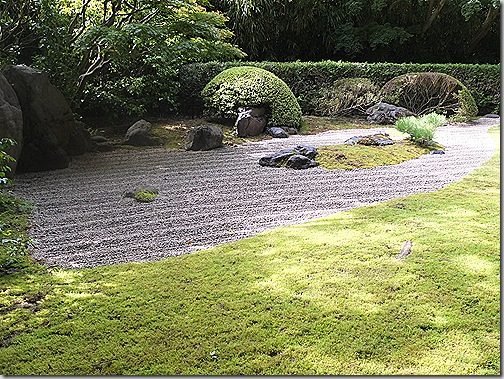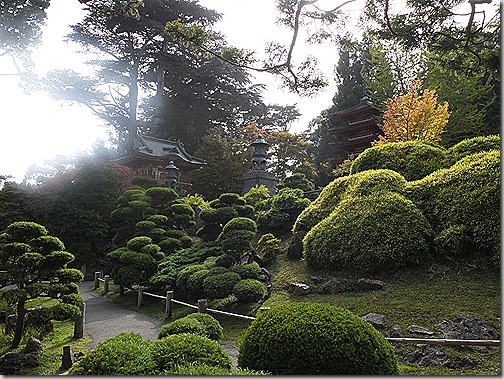 I took a lot of pictures the first couple of days, but then definitely got picture fatigue. Also, we did not take anywhere near as many pictures of each other (and us together) as I wish we had.  Here I am in front of the Japanese Tea Garden: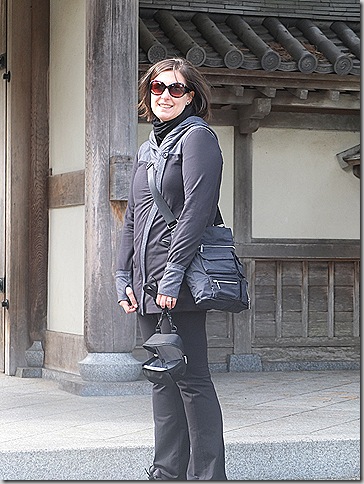 And in case you you are wondering why I am in yoga clothes, it was because after our walk in Golden Gate Park, I was planning to go to YogaTree:
Darren Main teaches at YogaTree – I always enjoy his workshops when he comes to Washington and have been to several since 2010 – my favorite was about the interrelationship between yoga and immunity.  When looking into where he was teaching when I was in San Francisco, I realized he teaches at the YogaTree location right on the edge of Golden Gate Park, which I had been wanting to visit. I rarely have such logistical/geographical wins when travelling, so was very pleased that I could combine two of my San Francisco must-do's in one day.  After our walk in Golden Gate Park, my husband and I had some extra time before I was off to YogaTree, so we walked around Haight Ashbury a bit, ducked into a couple of vintage stores and some other boutiques.  Around 6pm, I headed back to YogaTree for Darren's Friday 6.15pm Gentle  Hatha class.  The studio was serene and beautiful, and the class which was a great antidote to many hours in a plane and lots of walking. Darren was, as always, a fantastic and inspiring teacher. The 90 minutes flew by.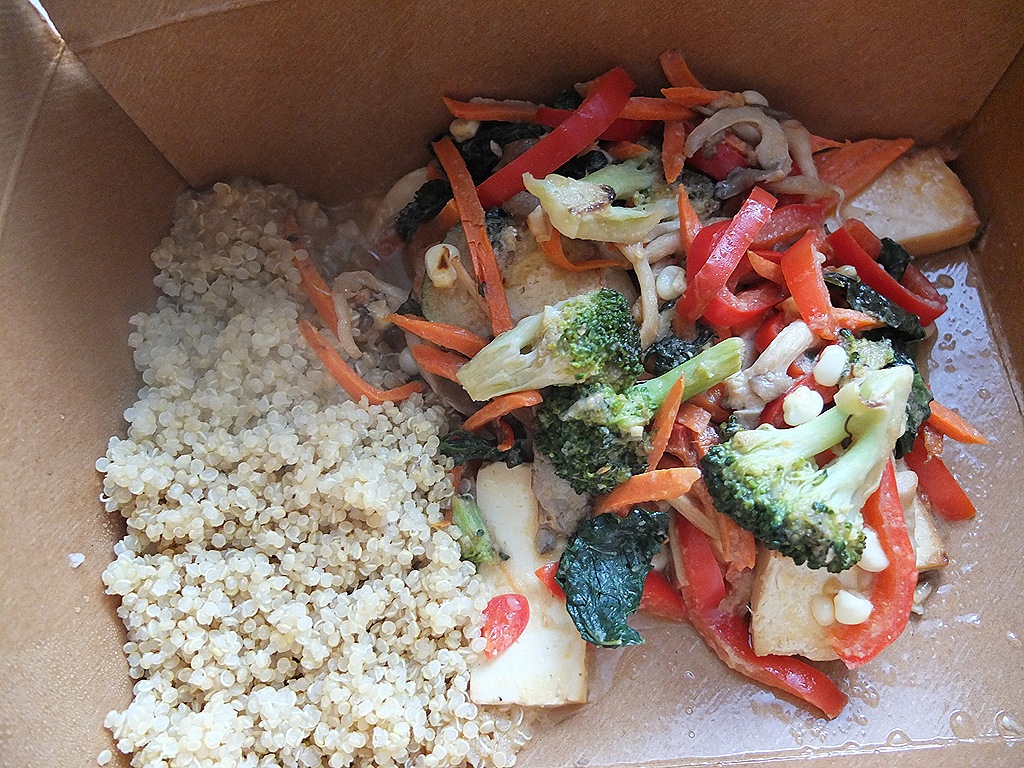 Post-yoga, we hopped on a muni train back to the hotel – I was still really feeling the travel and jet lag and my husband had picked up some goodies at Whole Foods which, combined with some Ginger Miso Quinoa from Plant Café Embarcadero was the perfect post-yoga meal.  And, part of a peach yummy tart from Mariposa, of course.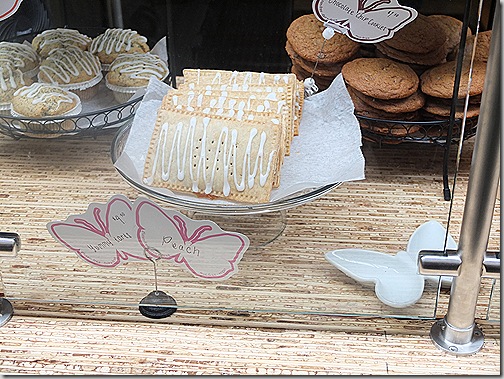 General Disclosures
&
Disclaimers