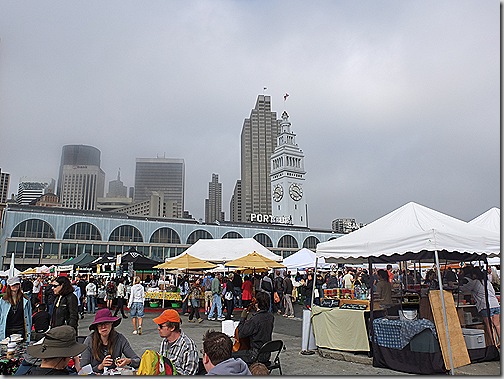 Day 3 of our vacation in San Francisco (see Days 1 and 2) dawned cloudy and scary, and, still jet-lagged, I was wide awake at 5am while my husband was not.  So, thinking we would likely spend quite a bit of time indoors and since I was trying to keep quiet so my husband (who was seemingly unaffected by jet lag) could sleep , I went on a two mile walk on the treadmill at the hotel. Turns out it was just the beginning of much walking that day. Before that, though, breakfast! We went to the Saturday farmers' market at the Ferry Building and wandered around.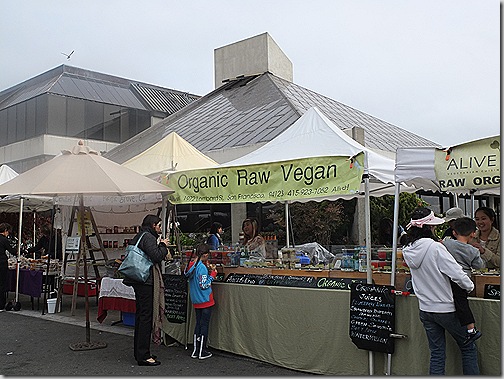 When this raw vegan vendor caught my eye, I knew there would be something for me for breakfast (there was always Plant Café as a backup, and I had in fact detoured there already to pick up a green juice) and had quite a few choices.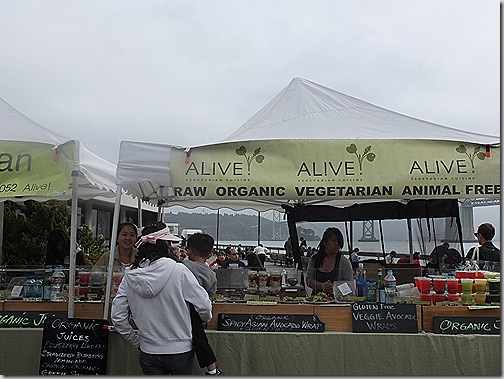 While there were plenty of sweeter options (juices, raw date-based treats, chia puddings) that could have served as breakfast, I was drawn to the Spicy Asian Avocado wrap, which had sunflower sprouts, avocado and other veggies, as well as a spicy sauce reminiscent to the one you find in spicy tuna sushi rolls.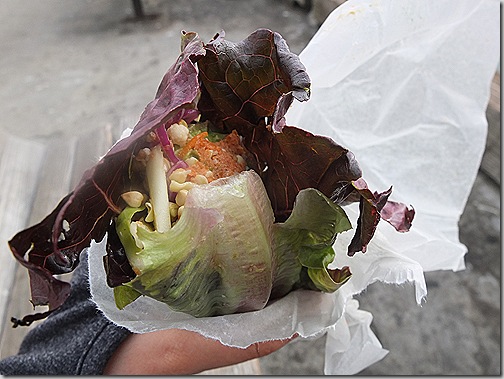 Paired with a side of raspberries from another vendor, the wrap was a wonderful breakfast.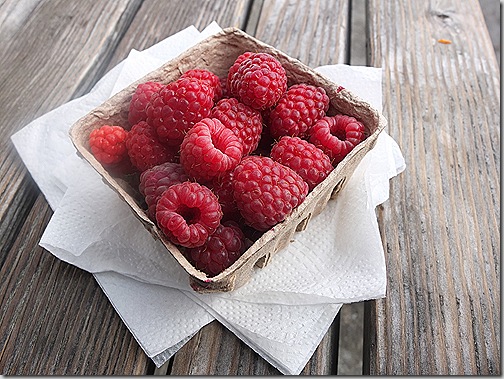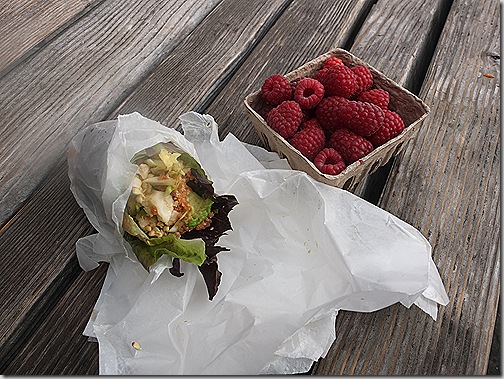 Hodo Soy, which I had discovered at one of the stores in the Ferry Building (and which is served at Plant Café) also had a stand at the market, which gave me a chance to confirm that yes, the entire facility is gluten-free. I also got to sample several of their prepared yuba products, which I loved.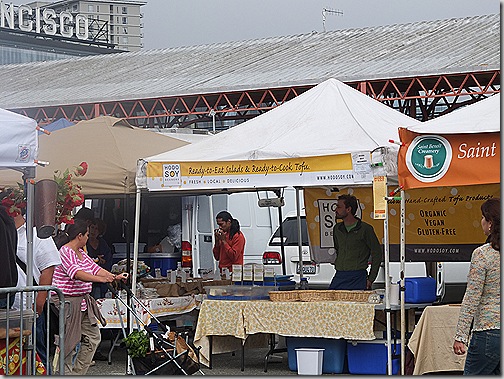 Avocados are always so so so much better in California than just about anywhere else.  I purchased a couple – I mean, I could always find a use for yummy avocado, even if it is eaten as a snack with a spoon and some salt.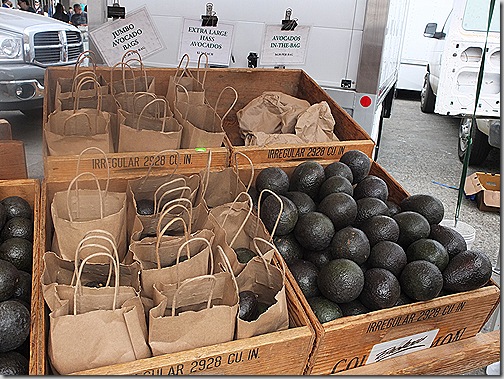 We also picked up more raspberries and a couple other things from the market, dropped those off in our hotel room and set out for more exploring.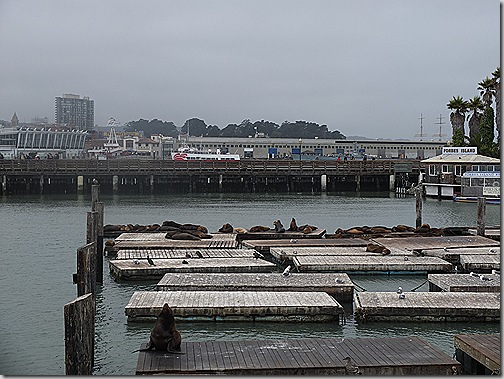 First, a walk up the Embarcadero to Fisherman's Wharf, a quick visit with the Sea Lions, and then a stop for lunch. I packed my lunch that day, as my husband had a couple of different things he wanted to try. None were particularly gluten-free vegan friendly, but I had plenty of leftovers and a box of greens such that I could make a delicious salad to go.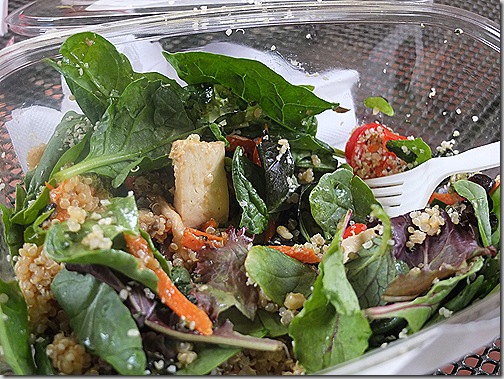 With this dessert, which I picked up when I bought my breakfast earlier: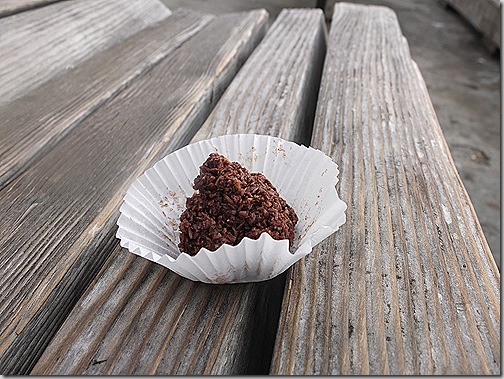 Then we ventured further, combining a bit of semi-random exploring with pieces of walks from the book Stairway Walks in San Francisco, which included getting to the top of this lookout spot.  We ended up walking from the Ferry Building, to Fisherman's Wharf and then meandering in Russian Hill and North Beach to Telegraph Hill and Coit Tower.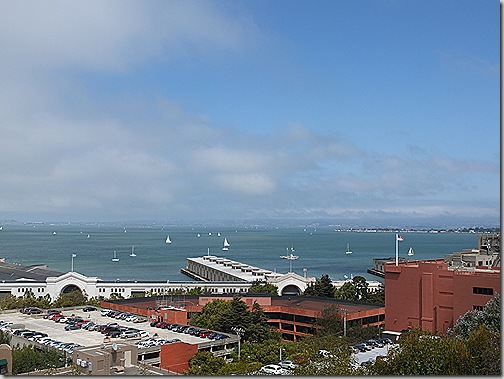 This lookout point above, by the way, is about the time I stopped taking pictures I was happy with, and then hit complete picture fatigue. On one hand, I think that is too bad, but on the other I did love not stopping every few minutes to take pictures, so it all worked out in that sense.   The whole day was beautiful in that we explored so much of San Francisco, and basically went on an urban hike. First there were hills and stairs to get up to Coit Tower, and then, as we were walking afterwards, I was all "since we are so near Nob Hill, we should go see the lobby of the Fairmont." I had completely forgotten quite how steep the walk up to the Fairmont is.  So yes, total urban hiking.  By the time we got back to our hotel near the Ferry Terminal, I started wondering if we had walked more than 6 miles – I say 6 miles as that is about as long a walk as my husband and I might take on a weekend day in Washington, DC, but I was wondering.  Sure enough, after a little google-mapping, turns out we walked over 8 miles that day which, combined with the 2 miles on the treadmill, made for 10 miles.  I was all set to not walk anymore that day, but we had dinner reservations at Millennium, which was of course worth another walk.  That was a truly epic meal, to go with a day of epic walking.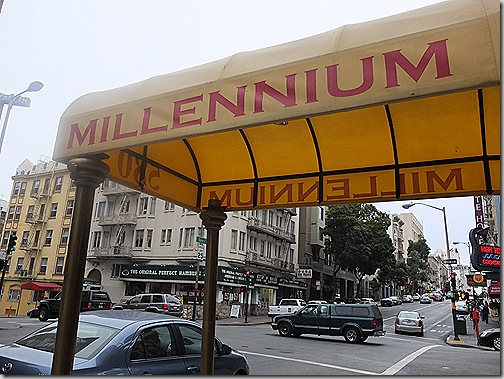 General Disclosures
&
Disclaimers