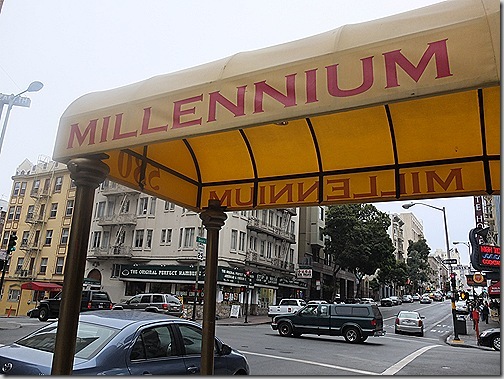 Ah, Millennium – our dinner there was a highlight of the few days we spent in San Francisco and the meal was easily one of my top five meals.  I do not just meant top five since switching to a gluten-free vegan diet, but top five ever. Every dish was fantastic for different reasons, which is why I did not pick one in particular for the first picture on this post.  My husband and I had an early dinner there, and it was the perfect follow-up to our epic walk, as Millenium is cozy and warm and wood paneled and just generally very welcoming.   We were feeling festive, and since neither of us drink alcohol, very pleased to see there was a choice of festive non-alcoholic drinks: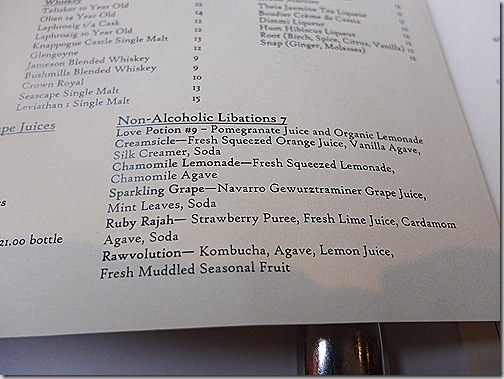 My husband ordered the Love Potion #9: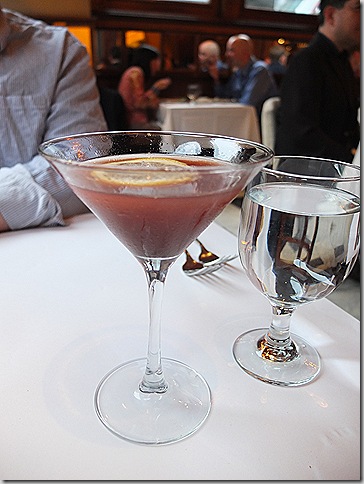 And I ordered the Strawberry Puree: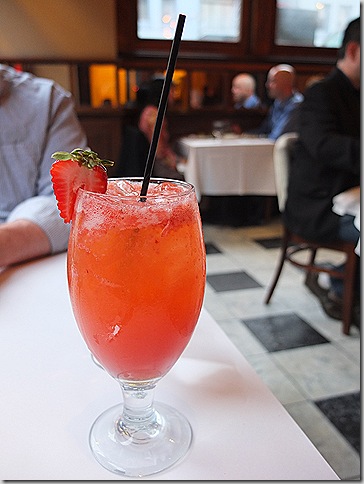 Ironically, I found the Strawberry Puree too sweet and my husband found the Love Potion too tart, so we swapped and were both happy.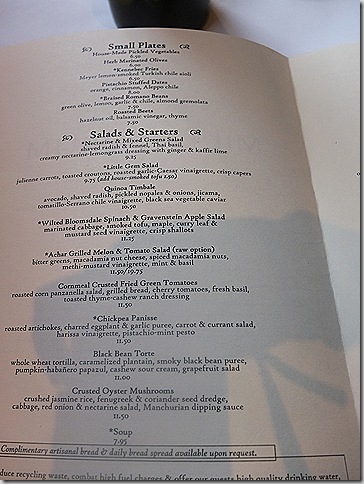 We were both starving and eye-ing the Pistachio-Stuffed Dates, served with a reduction of orange, cinnamon and Aleppo chili, so we ordered these when we ordered the drinks:
I think the key to a fairly simple dish such as this is the quality of the dates and the nuts, and these were fresh and very flavorful.  The sauce was amazing in its own right – the kind where you wish you had a whole jar to take home with you so you could slather it on everything – and the combination with the moist dates and crumbly pistachios was perfect.  So perfect we ordered a second set of dates to go with our appetizers: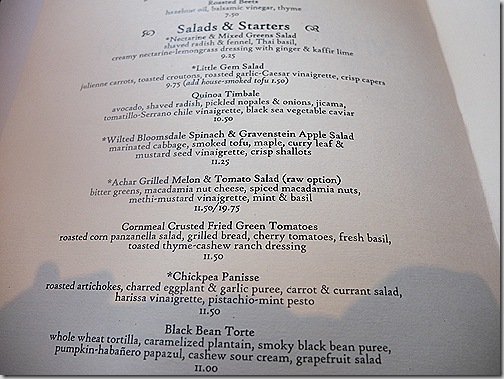 And speaking of ordering, Millennium is entirely vegan and offers many gluten-free options – when I spoke to the waiter, he was very knowledgeable about what was not gluten-free and what could be modified. The Quinoa Timbale was an absolute no brainer for me to gravitate towards: quinoa and avocado with lime and serrano, all favorite flavors: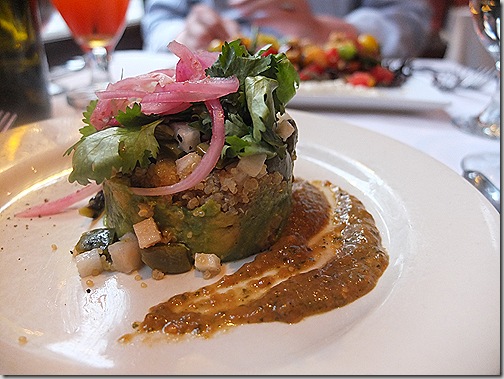 When I had read the menu before-hand, I had been more pulled in by the appetizers and the creative flavor pairings (which is funny, because as I write this recap, all the entrées  look just as amazing) – the other advantage to the appetizers is that I could combine two for an entrée and therefore have even more variety.  My husband picked the Achar Grilled Melon and Tomato salad because it was something neither he or I would choose to order generally. I am glad he picked it because it really was interesting and different and, despite very different, complemented my quinoa appetizer very well: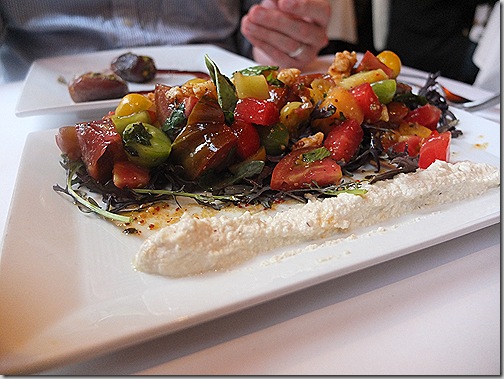 He also picked it because he knows how much I love nut cheeses – Millennium's macademia nut cheese was a little milder than I am used to, but worked very well with the melon and the rest of the appetizer.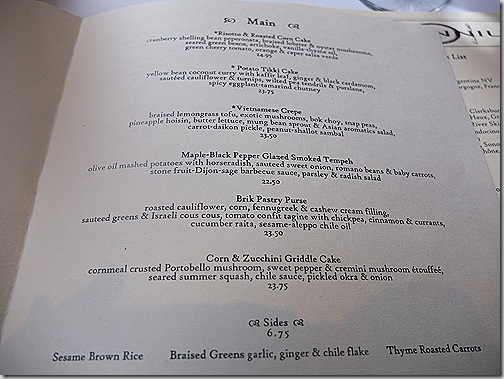 When it came to entrées, I had eyed the  tempeh, the crepe and the risotto cakes, but at least one (if not two) of those was not gluten-free.  Also, I was completely pulled in by the Chickpea Panisse from the appetizer menu, so decided to get that with the Nectarine Mixed Green Salad: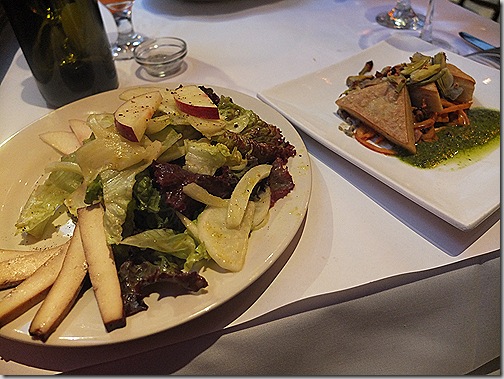 After the cleaner flavors of the quinoa with avocado and the melon salad, the chickpea panisse with roasted artichokes and eggplant was rich and satisfying: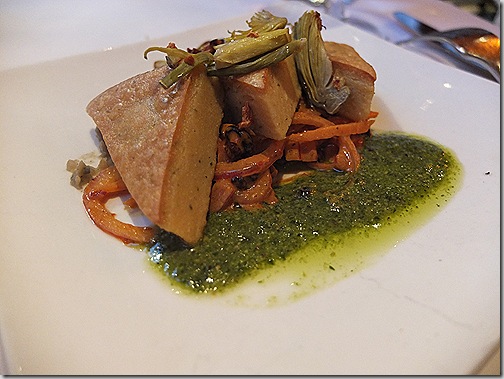 The carrot salad and the pistachio mint pesto added some tang and freshness to the dish.  It is hard to pick favorites, but this and the quinoa were probably a tie for savory dishes I had that evening.  I paired the chickpea panisse with a salad, but did ask for a side of the smoked tofu (usually served with another salad) as I was intrigued: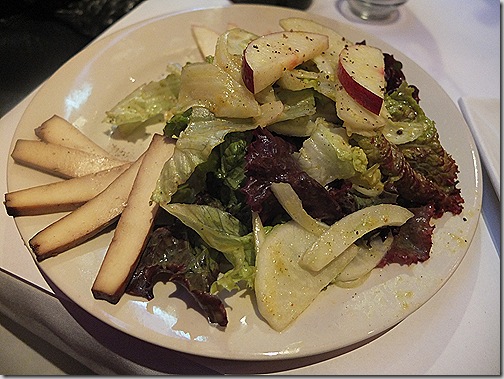 I was glad to have some crunchy veggies, and the smoked tofu was a revelation – the flavor was almost bacon-like.  It went well with the nectarines.  I also had several bites of my husband's potato tikki cake, which had the right balance of sweet and curry flavors: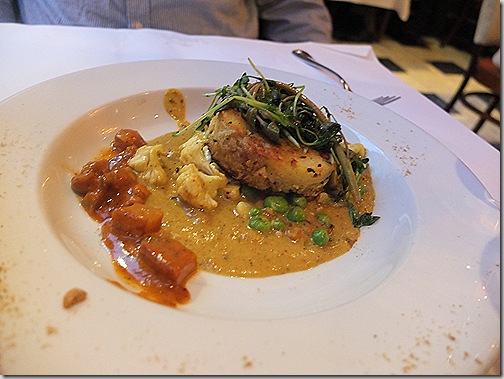 One impressive thing about Millenium is its sheer range – we had dishes inspired by Indian, Malaysian, Italian, French and Mexican cuisine, all in one night, and they all fit well together.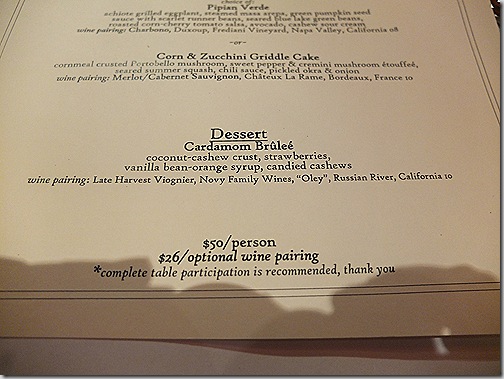 For dessert, we ordered the Cardamom Brulee from the prix fixe menu – I was so grateful the waiter was willing to put one aside for us (we had asked him when we made the decision to order dinner a la carte instead of the prix fixe) as I have not had crème brulee in years.  I actually liked this coconut version better than the traditional version: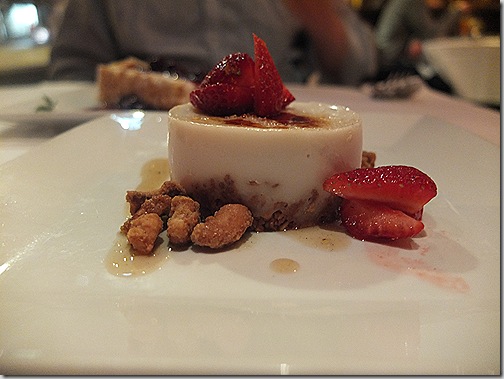 From the regular dessert menu, we briefly considered the chocolate almost dessert, but then decided on the olive oil semi-freddo, mainly because neither of us had had semi-freddo before and also because we could not make anything similar at home, while chocolate desserts are easier to make: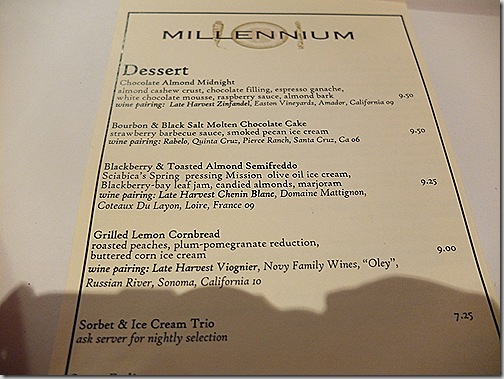 I loved the semi-freddo as it was even more unique than the cardamom crème brulee: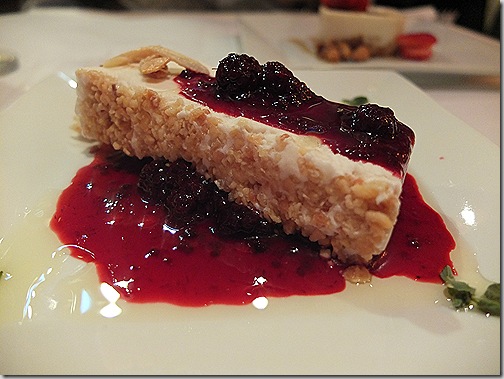 And just like that, a meal I had anticipated for years came to an end. It was absolutely wonderful and while, yes, there were some menu items off-limits to me on account of gluten, I still had a wide array of gluten-free vegan options. I also found that Millenium did not overdo its use of soy, so if you prefer to eat soy-free, you should still find a wide variety of dishes on the menu. After dinner, we walked home slowly, reminiscing about how wonderful the meal had been and just generally how much we had enjoyed our time in San Francisco. We also came across a Starbucks selling Evolution Fresh juice, so of course I had to investigate. All in all, the meal at Millennium was as wonderful as anything I could have hoped for – it combined health with indulgence very well.  I also loved how traditionally beautiful the restaurant was.  All in all, I was very happy with my meal and the whole experience: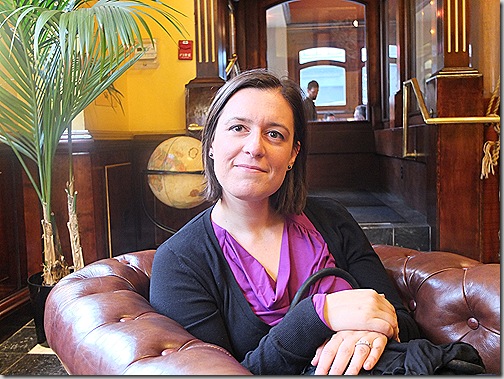 General Disclosures
&
Disclaimers