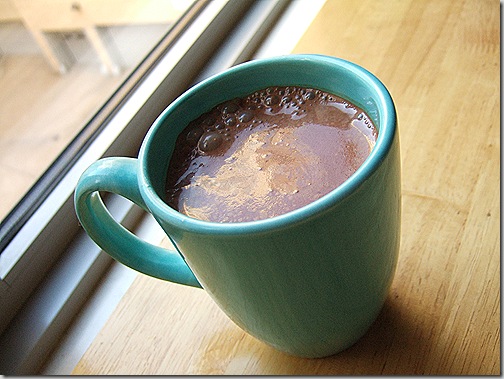 I know, I know, it is only about 40-something F here in Washington today, but the wind – oh the wind. It feels like the low 30s.  It is perfect weather for hot chocolate. My fabulous friend Shirley, of Gluten-Free Easily, and the newly launched site All Gluten-Free Desserts … All The Time, reminded me of this recipe. It was a staple a couple of winters ago, but last winter was so mild I barely made any hot chocolate.  I had initially written up this recipe for a guest post for Linda of Gluten-Free Homemaker, but it has been almost two years, so I decided to dust it off and repost it here, especially as I keep hearing this is going to be a bad winter.  Time for hot chocolate, clearly. 
Spicy Hot Chocolate (Vegan, Gluten-Free, Soy-Free)
Makes 2 servings
If you would like to omit the stevia, use an additional tablespoon palm sugar and an additional 1/2 teaspoon vanilla extract. 
2 cups unsweetened almond milk or coconut milk beverage (you can make your own, but I like Whole Foods unsweetened almond milk, which comes in a carton)
3 Tbsp gluten-free unsweetened cacao (I usually use Navitas raw cacao or the nuts.com raw cacao)
3/4 tsp cinnamon
1/8 tsp chipotle
2 Tbsp coconut palm sugar
8 drops liquid vanilla stevia (I like NuNaturals vanilla stevia)
1/2 tsp vanilla extract
1 Tbsp coconut milk (canned full-fat kind)
Blend all ingredients except coconut milk until fully combined. Reheat gently in a saucepan. Stir coconut milk in just prior to serving.
General Disclosures
&
Disclaimers