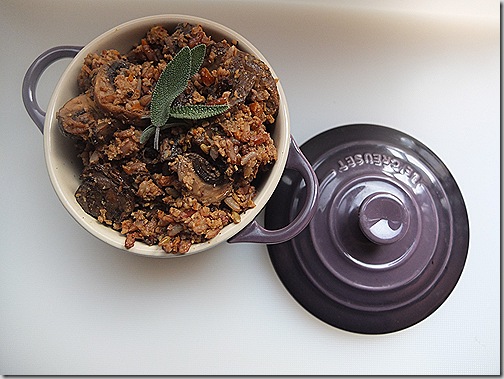 Stuffing is absolutely my favorite part of Thanksgiving. The first Thanksgiving I ever spent with my husband, we made pork chops, peas and stuffing – no mashed potatoes, no cranberry sauce, no gravy.  The stuffing that year was an egg/bread/sausage/apple concoction.  Even though much has changed since, and we have had a variety of foods at Thanksgiving, stuffing remains my favorite part of the holiday.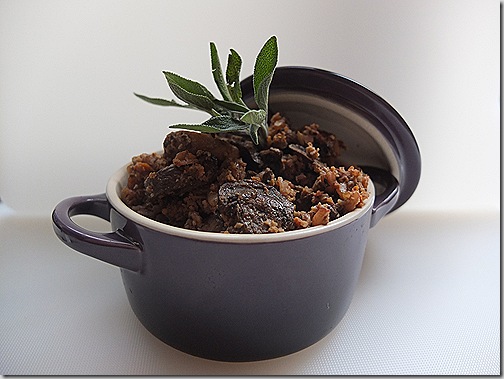 Last year, I made Grain-Free Cranberry Sage Dressing, which was lovely, but this year I was vaguely remembering a wild rice mushroom dish my mom made one year at Christmas, and then thinking of Ricki's Mock Meat Made with Cauliflower and Walnuts, which she had suggested making with parsnips.  Then I remembered Gena's Meaty Wild Rice Stuffing and Emily's method for roasting mushrooms with ume plum vinegar (which gives them a wonderful flavor). Drawing inspiration from all three ladies, I put together this umami-rich toothsome stuffing where flavors are multilayered and wholly satisfying.  It would be a wonderful addition to any holiday meal, not just for Thanskgiving.
Wild Rice Mushroom Stuffing (gluten-free, vegan)
Serves 8-10 people, generously
1 cup wild rice and enough water or vegetable broth for cooking
1 pound peeled and coarsely chopped parsnips (about 1 1/14 pounds parsnips prior to peeling and removing core)
2 cups walnut pieces
2 tablespoons gluten-free tamari sauce
2 tablespoons chopped fresh sage
1 teaspoon smoked paprika
1 1/2 cup diced onions
1 cup chopped celery
1 cup diced carrots
3 cloves garlic,finely minced
1/4 cup extra-virgin olive oil, separated, plus more for greasing bakeware
8 cups sliced mushrooms (I used 2 10oz packages of baby bellas)
2 tablespoons ume plum vinegar
1 cup vegetable broth
fresh ground-pepper and salt, to taste
Cook wild rice according to package directions, using water or vegetable broth.  Preheat oven to 350 F.
Process parsnips and walnuts till crumbly in a food processor fitted with the S blade. The texture should be that of a coarse meal Transfer to a large bowl and add the tamari, sage, smoked paprika, onion, celery, carrot, garlic, and two tablespoons extra virgin olive oil.  Line a large baking sheet with aluminium foil.  Oil foil and spread walnut parsnip vegetable mixture over entire baking pan into a uniform layer. Roast mixture until nicely browned, about 45 minutes, stirring every 10 to 15 minutes. When stirring, if the layer underneath comes up looking white and wet, keep baking the mixture. The goal is for the mixture to intensify in color.
Toss mushrooms, remaining extra virgin-olive oil and ume plum vinegar in a large bowl.  Transfer to a 9×13 pan, lighly oiled (I used a ceramic pan). Bake for 30 minutes at 350, until mushrooms begin to soften (I put the mushrooms into the oven 15 minutes after the walnut parsnip vegetable mixture had been in the oven).  Remove both mushrooms and walnut parsnip vegetable mixture from oven.  Combine wild rice and walnut parsnip vegetable mixture in 9×13 pan containing mushrooms and mix well so that mushrooms are evenly distributed, adding vegetable broth to moisten mixture.  Season with fresh-ground pepper and, if desired, salt (I found the ume plum vinegar and tamari to be enough salt), Bake an additional 20 to 30 minutes, until top layer is a bit crunchy.
Serve with vegan gravy and cranberry sauce – I like Sea's fabulous (and easy!) nutritional yeast gravy.and Kim's Apple Cranberry Sauce. The stuffing worked well with mashed sweet potatoes, peas and kale salad.  I am linking this recipe to Diets, Desserts and Dogs Wellness Weekend, one of my favorite blog events for healthy recipes, as well as Gluten-Free Homemaker's Gluten-Free Wednesday, which is a great gluten-free round-up.
General Disclosures
&
Disclaimers