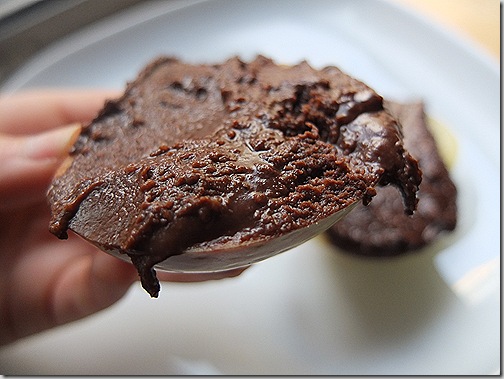 What started off as wanting to use up the bottom of an Artisana Coconut Butter jar has turned into a full fledged obsession. I have been using this Mesquite Cacao Spread on apple slices, rice cakes and eating it with a spoon.  The caramel and carob undertones of the mesquite makes the already stellar combination of coconut and raw cacao that much more addictive.  Speaking of addictive, I particularly like the combination of Lundberg Wild Rice Cakes, which are lightly salted, with this Mesquite Cacao Spread and a dollop of Kim's Apple Cranberry Sauce. And yes, I do love cranberry with chocolate – whether in cranberry almond chocolate or a festive smoothie.
And yes, I know I could make my own nut butters, but truth be told, I do not find it that much cheaper than buying nut butter, and I do not have the patience to run the food processor for 15 or 20 minutes.   And the beauty of this the Mesquite Cacao Spread is that you do not even need a food processor. As long as you have both the coconut butter and coconut oil melted, a whisk and a bowl is is all you need. 
Mesquite Cacao Spread (gluten-free, vegan, soy-free)
Makes 1 cup
A note on coconut butter: I used Artisana Coconut Butter, but other brands call it creamed coconut or coconut cream concentrate: It is all the same thing and just depends who makes it. Let's Do Organic calls it Creamed Coconut , Artisana calls it Coconut Butter, Nutiva calls it coconut manna , and Tropical Traditions calls it coconut cream concentrate.  You can also make it from scratch, as did Lexie of Lexie's Kitchen.  
Whisk ingredients together in a bowl until you have a rich chocolate sauce or thick spread. Spread will solidify if in a cooler room, but can easily be remelted (I use the microwave for 10-20 seconds for that). 
I am submitting this recipe to the following blog events:
Diets, Desserts and Dogs Wellness Weekend
Gluten-Free Homemaker's Gluten-Free Wednesday
and
Gluten-Free Cat's Raw Food Thursdays (witness the adorable badge)

General Disclosures
&
Disclaimers