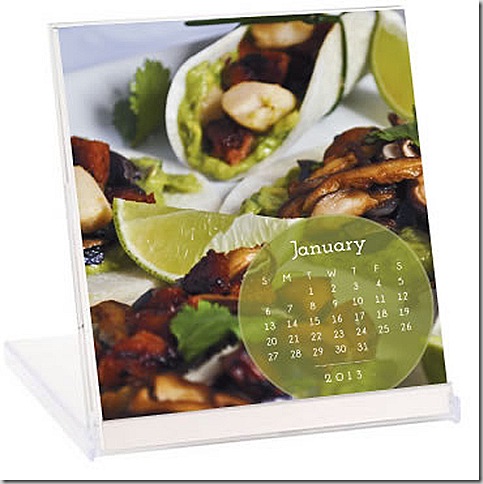 Diane Eblin of The Whole Gang is one of my go-to resources for eating gluten-free.  What I like about Diane's website at  The Whole Gang is that she is truly all-inclusive in her approach to gluten-free.  This is particularly helpful for households with multiple dietary preferences and requirements. The Whole Gang Desk Calendar is an extension of Diane's points of view regarding gluten-free cooking and meal planning  The Whole Gang.  The only difference is that the calendar is tactile – the photography is lush, the colors of each card beautifully designed, and every month's recipe allows you to make easy meals that taste great and will work for individuals with multiple dietary restrictions. It is not a calendar as much as a very amazing tool that will come in handy all year long!
Each calendar includes:
12 beautifully designed months in a clear CD stand-up case display that easily fits on your desk or counter top
Gorgeous color photos of each dish (all tested and approved) with easy-to follow recipes on the back
All recipes are gluten free and dairy free!
Vegetarian, Vegan and Paleo directions for each recipe to fit any diet!
BONUS! Secret access code for a hidden page full of insider tips, tools & additional recipes on The WHOLE Gang website.
I see a lot of websites and books that strive to cater to a wide range of dietary preferences, but Diane's recipes do so with minimum fuss and maximum flavor. For example the Cashew Cream Cannelloni are both vegan and Paleo. I also really love the Summer Vegetable Rosettes, which ar eeasy to make vegan with one simple substitution, as well as the Little Lasagna Flowers.
This is a great affordable gift option for anyone on your list!  To order: To order: Visit http://www.thewholegang.org/2013-cookbook-desk-calendar/ Cost is $14.95 each plus shipping.  Discounts for orders of 10 or more.  Also, if you are like me and leave gift giving until late, this is a calendar you can give until well into January (or even February) as it is so much more than a calendar. It is like a mini cookbook when you consider all the recipes and modifications in the calendar and all the recipes and advice on the hidden page. 
General Disclosures
&
Disclaimers