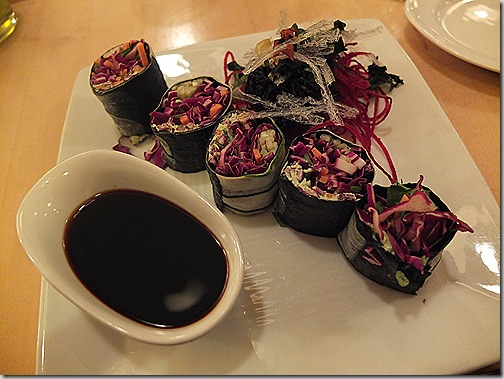 It is no secret I love Great Sage – everything is vegan, with an emphasis on organic, and the menu is remarkably versatile – lots of raw options, vegan comfort food and over half the menu is gluten-free or can be adapted for a gluten-free diner.  Also, the setting is warm and inviting and the menu is both seasonal and globally inspired.  My meals there are always stellar.  And last night's dinner was no exception, especially as the dinner menu was full of grounding delicious dishes.  I was thrilled when a couple of friends in Maryland and Virginia  were up for going to Great Sage.   I started with a Super Green Live Juice: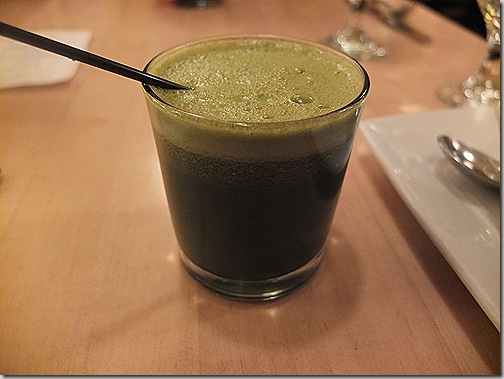 I also had the raw makizushi, which contain carrot, red cabbage, cucumber, ginger and a spicy sauce, all wrapped up in zucchini and nori: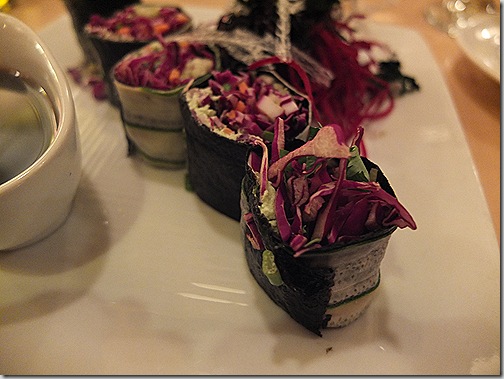 The gluten-free option included just tamari as the dipping sauce, but that worked beautifully.  As much as I love raw dishes, I also ordered some steaming curried butternut squash soup, which was on the savory end. Since I have been all about savory butternut squash soup lately, I particularly enjoyed that the soup's sweetness was counterbalanced.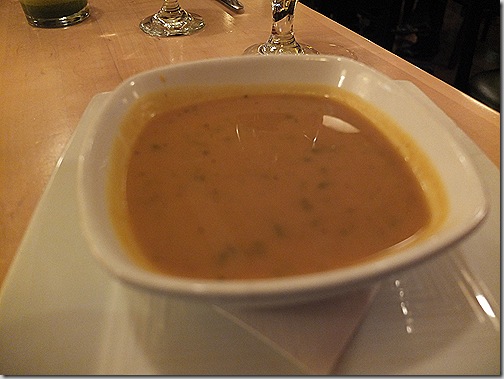 For my main course, I was debating between the red lentils curry and the green lentil and pumpkin burger. I ended up deciding on the burger because it is pretty rare for veggie burgers at restaurants to be gluten-free, so I wanted to take advantage of that.  This was easily one of the best veggie burgers I have ever had – it had a pumpkin seed crust and contained green lentils, pumpkin, quinoa, cabbage, caramelized onion, carrots and spices.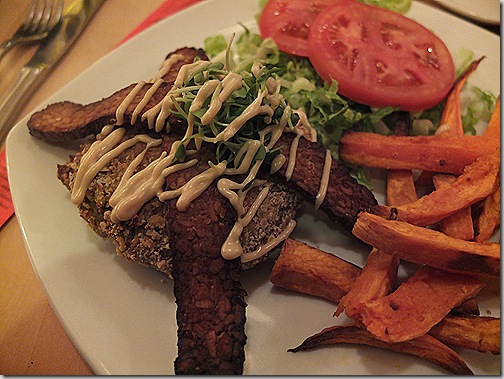 The gluten-free option was Food for Life Bread, which no longer agrees with me (it does not cause as much of a reaction as the tortillas, but still something is off), so I skipped bread altogether.  This was no hardship, as the burger was topped with tempeh bacon, micro mustard greens and roasted garlic aioli with a side of sweet potato fries. I asked for a bit of extra aioli to dip my fries in.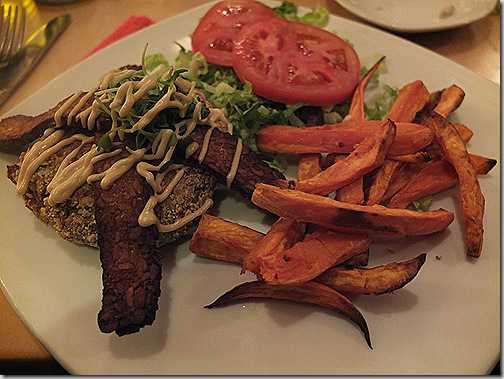 For dessert, I had the grilled pumpkin pie, which has a gluten-free cinnamon cookie crust: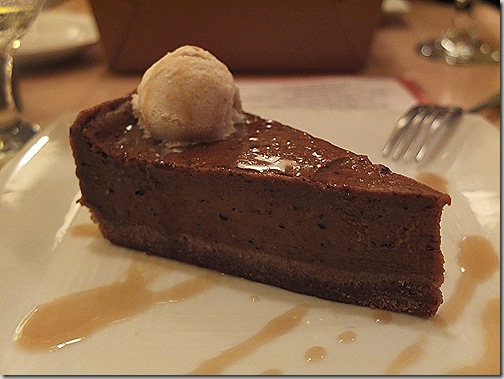 I loved the texture of the pie – it was denser than regular pumpkin pie and very fragrant with spices.  Even though I kind of wished I could also have fit in one of the superb Great Sage salads, four courses was plenty, and I loved experiencing the more comfort-food side of the Great Sage repertoire (with a nice raw dish thrown in for good measure).  It was a wonderful meal, and really, there is absolutely nothing lacking with Great Sage, except that there is no second location somewhere closer to Washington, DC (or, ideally, in downtown Washington, DC).  Except for one wonderful dinner at Elizabeth's Gone Raw in November (which I did not blog), last night was my first time at a vegan restaurant since dining at Millenium and Gracias Madre in San Francisco, and Café Gratitude in Kansas City.  As much as I enjoy EGR, I love going to restaurants such as a Great Sage and Café Gratitude that have a wide repertoire of both raw and cooked dishes.  Great Sage is truly a gem for the DC area, and I really hope they consider expanding just a tiny bit.
General Disclosures
&
Disclaimers