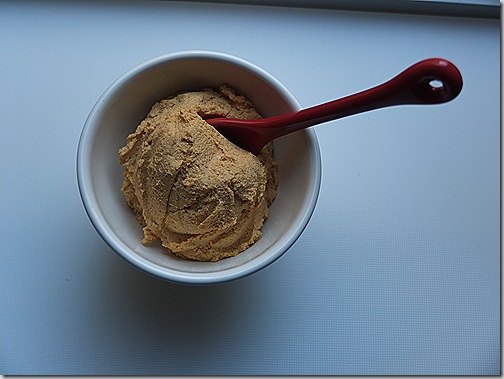 One of the things I sometimes completely fall down on is making sure I have enough of a dish to photograph in broad daylight for the blog.  I do still photograph food for the blog at night, and can be pleased with the results, though sometimes not – most often, though, I try to save some portion of a recipe to photograph the next day, particularly if it is something kind of … shapeless, like a hummus or cashew-based cheese. 
And that is how  I ended up photographing maybe a third of a cup (or even a quarter cup) of vegan smoked paprika cheese which looks positively lilliputian even when using a tiny bowl and a tiny spoon.  I suppose I could make more, but I suspect the same thing will happen by the time I get to photographing it.  This cheese is just that addictive, especially as the smoked paprika marries with the lemon and gets more cheese-like.
Smoked Paprika Cheese (Gluten-free, Vegan, Soy-free)
Makes about 3/4 cup
Usually, I like using cashew cheeses as a filling for collard wraps, but this one is even better atop salads and also tossed with warm roasted vegetables like brussels sprouts or broccoli. The smoked paprika is from Spicely,.  Lately, as my spices are running out, I have been working on switching all my spices over to Spicely, as they are certified gluten-free. Amazon has a great Spicely selection and I know certain Whole Foods carry Spicely as well.  
1 cup raw cashews (or 3/4 cup), soaked for at least an hour and rinsed
1/2 cup raw unsalted hulled sunflower seeds (or 3/4 cup ), soaked for at least an hour and rinsed
1 tablespoon nutritional yeast (I like this one)
1 tablespoon chopped scallions
1 1/2 to 2 teaspoons smoked paprika (smoked paprika tends to vary in intensity across brands, so start with 1 or 1 1/2 teaspoons and go from there)
3 to 4 tablespoons lemon juice (start with three and add a fourth if you need more tang)
3/4 to 1 teaspoon sea salt (start with 3/4 teaspoon and add more salt to taste – I found 3/4 teaspoon to be just right)
water


Place all ingredients except the water into a food processor and turn food processor on.  After about a minute scrape down the sides and assess whether you want to add water. I find that one or two tablespoons of water, streamed in as the motor is running, is enough to get a thick spreadable cheese, but if you want a slightly looser consistency, add more water. I think the amount of water you need to add is really dependent on the strength of your food processor and how long you soak your cashews and seeds.  I have made similar recipes after having soaked the cashews and seeds for about five hours and barely needed an additional tablespoon of water for it to come together.  The goal is a thick and spreadable texture, sort of like hummus, but use your kitchen intuition when adding water, because it really depends on your food processor.

I am submitting this recipe to Raw Foods Thursdays at Gluten-Free Cat, Wellness Weekend at Diet, Dessert and Dogs, Slightly Indulgent Tuesday at Simply Sugar and Gluten Free, Healthy Vegan Friday at Veggie Nook, and Gluten-Free Wednesday at Gluten-Free Homemaker.

 
General Disclosures
&
Disclaimers