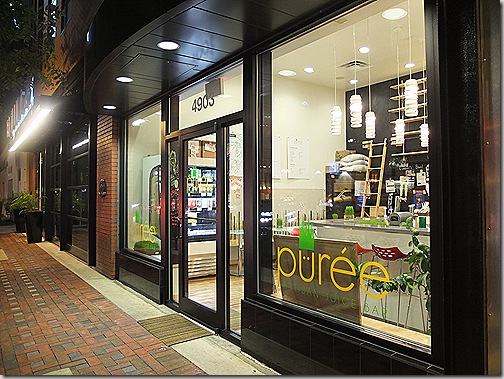 Purée Juice Bar is always a go-to when I am in Bethesda for any reason. I love walking in and seeing the wall of juice and raw snacks: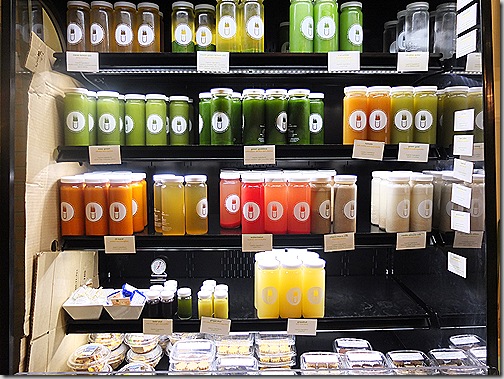 My go-to is usually the Green Goddess juice (spinach, romaine, kale, cucumber and celery), and I sometimes add a shot of lemon or ginger (those are the smaller bottles in the case):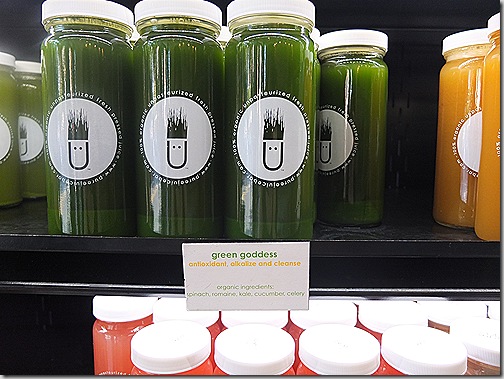 There are several other vegetable juice options,but I always gravitate back to the Green Goddess – it is just so refreshing, and, despite not having any apple or carrot or beet, is almost a bit sweet.  I also often get a snack to go with my juice, as many of the snacks are gluten-free as well, including these dates stuffed with pistachio: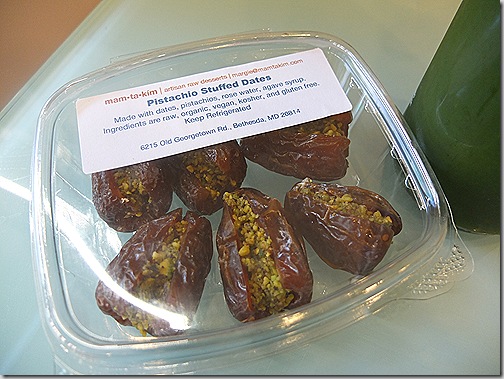 There are some snacks made with oats that are not gluten-free certified, so be sure to read the labels.  That said, there are plenty of gluten-free options, like this raw cobbler I picked up for dessert after dinner at  nearby Jaleo: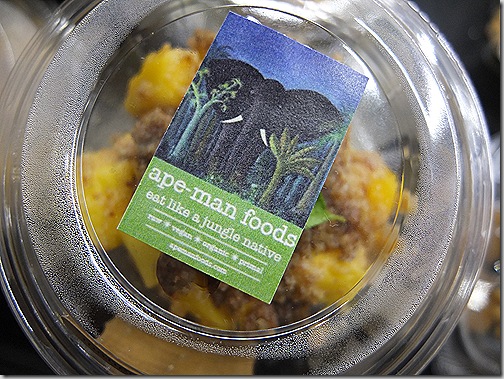 Raw cobbler made with mango, pecans, dates, coconut oil and vanilla. Very basic ingredients, but very delicious.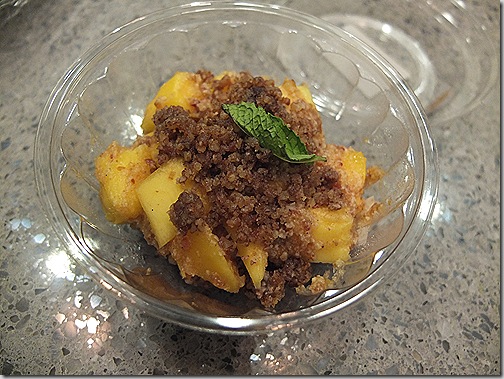 The choco maca milk is also out of this world: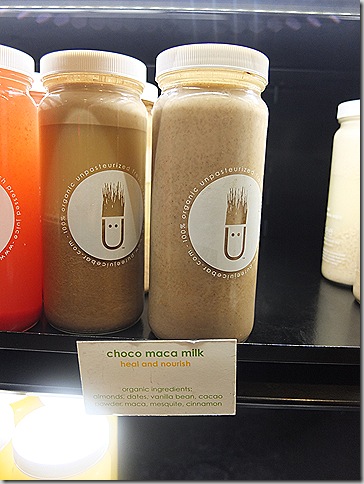 I noticed that as of last month, Purée Juice Bar launched a vegan kitchen space, allowing them to offer home delivery.  They do not (yet?) deliver in my zipcode, but I hope they do eventually. Fortunately, I can always pick some Purée at Epic Yoga DC if I have a hankering, though I routinely forget I have that option.  At any rate the Purée juices are delicious – very smooth and well balanced in flavor.  They all have expiration dates, and, while they cannot be frozen since they are packed in glass, they definitely last a couple of days.
One last note: I have noticed that Purée heavily promotes cleanses, which long-time readers know I do not believe in.  I also know January is a time where many people consider cleanses – my philosophy is a bit different – I am all about green juice frequently, in addition to food, as opposed to green juice all day for several days in January, and not again for the rest of the year or season.  Regardless, though, I find that Purée has delicious juice and snacks, and both are lovely snack options when I am in the neighborhood, or great to get as take-out and use as add-ons to some meals in subsequent days.  I would consider Purée delivery if it was available to me. I also noticed one of the other companies leading Purée's new kitchen space is Ape Man Foods, the company that makes the amazing cobbler picture above. I hope larger kitchen space for Ape Man Foods means more of their offerings become available, as I really liked that cobbler.  Either way, with  Purée's offerings, you really can't go wrong, whether you go for the juices or the various raw foods options. Personally, I would go for both.
General Disclosures
&
Disclaimers