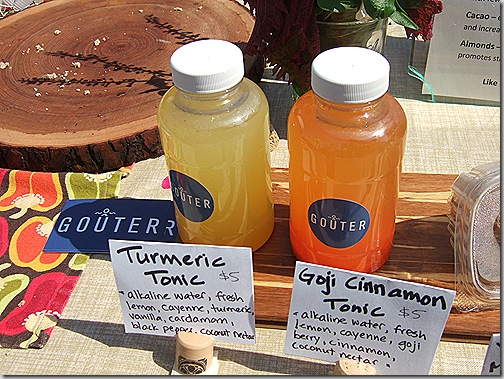 As some readers may remember, I grew up near Geneva and French is my first language. When I was 8, my parents decided that an English immersion school was a great idea, but before that I went to Swiss schools, in French, and to this day, the word le goûter still conjures excellent associations.  After all, it was the magic time between school and homework which involved a snack and some time with a children's fiction book.  The snack itself varied, but was almost always on the sweet end – whether a small soft roll with a piece of chocolate, or a wholegrain biscuit with raspberry jam – which helps with the excellent association, but happy memories around le goûter are about the experience as much as snacks.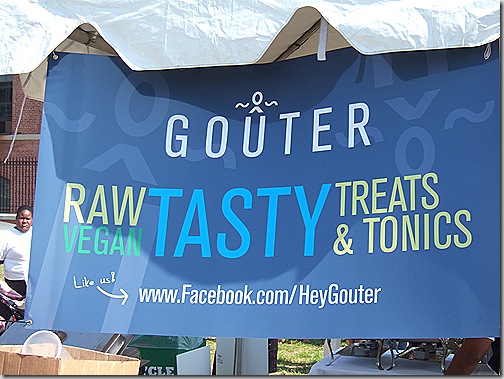 Therefore, when I first heard about Goûter here in Washington, DC from my friend Dasha, I immediately subscribed to the weekly delivery mailing list.  I loved the idea of a reinvented goûter – where the snacks are raw and the drinks were all-natural tonics.  I also sampled several products and tonics at Vegfest as well (which is where these pictures are from).  Goûter is still growing and does not yet have a website – that said they are terrifically responsive on their Facebook page, Goûter, their products are available at several Washington yoga and pilates studios and local eateries, and they do offer delivery for their tonics, which are a nice alternative to pressed juice, with lots of herbs and superfoods.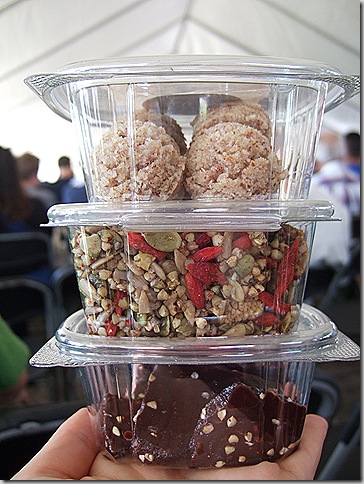 So far I have only tried the Turmeric and Goji tonics, but I keep meaning to try the Kale tonic (because, it's kale, which is basically a food group for me, along with hummus).  Both  the turmeric and goji tonics were great – refreshing and delectable.  While I love my green juice, I also like alternatives.  I especially like that the Goûter tonics use ingredients that you would not necessarily be able to juice, but which are just as beneficial.  The tonics make for a great snack, especially with a side of one of the many Goûter snacks, which are all raw and gluten-free.  Above you can see their rawnola, which contains goji, pupmkin seeds, buckwheat, sunflower seeds and mulberries, as well as superfoods chocolate bark and macaroons. I have tried both the chocolate and vanilla macaroons, and both are subtle and nuanced in their sweetness.  The rawnola is great atop a smoothie or just on its own, and the superfoods chocolate bark is rich without being over-the-top.  I love how Goûter's approach to raw foods and drinks, and can't wait to see the company grow and become more widely available.   
General Disclosures
&
Disclaimers