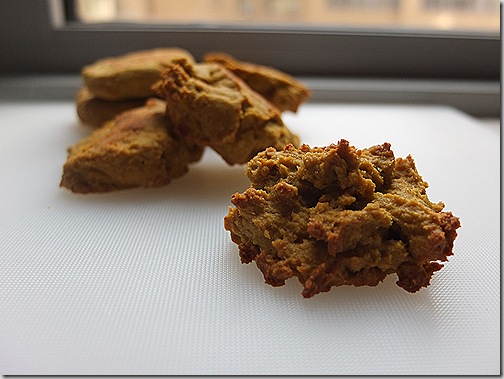 Between my husband and I, we go through a lot of kale in our household.  To the tune of 3 to 4 bunches a week, depending on what other greens we buy.  I am always trying to find uses for kale stems. Yes, I put them in green juice, and also in "impromptu purée" soups, and I tried turning them into kale stem fries (no joke – it is amazing how coconut oil and salt and a trip through the oven can so improve on kale stems). The kale stem fries are fine, but very chewy, and I have not had the inclination to juice that much in the cold weather (preferring to have green smoothies instead, or pick up sweetpress).  As for soups, I think I had one bowl too many of  "impromptu purée" soup, and now am on a vegan cream of mushroom kick.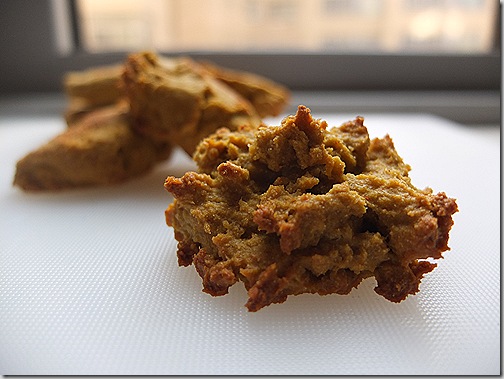 This is all to say that as I was staring at yet another bag of kale stems in the fridge, I decided to incorporate them into a chickpea biscuit recipe I had been toying with at the back of my mind. The result was far better than I had hoped – I have no idea if it is the kale's fiber content, but somehow the puréeed kale gives the biscuits a nice softness.  I was very pleased with the texture considering there is no added tapioca, arrowroot or other starch.  The fact that these biscuits are high in protein and fiber is a nice bonus too.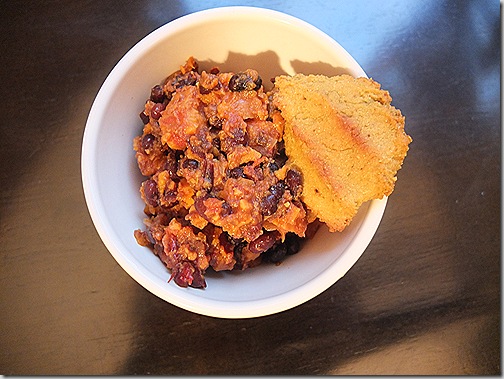 Ultimately, though, let's talk about how these biscuits taste.  They are delightfully cheese-flavored – they sort of remind me of parmesan biscuits. And of course, since smoked paprika works well with cheese, I had to add some to these biscuits. I will add that Gena approved of them, and that they pair beautifully with her latest recipe over at Food52, an amazing sweet potato and black bean chili that is replete with smoky sweet flavors.  I was very lucky that Gena shared some of her batch of chili with me, as it was amazing. The chili and these biscuits would make for a great Superbowl Sunday combination. 
Cheezy Drop Biscuits (Vegan, Gluten-Free, Soy-Free)
Makes 10-13 biscuits
1 cup chickpea flour
1/2 cup nutritional yeast (I like this one)
1/2 teaspoon smoked paprika
3/4 teaspoon salt
1/2 cup water
1 cup chopped kale stems (tightly packed) – I used curly kale stems
2 tablespoons virgin coconut oil, melted (I like this one from Garden of Life)
Preheat oven to 375 F.  Line a baking sheet with parchment paper.
Combine chickpea flour, nutritional yeast, smoked paprika and salt in a large bowl.  Blend or purée the water and chopped kale stems until you have a smooth liquid (I used a Vitamix, but I think any blender or food processor could take care of this step). You should end up with about 3/4 cup green liquid.  Add the liquid to the dry ingredients and, as you stir to combine, add the melted coconut oil.  You will end up with a sticky thick batter.  Using a tablespoon measure (grease it with additional coconut oil to make this step easier), drop  heaping tablespoons of batter onto the baking sheet.  Your batter should yield 10-13 biscuits.  Press each mound of batter lightly so the biscuits are about 2 inches in diameter. Bake for 15 minutes.  Remove from oven, flip with a spatula and bake an additional 10 minutes. Store covered, outside the refrigerator, for up to three days (that's the longest these biscuits have lasted for me).
I am submitting this recipe to Wellness Weekend over at Diet Dessert and Dogs and Slightly Indulgent Tuesday at Simply Sugar and Gluten-Free.
General Disclosures
&
Disclaimers