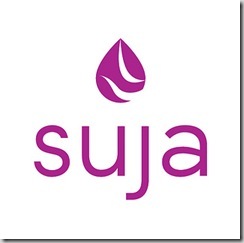 The other day, I was standing in line at Whole Foods, fiddling with my phone and catching up on twitter and blogs, and came across Amber's review of Suja Juice.  Amber concluded her review by saying Suja has been expanding in Whole Foods across the country. I was standing near the cooler that holds Blueprint so looked over, and sure enough there was Suja's beautiful packaging.  Social media synchronicity at its best, especially since I am always curious about new pressed juice brands that are not heat-pasteurized. Suja uses High Pressure Pascalization ("HPP"), the same technology that Evolution Fresh and other brands use, so I picked up Suja Glow and Suja Green Supreme.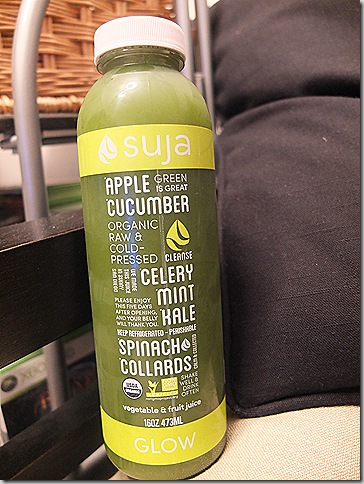 I eat a lot of raw and love my green juice, the fresher the better. While I am not a believer in the enzyme theory often associated with raw foods, I am a big believer in freshness, so to me the benefit of green juice is its freshness and lack of oxidization – much the same way I like my apples freshly sliced and not turning brown. I find pressed green juice a nice way to get a concentrated source of vitamins and other minerals, and a good complement to the whole-foods based, gluten-free, vegan diet I eat.  I do not consider green juice to be a meal replacement in any way, but it is one of my favorite snacks, even more so when I am on the go.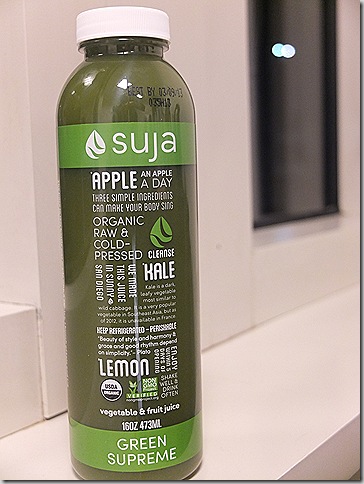 Of the two Suja juices I tried, I think I like Glow just a bit better – the combination of ingredients is creative (green apple, cucumber, celery, collard, spinach, kale and spearmint) is creative – it is green, without being too earthy, and the cucumber and spearmint give it a spa-esque feel.  I particularly like the mint in it.  In contrast, Green Supreme is a very zingy lemon yet sweet green juice, with three basic ingredients: kale, green apple and lemon.  Glow is more nuanced.  Also, when I still juice at home ((using a masticating juicer, which allows me to store the juice for a couple of days) I use it as an opportunity to use up stalks of all my greens so often drink juice with a base of kale stems, collard stems, chard stems (with other veggies that I have at that point).  Therefore, Glow is closer to juices I drink at home in that sense. 
Bottom line, Suja may be my new go-to when I travel.  I find green juice refreshing, particularly when working a 15 hour day and dehydrated from travel.  So while I do not ever do juice cleanses I am a fan of easily accessible green juice. As much as I love my sweetpress (I rely on it when I need to save time or simply crave the convenience, which is more often than not) sweetpress is a DC thing and only available to me when I am in DC.  I travel quite a bit for work, so am always curious about finding other pressed juice brands that use organic ingredients that I can easily find when I travel. So far,  I have mainly relied on local juice bars, Blueprint juice (upside: organic, downside: I find their green juice very sweet) and Evolution Fresh (downside: not organic, upside: I have found the carrot-based Essential Vegetable at several Starbucks).  Unlike all those options, Suja Glow has that exact combination I like: green yet refreshing.  I am definitely looking forward to trying other Suja juices as I come across them.  As I try more of them, I will definitely do a pros and cons list, but for now, I am only seeing pros to Suja: organic, well packaged, tastes good, and likely increasingly easier to find across the U.S..
General Disclosures
&
Disclaimers