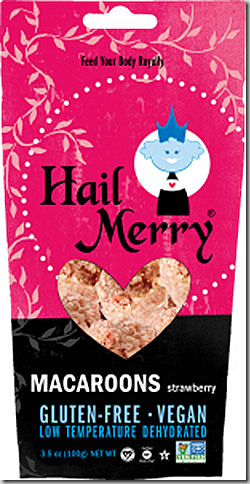 When I first started eating gluten-free vegan and exploring raw foods, I felt like chocolate and vanilla macaroons were everywhere.  They are a pretty standard raw dessert, with good reason – coconut + chocolate or coconut + vanilla always equal deliciousness.  Hail Merry vanilla and chocolate macaroons were some of my favorites from the beginning.  Over time, I discovered other Hail Merry products: the grawnolas, the tarts (there are many different flavors, and I have not yet been able to pick a favorite) and the spicy pecans (the other Hail Merry pecans are great too though).
All of Hail Merry's products are refined-sugar-free and raw or high-raw, using soaking and dehydration methods.  Hail Merry products are also GFCO certified, which is basically the gold standard in packaged gluten-free products, as well as non-GMO verified. How cool is that? And finally, Hail Merry is exploding in creativity. When I first started trying their tarts, there were maybe two flavors on the market, now there are six Miracle Tart flavors.  The nice thing about Hail Merry products is that my (gluten-eating, not vegan) husband also enjoys them, so they are a go-to when we want to share dessert.
Over Thanksgiving weekend, I spied on Facebook that there were two new macaroon flavors so ordered one of the macaroon Holiday Tins for my husband – it had the standard vanilla and chocolate macaroons, and the two new flavors: caramel and strawberry.  I bought the tin for my husband, but I won't lie – when it arrived, I immediately regretted not ordering two, because I really wanted to break into it, and Christmas was several days away.  Ironically, I expected the caramel to blow me away but it was the strawberry flavor that did. I loved the caramel flavor, but the strawberry was so creative and different.  Like the other macaroon flavors, the primary sweetener is maple syrup, combined with the natural sweetness of coconut, almond and strawberries.
Apparently the Hail Merry strawberry macaroons are slowly becoming available, so of course, I had to mention it here and share the happiness, especially as I am having a bit of a case of the Mondays tonight.
General Disclosures
&
Disclaimers