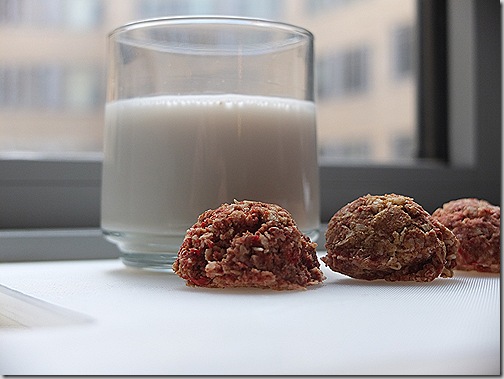 About the same time as the Hail Merry strawberry macaroons I bought for Christmas ran out, I had some almond pulp, left over from making almond milk.  Seeing as my local Whole Foods and health food stores are generally the last to get the new fancy delicious products (yes, #firstworldproblems) I decided to put the almond pulp to good use.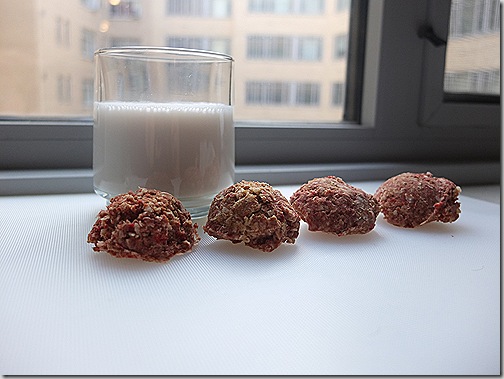 And make strawberry macaroons of course. Mine turned out completely different than the Hail Merry ones – less dense, more uniformly strawberry-like – but still very satisfying.  They are easy to make and require ingredients you might likely have on hand, except for the freeze dried organic strawberries, which I ordered online. 
Strawberry Almond Macaroons (Gluten-Free, Vegan, Soy-Free, High-Raw)
Makes about 10 macaroons
If you do not have almond pulp, you can substitute 2/3 cup almonds, ground in the food processor and mixed with enough almond milk to moisten the ground almonds into a semi-crumbly paste.  I have not yet tried this recipe with fresh strawberries, but plan to when it is strawberry season where I live. In the meantime, if you would like to try it, I think the best approach would be to chop the strawberries finely. 
3/4 cup almond pulp, left over from making almond milk (I use this recipe)
1 cup unsweetened shredded coconut (unsweetened coconut flakes are fine too)
1/4 cup coconut nectar or other liquid sweetener (the almond milk recipe I use calls for dates, so the almond pulp is slightly sweetened. If your almond pulp is not subtly sweet, experiment with adding slightly more sweetener and cutting back on the coconut oil, below)
1 tablespoon virgin coconut oil, melted (I like this one from Garden of Life)
1/4 teaspoon salt
1 teaspoon vanilla extract 
1/2 cup freeze dried strawberries, preferably organic (I used these)
Process all ingredients except for freeze dried strawberries in a food processor or mini-prep until they form a dough with some texture.  Add a little more sweetener or water if the mixture becomes too thick.. Once the mixture is the right texture, pulse in the strawberries for a few seconds (I crushed the strawberries in the bag a bit before adding them to mixture in the food processor).  Line a dehydrator tray (including the grid sheet) with a Teflex sheet and scoop round tablespoons of dough onto the sheet, resulting in about 10 macaroons. Dehydrate at 115 degrees for 6 hours, or until macaroons hold together well but remain soft and pliable.
I am submitting this recipe to the following events: Ricki's Wellness Weekend, Heather's Raw Foods Thursdays, Amy's Slightly Indulgent Tuesdays, and Linda's Gluten-Free Wednesday.
General Disclosures
&
Disclaimers