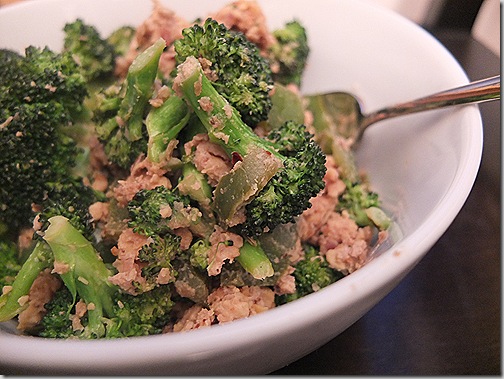 Happy St. Patrick's Day! I had a green hummus recipe for you all today, but (1) I have not yet taken pictures and (2) I made this hash last night and it is so so so good, that I did not want to wait any longer to share it with you. Also, the recipe has 4 cups of broccoli which is green enough for today.  I started thinking about this flavor combination when I read Cadry's post on why vegans eat products that taste like meat where she pointed out sausage flavor is all about fennel.  I have also found that the combination of grilled onions and ume plum vinegar (aka umeboshi vinegar) gives an amazing umami sausage flavor already, so I thought about incorporating the two ideas.  Basically, this recipe is a cross between Collard Greens with Tahini and this tofu scramble. I was initially going to make it with tofu and chickpeas, but thought tempeh would have a better texture, and I think I was right.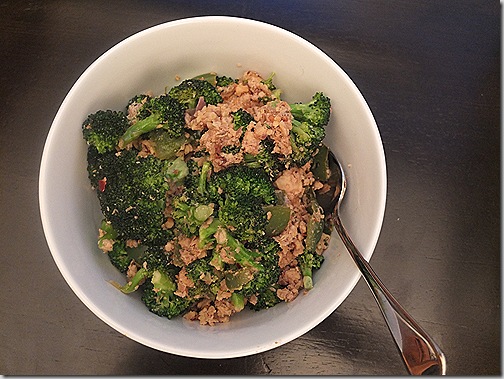 I knew I nailed the flavor profile and texture when my husband, who counts bacon and sausage amongst his favorite foods, was impressed with this dish.  And if you want to make this dish more Irish for St. Patrick's Day, apparently traditional Irish sausage contains thyme and marjoram, which I think could all be easily added to this dish.  Try adding 1/4 teaspoon of each and reducing the crushed red pepper by half, and then tweaking with the seasoning.
Vegan Sausage Broccoli Hash(Gluten-Free, Vegan, Nut-Free)
Serves 4 generously
This is a great recipe if you want the flavor and texture of faux meats but none of the additives – it is replete with fiber, protein, a nice balance of carbs/protein/fat and all the iron goodness of broccoli and tahini. The only downside to the recipe is that it is high in sodium, as ume plum vinegar is high in sodium. If you are concerned about sodium, consider substituting part of the ume plum vinegar with apple cider or coconut vinegar, but be aware that will change the flavor.  This dish is particularly nice served with a side of roasted sweet potatoes, as the sweetness pairs well with the umami in this dish.
8 oz tempeh, gluten-free (most plain soy tempeh is gluten-free, but additional types of tempeh can contain barley. be sure to read the label).
1 tablespoon virgin coconut oil (I like this one from Garden of Life)
1 cup finely chopped red onion (about one large onion)
1 green bell pepper, chopped coarsely
1 teaspoon crushed red pepper flakes (Spicely is my go-to spice brand)
1/2 teaspoon fennel seeds
3 tablespoons ume plum vinegar (aka umeboshi vinegar)
4 cups coarsely chopped broccoli (stalks or florets are both fine)
1/4 cup tahini
1/3 cup water
Cut tempeh into 5-6 pieces and place in food processor fitted with an S blade.  Pulse until the texture looks like crumbles.  Set aside. Heat the coconut oil in a large skillet over medium heat and add the red onion and bell pepper. Sauté for two minutes, then add the red pepper flakes and fennel seeds.  Continue to sauté for another three to four minutes, until the onion and pepper are softening.  Add the tempeh and ume plum vinegar, sauté for two to three minutes.  Add the broccoli and cook for an additional five minutes. Whisk the tahini and water and deglaze the pan with the mixture.  Be sure to scrape the crusty delicious bits at the bottom of the pan.  Wait until water has cooked off and stir well to combine the tahini into the broccoli tempeh mixture.  Add an additional tablespoon of water if needed.   
General Disclosures
&
Disclaimers